Facts About Thailand's Capital that you probably never heard before. The most visited city in the world is full of surprises. It's a place that continues to surprise even long term residents, regular visitors, and locals. Here are some interesting facts about Bangkok you didn't know.
World's Largest Weekend Market
The world's largest weekend market is held at Chatuchak every Saturday and Sunday. Over 15,000 stalls, selling pretty much anything you want and don't want, attract around a quarter of a million people every weekend. It's huge. It's crowded and chaotic. It's well worth a visit
In an interesting development, Chatuchak market is set to become a cashless market by June 2018.
Visitors will use a single card to pay for parking and items in the market. Seems to me that Bangkok is doing it's best to keep up with Singapore in the technology and development front.
2nd Most Congested City in the World
Bangkok's first accolade on this list is not one the tourism board brags about. And it's one that affects the lives of millions of people every day. Bangkok is seriously congested. In fact, it ranks number 2 (down from position 1 in 2017) in the world for evening rush hour traffic.  The data are compiled by TomTom so they're not 'official' by any means, but they are a good indicator of just how bad the traffic can get in Thailand's capital. Despite the wonderful BTS system, there are far too many cars and too few bypass roads to accommodate the commuters.
Here's the updated index for 2018. Mexico city has taken the lead again but BKK is not far behind.
This advice should be first on the list of "tips for visitors to Bangkok": Don't drive across the city in the morning between 8 and 10 and the evening between 5 pm and 7 pm.
Movie Location Favourite
Famous Movies filmed in and around Bangkok:
Erotic 70s Thriller Emmanuelle (yes, you know the one) was filmed in and around the capital.
The Man With The Golden Gun, the 1974 James Bond classic features car chases and a Thai boxing match in Bangkok. The islands in the movie (one is now known as James Bond Island) near Phuket draw thousands of tourists a year. They are absolutely magical places so well worth a visit, despite the crowds.
The Deer Hunter's infamous Russian Roulette scene was filmed in Patpong, one of Bangkok's main red light districts.
Shooting for the 1987 Robin Williams movie "Good Morning, Vietnam" happened in Bangkok.
Kickboxer, Jean Claude Van Damme's best-known movie was shot in Bangkok. Temple backdrops and crimson-clad monks take the edge off the punching and kicking, and bad dialogue.
Bond returned to Bangkok in 1997 for Tomorrow Never Dies. Bangkok does a body double for Ho Chi Minh City.
Bridget Jones: The Edge of Reason was shot partly in Bangkok. Soi Cowboy, the other infamous red light 'district', appears in one scene.
And one of the most awful movies ever made, The Hangover Part II (they should have left it at one) is set in Bangkok.
Not Quite The World's Hottest City
Bangkok is consistently one of the hottest cities in the world. It may even be the hottest. Quite a few bloggers, and even Bangkok.com and the Telegraph Newspaper, quote the World Meteorological Organisation as saying that Bangkok is the hottest city in the world. 
Bangkok is hot. But it's more likely to be in the top 3 hottest urban areas in the world. In April it often feels like you've moved closer to the sun. And the April heat is the ideal time to get involved in the Songkran festival (also known as the world's largest water fight festival).
World's Largest Water Fight
The Songkran festival each year attracts millions of people to the capital (a hotspot during Songkran) for 3 or 4 days of water fights. Yep, Bangkok turns into the world's largest water fight arena and it's glorious. Several years back, some partying girls removed their tops while joining in the fun and the photos went viral. Thailand's government officials were appalled (this kind of thing goes against polite Thai culture) and tracked down the girls to tell them off.
However, many people noticed that the official government website contains photos of Thai women baring all above the waist (a common site in Thai culture until recent times). After that, the 'outrage' subsided to a whimper and disappeared.
Bangkok Goes Big On Big Restaurants
Bangkok is home to the second largest restaurant in the world (the largest restaurant in the world is in Damascus, Syria). The Royal Dragon Restaurant in the suburb of BangNa is huge. Booking a table might not be necessary as the place can seat 5000 people. Back in 1992, it was the world's biggest restaurant. The seafood restaurant has over 1000 staff.
World's Largest Massage
Thailand is famous for its amazing massages. So it's only fitting that the world's largest massage record was broken in Bangkok in 2012. 641 lucky people received massages at the Thailand Medical Hub Expo to enter the Guinness Book of Records.
Bangkok Goes All In On Christmas
Thailand is a Buddhist country. But Thai people love the Christmas time events. If you happen to be in Bangkok in December, you'll see Christmas trees, elves, fake snow, and snowmen everywhere (despite the heat). You'll be tormented (or pleased) by Jingle Bells and Mariah Carey singing "All I want for Christmas" over and over, in every mall in the city.
One of these malls, the Siam Paragon, holds the esteemed record for largest gathering of Santa's elves. 1,762 in total. Scrooge and the Grinch were no doubt part of the officiating team as 14 poor elves were disqualified for not dressing like elves. Bah Humbug!
A City Of Facebook Addicts
This last fact is a cheeky one, but interesting all the same. Thailand is Facebook's 9th biggest country (by usage). And more than half of Thailand's Facebook users reside in Bangkok. If you've ever been to Bangkok you probably remember the 'obsession' with cell phones. Most people are using Facebook. Search engines and websites are less popular. Many businesses don't even have a website, preferring to build their store and presence on the social media platform (as a digital marketer, I believe this is a big mistake). Facebook is huge in Bangkok.
---
Side Note: Fact Checking For Blogs About Bangkok
There's a lot of disinformation and bad fact-checking out there. Even the popular website Bangkok.com is guilty of false facts ("fact" 1 and 6 are reported incorrectly all over the Internet).
I couldn't find any evidence of Bangkok's hottest city accolade, so I wrote to the WMO and asked them about it. Their reply "We are aware of the references though not sure how they originated. WMO has never issued any sort of statement about Bangkok being the hottest city in the world."
As people pull 'facts' from other sites with no citations and copy the information over and over, it becomes difficult to tell what's true and what's not. Ok, I know. This isn't a serious topic, but I've done my research and anything I couldn't verify through a reliable source I've left out. Enjoy!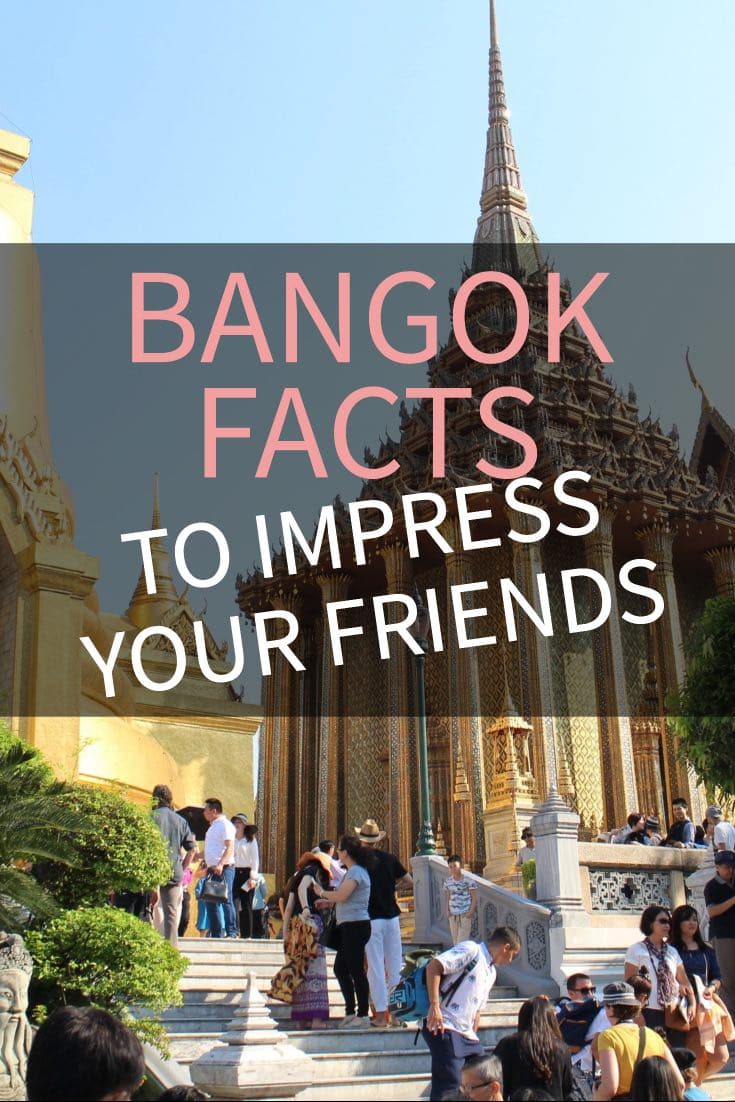 Blogger, lifelong learner, entrepreneur & musician from Ireland. I've been travelling and living overseas for over 20 years. My mission is to build businesses that allow me to have a simple and independent lifestyle. In the process, I hope to help myself and others with my writing.