It's easy to see why podcasts for digital nomads are popular. While it might appear to have limited niche audience potential, there are several reasons why podcasts about location independent entrepreneurs are popular. For one, audio is a format that travellers can consume easily. A podcast weighs nothing so listeners don't have to worry about space in their minimalist backpack. Shows on the topic of digital nomadism are great for practical advice and inspiration. Many nomads use them as an educational tool. Here's my list of shows that will help you at any stage of your digital nomad journey. Whether you're a seasoned pro or a budding beginner nomad, the advice in these podcast episodes is pure gold.
That Remote Life
This is one of the newest digital nomad podcasts on the list but I've put it first because it's definitely a rising star. If you're considering running or building a business while travelling, That Remote Life is the show for you. Host Mitko Karshovski has managed to build a professional, twice-a-week show that never fails to inform and entertain. Mitko interviews everyone from newbie location independent entrepreneurs to experienced nomads and successful business owners.
Topics covered in the interviews include remote work, location independent living, visas & business incorporation overseas, gear for digital nomads, destination guides, and business lifestyle design.
The host is a natural interviewer and is clearly passionate about his digital nomad journey. I expect this show to become one of the biggest in the digital nomad niche within a couple of years. Stay tuned!
Recommended episodes:
TRS 031: Reducing Taxes, Gaining Second Citizenships & How To Go Where You Are Treated Best with Andrew Henderson [The Nomad Capitalist]
TRS 032: Dan Andrews From Tropical MBA on Online Business & Entrepreneurship
Location Indie Podcast
The Location Indie show is one of the longest-running and most popular shows for the digital nomad community. Your hosts Travis Sherry and Jason Moore (from Zero To Travel) run through the typical topics of interest to nomads: work-life balance, online business, health on the road, freedom to roam, the best countries in the world to live, and more.
For the wanderluster with business chops.
Recommended episodes:
Episode 142: Freedom Is Our Currency
Episode 138: Is Your "Dream Lifestyle" Attainable?
Become Nomad with Eli David
Best described as an introspective and thoughtful podcast about the modern nomadic lifestyle, the Become Nomad podcast by Eli (a long-term digital nomad) is always high on my list of listening priorities.
Eli publishes episodes at random intervals but they're well thought out, full of insights into the digital nomad lifestyle, and always get me thinking. It's the sign of a good piece of content when you continue to ponder the questions raised long after you've consumed them. One of the best podcasts for digital nomads
Recommended episodes:
Japan, side projects & being a Hobo CEO: Talk with Chris Kirkland
The Importance of Defining Who You Are
Zero To Travel
Zero To Travel is a popular show with digital nomads that's been going since 2013. The topics covered are broad but always of interest to travellers. The host, Jason Moore, is a nomad so many of the episodes focus on the topic of location independence and budget travel. But out of hundreds of podcasts, there is literally something for everyone.
Get tips on travelling with kids, budget travel, touring in camper vans, holistic nomading, finding cheap flights, family travel, finding the cheapest places, and language learning.
Recommended episodes:
Potpourri Prat (Lifestyle Business, Experimenting and Travel Fears) with Matt Giovanisci
Up and Coming Destinations: The Republic of Georgia
UNTAPPED – Live Up To Your Potential
Natalie Sisson, also known as the suitcase entrepreneur, built a very popular travel blog called, yep, The Suitcase Entrepreneur.
The Untapped show was formerly called "Quest For Freedom" and is about finding your potential. Natalie interviews inspiring people that have build businesses and lifestyles that they are proud of and are happy to grow.
Recommended episodes:
040 – Three Ingredients to a Thriving Online Business
032 – The Future of Work is Learning
Misfits and Rejects
Misfits and Rejects is a lifestyle design podcast featuring expatriates, travellers, entrepreneurs and adventurers. Chapin Kreuter, your affable host says that he always wanted to capture the stories of people doing fascinating things from the old school all the way to the new school. He's particularly interested in the digital nomad movement and location-independent life. Chapin also talks to people who have found adventure in life by shunning what society expects of them.
"I was going to do it in a book form and write a screenplay, or write a movie about it. But I just started putting a microphone in front of people I found interesting. And Misfits and Rejects was born", says Chapin in an Interview about his surfing business and travels.
"These guys are definitely at the forefront of some kind of frontier. Especially the older guard. I was inspired to get started when I'd visit a small fishing village in Nicaragua and meet an American guy who's been there for 30 years with no other gringos. 'What's your story dude?' And that became Episode Four – Dale Dagger. Dale shipwrecked in Nicaragua and didn't have enough money to go anywhere. So he's been there for over 30 years".
Best podcast episodes:
Episode 126: Susan Jangannath Lost Her Job As A Technical Writer And Started Writing About Her Treks Through The Himalayas And Spain.
Episode 143: Self Mastery Through Mountaineering with Gavin Lang

The Tropical MBA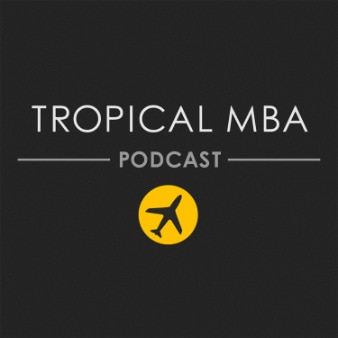 Not strictly a travel podcast but one created by travellers and digital nomads. Dan and Ian, the show hosts, started one of the first "digital nomad" podcasts back in 2009 with a show about building internet businesses while living in a (tropical) overseas location. The Tropical MBA is a weekly show which looks at working and living overseas, online business, and lifestyle design with a philosophical eye.
The guys started their show to document building their own lifestyle business which they eventually sold.
Tropical MBA has a loyal following with an impressive number of downloads. Dan, in particular, has excelled as host of the show and these days, the production quality is pretty slick. The guys have talked to some big names in the online space and travel world. Guests include David Heinemeier Hansson, Seth Godin, and Noah Kagan.
Recommended episodes:
TMBA434: The Lure of Remote Work
TMBA450: The Best Remote Business Might Be On Your Doorstep
TMBA411: The 10 Commandments of Travel Revisited
Digital Nomad Cafe with Adam Finan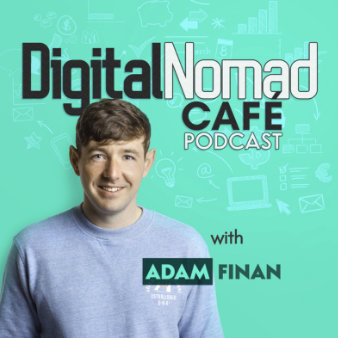 Fellow Irishman, Adam Finan has made a name for himself in the crowded space of lifestyle entrepreneurship and location independence. Adam is a marketer who interviews people that have created a business that they can take anywhere or landed a job that gives them a remote work lifestyle. Check it out here.
Recommended episodes:
EP22 – P1: Traveling Around The World Without Flying As A Freelance Web Designer with Niall Doherty
EP18: Building A Remote Tax & Accounting Business for Digital Nomads with Grace Taylor
Nomadtopia Radio
Host Amy Scott is originally from Australia but has built a life around her passions of travel and entrepreneurship. Topics covered are quite broad so there's something for everyone in the podcast archive.
If you're a freelancer, living and working overseas, or thinking about starting a business that lets you travel, check out some of the fascinating stories on Nomadtopia. New episodes appear every month or so.
Recommended episodes:
Ep 136 Coleman and Kennedy: Health and Productivity on the Road
Ep 135 Amy Scott: Long-Term Location Independence
Opt Out Life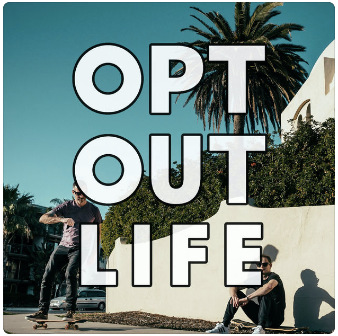 Opt Out Life is a podcast about people who have found alternative ways to control their time, travel and live life on their terms. Co-host Dana Robinson spent 14 months in Bali writing his book. Now he and entrepreneur Nate Broughton bring opt out life stories of others to inspire and show the opt-out path for everyone.
Recommended episodes:
EPISODE 61 – Tanner smith – Expat profitable and fancy-free
EPISODE 13 – Brian Kidwell – alert! Cheap flights from a digital nomad
Freedom Lovin' Podcast
As you can probably tell from the title, this show is all about making the most of location and financial independence. It's about creating passive income businesses, living where you feel most comfortable, and finding opportunities to invest in the globalized economy.
Host Kevin gets personal on many episodes and talks about his struggles, dislikes, loves, and desires in an authentic way. Shows often feel like you're in a conversation (albeit a one-way conversation) with Kevin, who chats about the daily life of a freedom-loving traveller.
Recommended episodes:
Fl134: Europe Reflections, Solo Vs Group Travel
FL138 Bangkok Blues
Nomad Capitalist
Andrew Henderson's Nomad Capitalist show, based on the popular blog with the same name, is packed with information on expat taxes, the best destinations for digital nomads, how to invest and money, where to bank, and the countries with the best tax regimes for location independent entrepreneurs.
While many of the topics are suited to six-figure entrepreneurs (Andrew's core market), there is a lot of value in almost every episode for beginner nomads and established entrepreneurs. Andrew has used his years of experience going "where they treat you best" to build a team of experts on the complicated topics of taxes, residency, and investments.
Recommended episodes:
104: Daniel Prince, Nomad Quality Of Life Index
084: Jack Sinclair, Why Non-u.s. Citizens Should Still Get a 2nd Passport
Break Into Travel Writing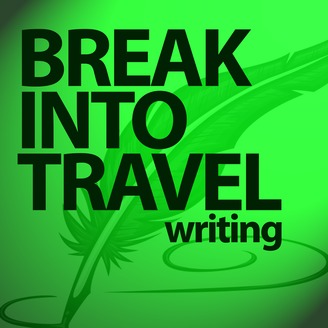 For bloggers and writers.
Interested in a life of travel writing? Want to know how to make money from your writing? Then check out this goldmine of information. The Break Into Travel show is for anyone interested in writing for websites, creating your own travel blog, and working with companies and Destination Marketing Organizations (DMO)
Some episodes are just travelogues of a press trip or a sponsored trip. I don't find these particularly interesting but they might be useful to writers considering working with companies for free and paid trips.
Check out the questions and answers (Q&A) shows where you can learn a lot about the travel writing niche, press trips, and sponsored posts.
The other episodes, however, are insightful and packed with tips for beginner travel bloggers.
Alexa, the website creator, also has a travel writer's academy, membership of which gets you access to exclusive podcast episodes
Recommended episodes:
BITW 132: Pinterest for Travel Bloggers with Melissa Megginson from Tailwind

The Traveling Introvert
Introversion appears to be trending at the moment (or maybe it's just that I am hearing more and more about it). More and more people are moving out of the comfy jobs they hate and into the real world of entrepreneurship and the potential for job-uncertainty. This is tough for people that like to keep a low profile and are not what we would typically call the go-getter entrepreneur.
This show is for people who run businesses, travel for business or pleasure, and are also introverts. (In case you're wondering, I consider myself to be somewhat introverted. That's why I enjoy writing)
Recommended episodes:
Ways I've Overcome "Shiny Object Syndrome"
Short flights with talkative people
Tim Ferris Show
No list of this type would be complete without a mention of the man who, for many, helped introduce the digital nomad lifestyle to the world. These days, Tim is definitely not nomadic and how show rarely touches on topics relevant to location indie people. But that's not to say there isn't value in shows with people like Josh Waitzkin, Ramit Sethi, Susan Cain, Kevin Kelly, Rolf Potts (Vagabonding), Sam Harris, and Joe Gebbia (Airbnb). In fact, most of us will learn more from show episodes with experts than from a course.
Episodes in The Tim Ferriss Show regularly run to over two hours (almost as much as Joe Rogan) but Tim's skills at interviewing means these shows are always entertaining and informative. A rare achievement.
Many nomads "grew up" taking Tim's advice on entrepreneurship and life-optimization. As they're own businesses grew, they continued listening to the author of the seminal "The Four Hour Workweek".
By the way, if you enjoy audio (you must if you made it this far) check out the audio version of The Four Hour Work Week on Audible.com.
Recommended episodes:
(#315) Lessons Learned Traveling the World
(#384) David Allen — The Art of Getting Things Done (GTD)
How to Build a Million-Dollar, One-Person Business – Case Studies From The 4-Hour Workweek