It's that time of year. The biggest shopping day of the year. Retailers and service providers love the extra sales and consumers enjoy big discounts.
There are lots of deals out there. But you don't have to buy everything. Don't let the scarcity factor blur your judgement. The best deals are not always obvious. I've put together a list of the most useful deals for travel bloggers, and for travellers in general for Black Friday 2019. Hope you find something useful in here.
Disclaimer: Some of the links below are affiliate links. This means that if you buy one of them we will receive a commission for the sale.Scroll down or click here for the full list in an easy to view table form.
Write Like a Champ!
Bloggers need all the help they can get to produce quality content on a consistent basis. It's not easy. And the grammar police will be on your back if your prose is not up to scratch. Make sure your writing is fluid, coherent, and interesting. Cheat by using a secret weapon. Pro Writing Aid is one such weapon. And this Black Friday they're offering up to 50% off. Yep, half-price deals for Lifetime subscriptions.
20% off 1-year, 30% off 2-year, 40% off 3-year, and 50% off lifetime.
Photo Storage & Cloud-Based Photo Backup
Note: SmugMug deals go live on 22/11/2018
Need better backup that is also secure? Save 40% today on unlimited, cloud-based photo backup at SmugMug.
Travel Blog WordPress Themes
Astra
WPAstra is in the list of my top 3 WordPress themes for speed and features. If you like clean designs, and fast, responsive user experience, this is a great option. The Astra black Friday sale kicks off on 20 November 2018. Use code BLACKFRIDAY2018 to get 30% off not only the Astra theme but the other excellent products that can help improve your travel blog such as Convert Pro and WP Portfolio Plugin.View Astra Theme Black Friday Deal
StudioPress Genesis Themes
StudioPress has been the most solid WordPress theme of the last decade and the company is still going strong. Genesis, the underlying framework, is one of the most secure and fast themes available. Building on top of this framework are themes that look professional and beautiful at the same time. Grab 20% off all themes.
Video Editing for Web and Social Media
Wave is one of the easiest to use and fastest video editor ever. Make free videos with zero design experience. Start with built-in templates and assets or build your own.
Get 50% off all plans and start making stylish Instagram and Facebook videos and marketing material for your travel blog.
Learn Travel Blogging, Vlogging, and Travel Photography
The biggest travel blogger in the world, Nomadic Matt, has his own set of courses to help you become a better travel blogger. This Black Friday the following Superstar Blogging courses are discounted at up to 60%
Outreach & Network like a Ninja
Ninja Outreach is the most lauded outreach software available. Find guest post opportunities, schedule emails, bulk email bloggers and businesses, manage all contacts and track open rates. It's a marketer's outreach toolbox. And it's quite expensive. Because it's good.
But you can get the Solo Plan for only $200. Or 50% off any higher plan. This is a rare deal opportunity from Ninja Outreach. Don't Miss it!
View Ninja Outreach Black Friday Deal

Build Your Online Course
Want to run a travel course, a travel blogging course, or an online travel hacking course? Teachable is one of the premier course platform providers and is perfect for the job. The software is easy to use and great value (signed-up user speaking here).
In 2018, online courses are a lucrative business model. Actually, the course business model is huge. Teachable is the best platform for getting your feet wet in the online teaching space.
Teachable has a HUGE Black Friday deal offering this year. Everything you need to create your first course as we head into 2019.
You get $4,000+ worth of bonuses for free when you grab this bundle.
It's the best deal Teachable has ever put together and is available from November 23rd at 12:01am EST
From 23/11/18 check out the deal here:
View Teachable Black Friday Deal
Otherwise, browse Teachable's great offerings here.
Landing Pages & Site Builder
Build landing pages, sales pages, event pages, and even entire sites with the ultimate page builder for WordPress, Elementor. Want a stunning-looking Travel Blog or course page? Want to build a media page for your travel blogging business? Elementor is the perfect tool for this. Get 25% off this Black Friday.
Get Elementor Black Friday Deal
Keyword Research
Every blogger knows that keyword research is the cornerstone of getting traffic to your blog. Writing articles about topics that people are actively looking for will brin visitors to your posts. But good keyword tools are expensive. Keysearch, one of the two keyword tools I use, is having a big Black Friday sale and you won't want to miss this.
Get 40% off with the code BLACKFRIDAY.
View Keysearch Black Friday Deal
Keyword & Competition Checker
KWfinder is one of the easiest to use tools on the market. But a subscription to the tool not only gets you access to the keyword research features. You also get website analysis tools, a SERP (search results) checker, backlink analysis (for checking your competition's links, and rank tracking.
For Black Friday, the team at Mangools are offering a 30% Lifetime discount on the suite of tools.
View KWFINDER Black Friday Deal
Content Studio: Social Media Curation & Sharing
We all know how important social media is. But it's time-consuming. Finding content to share and promoting your own blog posts and sales pages can take all of your time. But Content Studio is designed to save you hours of time. Post your travel blog articles, Facebook posts, Twitter, and Pinterest posts all from the one dashboard. Schedule the posts and repeat posts over and over without you having to manually add them. Find content to share and analyze what's working.
ContentStudio is offering a 50% Lifetime deal this Black Friday. Get it now!
Travel VPN
Travel bloggers need to travel to write about their experiences. Sounds obvious. But what's not so obvious is that your internet connection in cafes and public networks is not secure. In fact, most hacks on the average joe happen in Starbucks (or any coffee shop – not to pick on SB). Wifi can be easily compromised. Using a VPN is the best way of preventing hacks. You don't want to be in Peru, Thailand, or New Zealand without your Gmail account or money in your bank account. Yep, hackers can steal your passwords and your money. Don't let them do it.
IPVanish is one of the best VPNs available and as always, the company runs a great deal on Black Friday.
Read more about VPNs for travel or check out the deal below
Web Hosting
Before you roll your eyes, this is not a promo for Bluehost. I wouldn't do that to you. Nor is it for GoDaddy. I'm not evil.
Are you sick of hearing from web hosting companies? Probably. But sometimes a gem in the rough appears. Ig your website runs is a dog with three legs, your hosting support is clueless, and you spend a fortune paying for something that doesn't deliver, change providers today!
It's a great time to do it. But where to go?
I have two large accounts with Siteground and have been using the company for 3 years. They have never failed me. The support is awesome.
If you're thinking of getting an SSL layer, this is another good opportunity to change. Siteground uses Let's Encrypt FREE SSL technology.
Black Friday Deal 70% OFF Premium Quality Hosting from SiteGround!
Learn How To Be A Travel Blogger
Want to become a travel blogger? How about learning to be a travel photographer?
Would you like to improve your all-round digital nomad skills or just find cheap flights like a pro?
Udemy's courses are discounted for another 5 days for Black Friday. Although these courses are regularly discounted throughout the year, this is as cheap as they get. Some very popular options there. Take a look!
Run Your Own Blogging Course
Fancy your own travel blogging course? Are you a pro travel writer? Can you teach people how to travel hack?
Create a course and make a lot of money. In 2018, online courses are a lucrative business model. Actually, the course business model is huge. Get on the gravy train. Teachable is the best platform for getting your feet wet in the online teaching space (I run another course on Teachable in an unrelated niche and it's highly recommended)
Teachable has a pre-Black Friday giveaway of a FREE 5-day bootcamp on course creation.
The Big List of Black Friday Deals
| App / Tool | Black Friday Deal or Discount | Link |
| --- | --- | --- |
| How to Become a Travel Writer | 50% Off | Deal |
| SmugMug Photo Storage & Cloud-Based Photo Backup | 40% Off | Deal |
| Content Studio | 50% off lifetime plans | Deal |
| Keysearch | 40% off (use code BLACKFRIDAY) | Deal |
| Mondly | 93% discount on lifetime subscription | Deal |
| Master the Art of Travel Photography | 50% off | Deal |
| KWFinder | 30% Lifetime Discount | Deal |
| Astra WordPress Theme | 30% off | Deal |
| Teachable | $4,000+ worth of bonuses for free. | Deal |
| SERanking | 30% off any plan | Deal |
| SiteGround | Up to 75% off hosting | Deal |
| StudioPress WordPress Themes | 20% off all themes. | Deal |
| Convertful | Code LTDFBF to get a 30% Lifetime discount. | Deal |
| Ninja Outreach | Solo plan for $200. 50% off all higher plans | Deal |
| Elementor Pro | 25% OFF all plans | Deal |
| Find That Lead | 75% off + Prospecting Tool | Deal |
| NameCheap | Up to 98% off domain names and 97% off web hosting | Deal |
| Pretty Links | 60% off. Coupon code BF2018 | Deal |
| PopLink | 70% off. Use code POP70OFF | Deal |
| Pro Writing Aid | 20% off 1-year, 30% off 2-year, 40% off 3-year, and 50% off lifetime. Use code CYBERCOOP17. | Deal |
| DIVI WordPress Theme | Check page on 23/11/18. Biggest discount ever | Deal |
| ThemeForest WordPress Themes | 500 items on sale at 50% OFF | Deal |
| Deposit Photos | $49 for 100 stock images | Deal |
| Filmora | $49 for Lifetime access | Deal |
| Social Bee | $49 Lifetime access | Deal |
| Optin Monster | 35% off until 30th November. Use code BF2018. | Deal |
| VooPlayer | $79 lifetime access | Deal |
| Lemlist | $49 for lifetime access | Deal |
| Udemy | Courses from $9.99. Buy one, get one FREE | Deal |
| IP Vanish VPN | 40% off all VPN plans | Deal |
| Express VPN | 3-month FREE deal | Deal |
| FastComet Hosting | 30% OFF all new Shared Hosting plus Free Domain. Use code BFSALE30 | Deal |
| Thinkific | Discount and $2500 worth of free bonuses | Deal |
| ConvertKit | Massive discounts | Deal |
| LeadPages | First 60 days for $1 | Deal |
| Rocketium | 50% OFF all plans | Deal |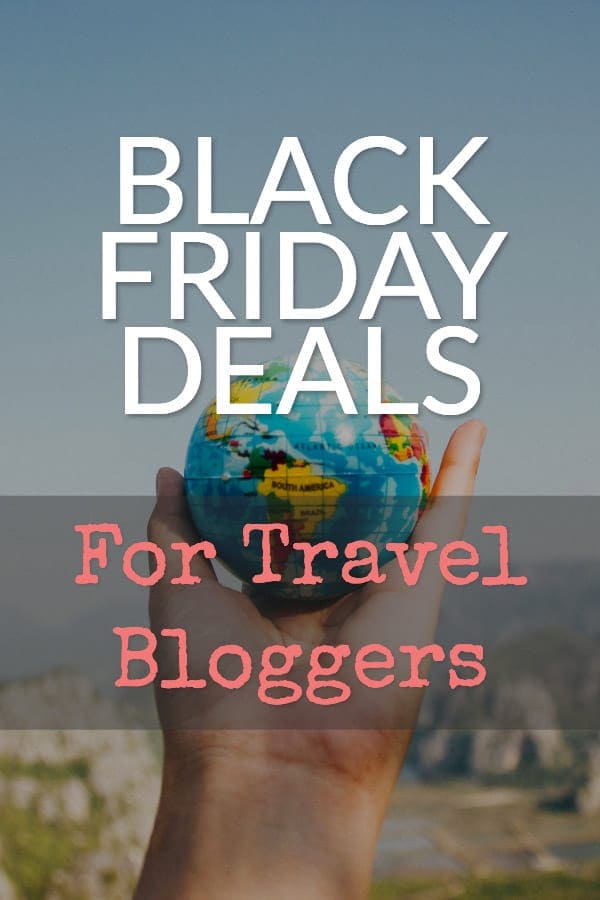 Blogger, lifelong learner, entrepreneur & musician from Ireland. I've been travelling and living overseas for over 20 years. My mission is to build businesses that allow me to have a simple and independent lifestyle. In the process, I hope to help myself and others with my writing.