It's that time of year. Black Friday (and Cyber Monday) offers great opportunities for saving money on travel deals, digital nomad services, blogging tools, and software services to help get the most out of your travels or document your trips.
There are lots of deals out there. But you don't have to buy everything. Don't let the scarcity factor blur your judgment. The best deals are not always obvious. I've put together a list of the most useful deals for travel bloggers and travelers in general for Black Friday 2022. I hope you find something that saves you money, helps you travel better, helps you on your journey to digital nomadism, or gives you the tools to build your travel blog. Now is the perfect time to bag some bargains.
Bloggers can benefit from huge discounts on website themes, SEO tools, email marketing software, photography hosting platforms, writing software, social media schedulers, and much more. If you know where the deals are, you could buy every piece of software you need for the rest of the year with massive savings. And let's not forget the Black Friday lifetime deals. Yeah, we love those 😀
The official date is Friday, November 25 but deals often last a week or two. At least until after Cyber Monday deals are finished. Some deals even start at the beginning of November 2022. (Every day is Friday in November!!). Cyber Monday is Monday, November 28.
*This post may have affiliate links. If you choose to purchase products or services through these links I may receive commissions. This is at no extra cost to you. Thank you for supporting all the hours of work I put into this website!
Dollar Flight Club
Dollar Flight Club is a service that provides cheap flight alerts delivered to your inbox.
Get 30% off Premium Plus+ to save up to $2,000 on amazing Business Class fares. Here are some examples:
🇮🇹 Biz Class to Italy from $995 roundtrip
🇺🇸 Biz Class to Hawaii from $393 roundtrip
🇬🇧 Biz Class to London from $997 roundtrip
🇨🇷 Biz Class to Costa Rica from $317 roundtrip
Heymondo Travel Insurance
Heymondo is a new type of travel insurance that offers a more flexible and affordable way to insure yourself while you're on the go. It offers a variety of coverage options that can be customized to fit your individual needs, and it's available both online and through a mobile app.
Coverage options include trip cancellation and interruption, medical and dental, lost or stolen luggage, and more. You can customize your coverage to fit your needs, and you can also add on additional coverage for things like adventure sports and rental cars.
Heymondo's prices vary depending on the coverage you select and the length of your trip. However, it is generally more affordable than traditional travel insurance policies.
Get 15% OFF your subscription this Black Friday with my link (discount will not apply otherwise)
Offer ends 28th November.
Bradt Travel Guides
Bradt is a multi-award winning company and one of the world's best travel book publishers. It has been producing exceptional travel writing for almost 50 years. Bradt Guides promoted sustainable travel before any other guidebook publisher. I think it's worthwhile and important to support independent authors and publishers before they are all gone (killed off by the likes of Amazon, content mills, and click-bait).
Get 50% off all Bradt guidebooks with the code BF50. I haven't seen a discount this big from Bradt so grab the deal while you can.
Hurst Publishing
If you're a fan of great travel writing and books about the environment, African studies, Islamic & Middle Eastern studies, South Asian studies, history, war & conflict, and international relations, Hurst Publishers is a great resource. Hurst has been supporting independent writers of non-fiction for over 50 years as an independent publishing house.
Get 50% off the entire list of books until December 4th
Airalo
How many times have you landed in a new country, only to find yourself in a SIM-switching nightmare?
You want to buy a local SIM card so you don't have to pay an arm and a leg on data charges, but there are so many options that it's hard to know which one is best.
Airalo is an app that helps you decide which eSIM to get in any country. You can then skip confusing maze of local SIM cards at the airport or high street stores and get a virtual eSIM in seconds. The app will tell you which eSIM is best for your needs based on the country you're visiting and your data plan.
Black Friday deal: use code BF20 to get 20% OFF
Mondly
Mondly is at the top of its game right now and I think it's one of the best language apps available on Android and Apple. If you're on the fence about whether to learn a language, or improve your current language skills, then this is your chance. Not only will you get access to all the current languages available on Mondly, but also to new languages that are being added all the time.
Get 95% off for a few days over Black Friday week.
Canva 5-for-1
Canva has a really incredible discount to offer you
Upgrade to Canva Pro. Order 1 account and get 4 free!
In case you didn't know, Canva is a graphics creation tool that pretty much anyone can use. Perfect for bloggers, travel writers, and travel marketing teams. With 5 accounts for the price of one, you and your team members get their own accounts. The software is simple to use so a virtual assistant or freelance blogger can easily make great marketing images for blog posts and marketing materials. This deal makes Canva on sale for the lowest price it's ever been. If you've been on the fence about this tool, get off the fence and take out that credit card (and get some Air Miles while you're at it). Don't miss this one!
ProWritingAid
Bloggers need all the help they can get to produce quality content on a consistent basis. It's not easy. And the grammar police will be on your back if your prose is not up to scratch. Make sure your writing is fluid, coherent, and interesting. Cheat by using a secret weapon. Pro Writing Aid is one such weapon.
Get 50% OFF the best grammar and spell checker software for bloggers and online business owners.
ProWritingAid is a great productivity tool for travel bloggers looking for a way to speed up the writing process and improve their work. One of the best Black Friday deals every year.
Mosalingua
MosaLingua is offering some amazing Black Friday deals on their language learning products! Get 50% off their MosaLingua Premium app, 40% off their MosaLingua Web app, 30% off their MosaLingua Business app, and 20% off their MosaLingua Teach app. These are some incredible savings on some of the best language learning products on the market, so don't miss out!
Culinary Backstreets
Those looking for an alternative to typical food tours might want to check out Culinary Backstreets, a different kind of food tour outfit.
While highlighting what makes each place unique, tours focus on the more traditional side of urban culinary life.
Discover the hidden gems of any neighborhood, from markets to high-end eateries.
Get 15% off all of Culinary Backstreet's food tours (use code: CBCHEER). This deal is available until December 31st.
Use code CBCHEER1 for 15% off on gift certificates as well, in case you're looking for a Christmas gift nobody else has thought of.
Wise
Wise (formerly called Transferwise) is a service I use multiple times a day, every day. What can you use it for? Well, here's a short list:
Spend in local currencies to avoid exchange fees
Receive salaries, pensions, and other payments into local virtual bank accounts
Move money between countries in seconds with low fees (way, way lower than the banks)
Link to Amazon and PayPal for work and business
But you can also get discounts and cashback for using your card this Black Friday. Get 15% off with Booking.com, 6% discount with Agoda, and multiple airline discounts. Hotels.com and Amazon also have discounts for Wise card holders. Check out the full list on the Rewards page.
Read my review of the multi-currency Wise card here and check out the benefits in November here.
Bookshop.org
Sure, you can get almost every book on Amazon, but Bookshop provides support to the actual creators of books and treats people are humans.
Amazon is handy but Bookshop is making a difference. I try to use this service as much as I can these days, despite the convenience of ordering with Bezos's behemoth.
Get 15% off all titles in the holiday gift guides section.
The checkout code is GIFT15 and this sale ends on December 18th. 
Plus FREE shipping until November 28th
Lingopie
With Lingopie, you learn languages by watching TV shows.In addition to improving your vocabulary and grammar, you will also improve your listening and comprehension skills.TV shows are a great way to learn a new language. TV shows make it easy to grasp foreign language concepts and vocabulary. No matter what your level of Spanish (or French, German, Italian, Portuguese, or Russian) is, this language immersion website will help you improve your fluency.
This language immersion site is unlike others. It is almost effortless to memorize vocabulary and grammar thanks to the intriguing, often addictive content.
Enjoy 65% off this Black Friday. It's a deal you won't want to miss.
Rocket Languages
Rocket Languages is a great language learning course because it offers lifetime access to the course material, perfect pronunciation with the help of a state-of-the-art voice recognition system, and it helps you practice on-the-spot speaking with common conversations.
I own the Arabic course (lifetime) and the system is really good for presenting the difficult Arabic script with phonetic transliterations and audio. Rocket Languages is one of the most highly-rated courses for learning a language among polyglots and language learners.
This is a good opportunity to save 60% on the regular price.
Use discount code BLACKFRIDAY
Offer ends midnight Friday, November 25th PST
strictly limited to the first 1000 courses sold or until midnight November 25th (PT), whichever comes first.
Two other popular languages are Spanish and Chinese but check the full list for all of the learning resources
Nexstand
If you're looking for a portable solution to neck and back pain from working on your laptop, the Nexstand might be just for you. There's a Black Friday deal that gets better the more you buy. So if you manage a team or you're looking for Christmas presents for your writer, blogger, or digital nomad buddies, check this Black Friday discount deal.
Buy 3 and get a 20% discount!
Buy 5 and get a 30% discount!
PlagiaShield
Make sure nobody is stealing your hard-earned Google rankings and your finely-crafted prose by checking for plagiarism on a regular basis. Tools like Grammarly and ProWritingAid offer plagiarism detection but they are used as more of an ad hoc solution to particular concerns. Stay on top of every page on your website by using PlagiaShield.
This easy-to-use software can also help you Identify thieves using your content, prevent uploading of articles with copied content, and discover backlinking opportunities that you won't find with other tools.
Get 50% off all plans for the first 6 months (discount code BF2022)
WayAway
WayAway Plus is a subscription service that gives you access to cashback deals on flights and hotels, as well as other benefits like a hidden gem directory and 24/7 travel expert support. Prices on WayAway can be cheaper than other websites when cashback is factored in, making it a good choice for frequent travelers.
Grab the normally $100 WayAway Plus annual membership for just $25! 
Astra
WP Astra ranks as one of my top WordPress theme builders for speed and features. It's also one of the best travel blog WordPress themes. If you like clean designs, and fast, responsive user experience, this is a great option. Astra's Black Friday deal kicks off a week or two before the big date. Get massive discounts on not only the Astra theme but the other excellent products that can help improve your blogs, such as Convert Pro and WP Portfolio Plugin.
Up to 63% discount on the world's best WordPress theme – only this Black friday
Grammarly
Grammarly's writing app makes sure everything you write is readable, accurate, and free of mistakes. You'll eliminate amateur grammar mistakes and misspellings with its industry-leading spell checker. With Grammarly, you can even get a recommendation for the best possible wording for your sentences, as well as an overview of your writing's readability.
Make sure your travel writing, trip reports, or general business correspondence are free of grammatical errors.
Get a huge 55% discount on Premium plans this year.
Glossika
Glossika is designed to help you build your listening and speaking ability in an efficient and effective way by re-creating the feeling of immersion by combining the most powerful learning-by-repetition principles with real human speech.
Check out the Black Friday Deal on all languages: Get 50% off any subscription plans, for life!
Dates: 20 November – 30 November
Offer: 50% off any paid plans, for life – Lifetime Deal 🔥
Surfer SEO
Surfer SEO is on fire. This on-page SEO tool has taken the content marketing world by storm and the company is growing fast. That means prices are rising so it's the perfect time to get possibly the best on-page optimization tool available. This is possibly the black Friday SEO deal you must buy.
Discover the phrases, elements, and keywords that your competitors use to rank first. Follow the audit recommendations to update your content or create new blog posts and outrank the competition with ease. Sounds simple. Well, it is. Surfer tells you exactly what you need to do to rank 1st on Google.
Last year's deal was really good so watch this space! Deal coming very, very soon.
Teachable
Want to run a travel course, a travel blogging course, or an online travel hacking course? Teachable is one of the premier course platform service providers and is perfect for the job. The software is easy to use and learn and great value (signed-up user speaking here). In 2022, online courses are a lucrative business model. Actually, the course business model is huge. Teachable is the best platform for getting your feet wet in the online teaching space. It's one of the most popular ways of making money online this year (as it was last year and probably will be next year)
It's one of the best Black Friday deals Teachable has ever put together and is available from 20 November until 30 November. And there's a 30-day, no-questions-asked refund policy.
Create and sell your own courses in no time at all.
SE Ranking
A simple equation in SEO that determines whether you get organic traffic from Google and search engines. It's this: (high volume) keyword + high rank = High traffic levels.
Essentially, if you want more free traffic to your blog, you need to have good rankings for popular keywords. But how do you know if your keywords are in position 1 on Google or even page one? How do you know the number of people searching for a particular keyphrase? Well, you could use Google Search Console. But you'd also be shooting in the dark. A much better option is to use a rank tracker. SE Ranking is the best in class for tracking your lucrative keywords. Want to know where you rank for "Top 10 cafes in Paris"? Use SE Ranking to track the movements of your keyword. Monitor how search engines rank your website with ease. It's one of those digital marketing tools you can't live without.
WP Rocket
In case you didn't know, website speed is a big ranking factor for Google. If your website is super slow, your 5000-word article on the best cafes in Rome won't appear in the top 10 on Google or the other search engines. Why? Because Google wants to give users a great experience. Websites that take 60 seconds to load do not provide a good experience. Do yourself a favour and speed up your WordPress site with a caching plugin. WP Rocket should be one of your must-have WordPress plugins if you care about website speed.
But don't pay full price. The Black Friday price is sure to please travel blogging bargain shoppers.
Envato Elements
Get unlimited digital assets and all-you-can-eat creatives with an Envato Elements subscription. Need that graphic for a marketing campaign? Looking to build a new website but need a template? Haven't got the right photo of Thailand for that travel writing assignment? Not to worry. Envato Elements has everything you will need. The service has almost 2 million assets and is increasing daily.
Creatives, designers, bloggers, and marketers will get a lot of value from this platform. But this Cyber Monday deal for bloggers is a must-have.
Want to skill up on writing, blogging, graphic design, photography, email marketing, or WordPress website design? Check out EnvatoTuts+, a library of thousands of courses, all free to use on the Envato plan.
Tube Buddy
The world's 2nd biggest search engine is an amazing resource for learning and entertainment. And millions of bloggers and marketers use it to get their message across, create loyal fanbases, and make a lot of money.

But nobody has cracked the YouTube SEO code. Well, that's not entirely true. TubeBuddy is a browser extension plugin that gives you an advantage over your competitors. Find the best keywords, discover trending topics, create quick thumbnails, publish fast, optimize and promote your videos, get useful statistics and practical suggestions for improvements, and a lot more besides. It's a must-have YouTube SEO plugin for people serious about video blogging.
25% off ANY new license, for the lifetime of the subscription
Combine with Annual Plans (that are already discounted by 20%) and get get 40% off the regular rate!
The Affiliate Lab
One name stands out in affiliate marketing, Matt Diggity, an entrepreneur who runs several businesses in the digital marketing space. Matt specializes in growing and selling affiliate websites. If you'd like to do the same, this is one of the best courses to get started or improve your current strategies. Get field-tested marketing strategies from one of the most respected affiliate marketers in the business. Learn how to grow a huge blogging-based business.
Monetize affiliate websites in any niche! If you're a blogger or budding site owner and you want to make money in your niche, this is the course that will outline exactly how to do it.
Get a 50% discount on The Affiliate Lab
If you missed the Black Friday weekend deal, don't worry! You can still get a $200 discount on the course with this link.
WP Grid Builder
WP Grid Builder might be the plugin you need to turn your ordinary blog into something special If you have a website, e-commerce store, blog, travel blog, food blog, or anything else, should check out the amazingly cool stuff you can do with Grid Builder for WordPress.
Ever wanted to build your own Airbnb or booking website? Don't know how to code? No problem.
Create gorgeous ecommerce stores, portfolio websites, and grid-based blogs that are bound to leave an impression. Look 100% pro without any coding skills.
Get 40% OFF with coupon BFCM40
Adobe Creative Cloud
Creatives, rejoice! The world's number one graphics editing and design suite is available at a huge discount for Black Friday. If you do video, graphics, flyers, logos, and ebooks as part of your blogging work, this is the software deal for you.
Get 40% off Creative Cloud, including Photoshop, Illustrator, InDesign and Premiere Pro. Offer ends on 27 November.
Frequently Asked Questions
Do you recommend the Bluehost Black Friday deal?
I don't recommend Bluehost at any time of year. The service is sub-par, the admin panel is booby-trapped with up-sells, and the only reason every blogger on the planet recommends it is because of the high affiliate commissions offered.
I have an online business. Are these deals only for bloggers, travel bloggers, and content website owners?
Most of the black friday deals listed on this page can be used in multiple industries and niches. If you have a website and you want to increase traffic or convert more customers, there is something for you here.
Which hosting service do you recommend?
I recommend two different WordPress hosting services. Both are excellent and both companies have an excellent Black Friday hosting offer. Try Siteground or Fastcomet. Both hosting services will help you grow your blog to the next level and they come at an affordable price (especially every November)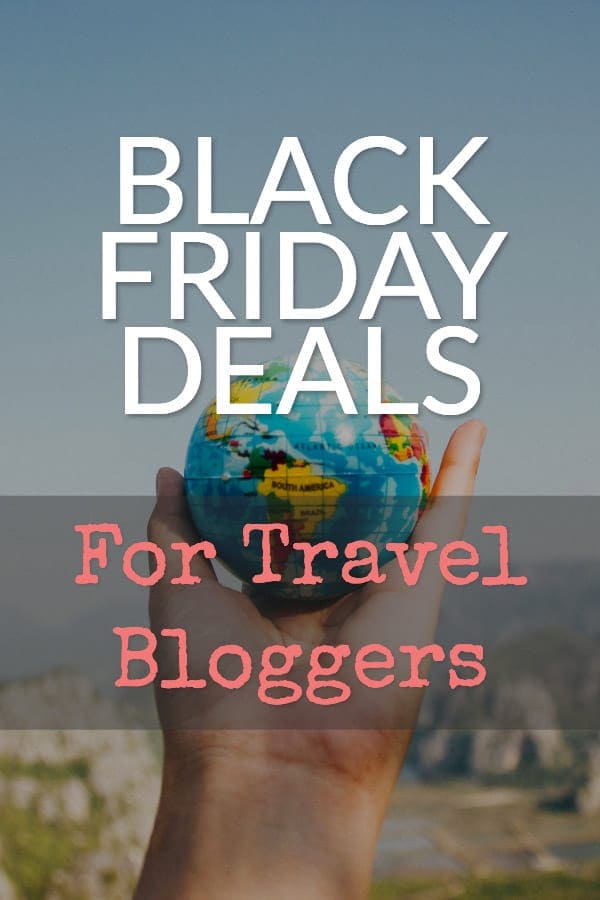 I don't display annoying ads on this site. But the content takes many hours to produce. If you like what you're reading and would like to see more, fuel my writing with some caffeine! Cheers