It's that time of year when travellers around the world book flights for the next 12 months, buy travel gadgets they may or may not need, and stock up on travel-related deals on services and products. There's plenty of rubbish on offer but don't fear. I've rounded up the best Travel-related Black Friday and Cyber Monday offers for you so you. Find discounts on vacations, guides, tours, books, and other travel products and services. Enjoy!
When visiting a new city or region, a knowledgable guide can be the key to a "meh" experience and an insightful and fun one. Many cities hide their secrets and cool stuff from the casual visitor. But local guides know all the best places to visit, as well as the best food and drink establishments. But most of all, they understand what travellers want and they make their living from providing the best travel experience to visitors. So why not take advantage of this expert local knowledge?
As well as learning about all the hotspots and getting insider insights, you will reap the benefits of having a Q & A session with a local.
GetYourGuide's Black Friday deal is up to 25% off their local guide activities from November 28 to 30. Check it out!
Trusted Housesitters
Get 25% off owner, sitter and combined annual memberships of the world's best house-sitting platform. If you've ever wanted to travel and stay in amazing homes for free, this is the perfect time to save money on the increasingly popular house-sitting network. Oh, you must be a pet lover to stay at a home – that's part of the deal.
Promo Code: BLACKFRIDAY25
Dates: Friday 29th November – Tuesday 3rd December 2019
100 x £179 return fares to Los Angeles from London Heathrow
For the last time ever, Air New Zealand will be offering one hundred £1+Taxes return fares to LA from London Heathrow this Black Friday, starting at 10:00 UK time. It's a first-in-wins situation si you'd better be quick. But this is a ridiculously low price for that flight so it's worth trying.
This is the fifth year in a row Air New Zealand has offered such a low price exclusively on Black Friday.
Those super-low priced flights are not the only flights to Los Angeles available over the whole Black Friday weekend so if you miss out, keep checking.
Lonely Planet Guide Books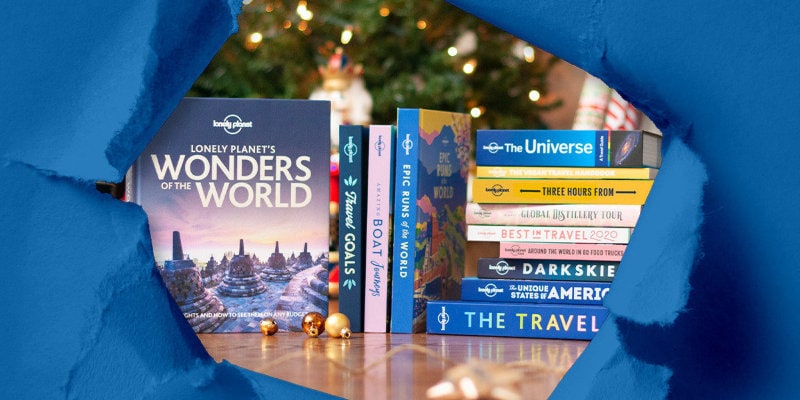 Guide books can be divisive. Some people love them. Some hate 'em. I think they're a great tool when used wisely. The Lonely Planet has been around forever and their huge team of minions is hard at work as you read this scouring the world for the latest and greatest. Full of insights, funny anecdotes, and packed with details, these are the travel books that will, well, guide you. If you're looking for that special Christmas present for the traveller in the family, here's where to go.
Use code NOMADFLAG40 for 40% OFF everything from Tuesday 26th (a few days earlier than the general sale)
St. Lucia
St. Lucia. Ever been there? Me neither, but I'd love to go. And the photos look amazing.
I can't vouch for the place, but these deals look sweet. Cyber Monday specials in the Carribean.
Anse Chastanet – 40% rate reduction in the Superior and Hillside Deluxe room on an MAP (breakfast & dinner) or all-inclusive with a 5-night minimum stay.
Bay Gardens Hotel – Buy One Night, Get One Night FREE
Bay Gardens Beach Resort & Spa – Buy One Night, Get One Night FREE
57 Hours
57 Hours is offering a superb deal for adventurous travellers that sign up for their email list. Sign up between November 15 and December 5h and get $57 off any adventure. Use code BLACK57.
57 Hours is a passionate community of local guides all over the world offering amazing itineraries to adventurous travellers.
Flash Pack
Adventure travellers and indie travellers, here's a deal for you!
Get €250 off the Jan & Feb 2020 tours in Flash Pack's extensive range of adventure tours. €200 off tours over €2000 in the rest of 2020 and 100 off tours that are under €1000 for the rest of 2020.
Sound good?
Trip.com
Trip.com's Black Friday discounts of up to 70% off selected hotels. Many others are discounted by $30.
Limited $30 Hotel promo codes are released every day at 15:00(GMT+8) beginning on Nov 25!
Traveling Spoon – Culinary
Insider culinary experiences that take you off the beaten path are all the rage these days. People want more authentic experiences and what better way than eating with locals. Connect with local culture through food. This is one for th etrue foodie.
Traveling Spoon's Black Friday sale gets you 20% off your cooking class, meal or market tour with a local. The biggest savings of the year, apparently.
Use the code BLKFRIDAY20 at checkout
Casa Palopó, Lake Atitlán, Guatemala
Here's something to combat the consumerism of Black Friday.
15-room Casa Palopó on Lake Atitlán in Guatemala will be giving 20% of all recorded bookings made from Nov. 28 to Dec. 2 to a mural project. Join this when you book a night within Jan. 2 to March 31 and you will get a rate start at 315$. (book via email to [email protected]).
Blogger, lifelong learner, entrepreneur & musician from Ireland. I've been travelling and living overseas for over 20 years. My mission is to build businesses that allow me to have a simple and independent lifestyle. In the process, I hope to help myself and others with my writing.