The secret's out. Tbilisi, the capital of the Republic of Georgia, is the hippest undiscovered city in the world. Here's why you need to visit. And while you're there, this list of things to do will get you started on exploring this fascinating place.
A city of 1. 5 million, Tbilisi is one of the last capital cities in Europe not overrun by tourists. Overtourism, the scourge (or Godsend, depending on your point of view) of popular cities is not an issue in Tbilisi, for now. That makes Georgia's capital city a special for the intrepid traveller. And don't worry, it's perfectly safe.
I spent over a month in Tbilisi and saw much of the city. If you're looking for some itinerary ideas and some cool things to do in Tbilisi, pick and mix from this list and you won't go wrong.
Stroll Down Rustaveli avenue
Despite the traffic screaming by and (in summer) the heat during the day, Rustaveli Avenue is one of the best places to stroll in Tbilisi, especially if you want to avoid hills. A long, fairly straight and only slightly inclined avenue, Rustaveli is the show-off wide street and a sort of central location.
While it gets no bonus points for the lack of street crossing points, Rustaveli Avene is one of the most important streets in the city for local people and visitors. If you like the look of that shop on the other side of the road, it's often quicker to hail a taxi to get to the other side (via a long detour). I doubt if there are plans to change this in the future.
On Rustaveli you'll find one of the city's main malls, many coffee shops and restaurants, the Georgian National Museum, the Opera and Ballet House, the National Gallery, and plenty more attractions and things to do.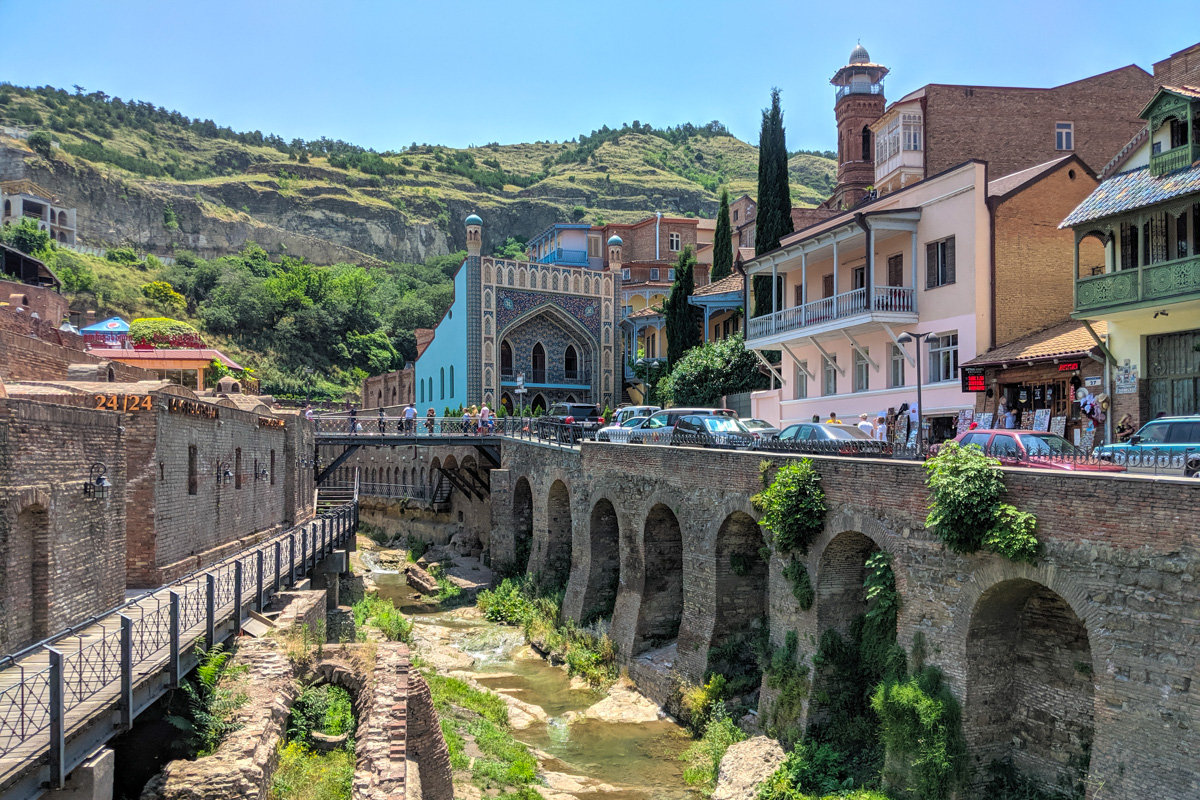 Book-lovers should definitely check out Prospero's Books, the most famous English-language bookstore in Georgia. The store's owner, Peter Nasmyth, wrote the original Georgia travelogue back in 1998 and I recommend it to any history and culture fans.
Many cafés and restaurants on Rustaveli have outdoor areas, often shaded from the sun, where you can watch the world going by.
Indulge in Traditional Georgian Cuisine
While I'm not a fan, I'm in the minority. Most people can't get enough of traditional Georgian food. I'll admit that it certainly looks appealing. Who wouldn't want slabs of bread with melted cheese or juicy savoury dumplings of ground meats or vegetables?
To get a better handle of the traditional Georgian dishes you'll find all over Tbilisi, check out this Georgian Food post by Nathan Aguilera of Foodie Flashpacker.
If you're short on time, these three foods are typical of Georgian cuisine and should be on your food bucket list.
Khachapuri
Khinkali
Churchkhela (grapes and walnuts – two food items you will find everywhere in this country)
And if you want to experience the most in-demand restaurant, book a table at Barbarestan. This place gets more love from guidebooks than most other restaurants in Tbilisi. A modern restaurant with a real connection to the history of traditional Georgian food. Enthusiastic diners book days or even weeks in advance just to secure a spot. Generally recognized by locals, tourists, and visiting foodies as one of the best places for Georgian food in Tbilisi.
Drink Wine and Be Merry
I'll go out on a limb here and say that the wine of Georgia is the best in the world. Yes, better than French, Italian, Californian, and even the vino Argentino that I've enjoyed for years.
Why? Because wine from this part of the world is still produced in what you might call artisan style. Small quantities, no added junk, naturally created. The result is some wild-tasting wines. But that's what makes them unique. Keen to try? Tbilisi is chockablock with wine stores so there's no excuse for not trying. Oh, and they will all give you generous tasting for free. But even if you are on a tight budget, a bottle of the good stuff is 1/4 of the price of the equivalent in the countries I mentioned above.
Wine Gallery is one of the best places to sample wine in the city. The staff are friendly and there's an incredible display of the best of Georgian wine. Also, check out 8000 Vintages and Reserve Wine Tasting Shop.
Check out the Polyphonia
No, I'm not talking about some town in Greece or an album by The Police. Polyphonia is a musical term that, in simple terms, means "many voices". If you've ever heard Georgians sing (and it will happen soon after you arrive) then you'll know they can hold a note. In fact, Georgia people appear to have some kind of genetic predisposition to beautiful singing voices and the ability to sing several people at once can create
You might be lucky to hear an impromptu session or even a mini-concert accompanying your meal at a restaurant.
Georgian polyphony is so ingrained in the culture that UNESCO listed it as an Intangible Cultural Heritage of Humanity.
Admire the Mother of Georgia Statue (Kartlis Deda)
Ex-soviet territories usually have one or two massive statues to warn invaders. Tbilisi is no exception and shares a similarity with Kyiv, the capital of Ukraine, and Volgograd, Russia, in that the imposing figure overlooking the city is a woman. And in Tbilisi, it's not just any woman, but the country's "mother". The Mother Georgia statue is reachable by Gondola from the trail to the Narikala fortress or by Funicular (you'll need to walk around from Mtatsminda park)
Take the Gondola to Narikala fortress
You can't miss it and it's going to be one of the places you want to visit first. Admittedly, the fortress looks much more impressive from the city. But don't miss the chance to view Tbilisi from one of the best vantage points in the city. This 4th-century fortress is an absolute must-see. Bring your camera!
You can arrive by cable car (gondola) or if you want some exercise, by hiking up the hill. (Great for burning off the endless khinkali and khachapuri). The cable car is another interesting way to travel the city. While traffic isn't as bad as many other cities I can think of, it can be busy at peak times. The cable bar bypasses everything.
The walking option is free but will take a bit of time and energy. The gondola is cheap and fast so this is the best option if you're short on time.
At the top, if you're feeling energetic, walk the Narikala Tourist route to the Mother of Georgia statue or back into old Tbilisi near the Botanical Garden. In the direction of Mother of Georgia, a trail continues all the way around to Mtatsminda park and the Tbilisi Funicular. This walking trail is a great way to see the city.
Take a "Bath"
A visit to sulphur (sulfur) baths is one of the best things to do in Tbilisi in winter. And there's no reason you can't visit in Summer. Tbilisi baths appeared before the town, which owes its location to the hot springs.
Hot natural springs attracted local people and visitors to the (modern-day) suburb of Abanotubani and in time, Persian-style sulfur baths popped up to accommodate people seeking the health benefits of the spring's naturally hot water.
The Royal Bath is the one you've probably seen on photos. Here's one:
But this isn't the only one. Depending on your needs, there may be better and cheaper options. Check out Orbeliani Bathhouse, Queen's Sulphur Bath, Gulo's Baths, and Chreli Abano, all handily located within a few hundred metres of each other.
Get a Photo of Tbilisi's Leaning Clock Tower
The click tower in Tbilisi—sometimes called the leaning tower of Tbilisi—is a building that looks like it was built by a blind monkey. This is a very odd clock tower, and one that draws tourists in droves. It was, in fact, designed like this by puppeteer Rezo Gabriadze, who owns the Gabriadze Theater & cafe next door. Once you've taken your Instagram photo, you can check out the puppet show.
Walking tours
Be warned that Tbilisi is hilly. If you've already spent the morning checking out the city, maybe wait a day before talking that afternoon walking tour.
There's so much history to learn (all very interesting, by the way) that a guided tour will help break it down into manageable chunks and nuggets of historical sound bytes. I always recommend wandering around a city to get to know it—serendipitous strolling often results in more memorable experiences than following the beaten path of the guidebook.
However, tours offer another side when visiting the city – the insider view.
Every street in old Tbilisi has a tale to tell but unless you enjoy walking with your Lonely Planet in front of your face, it's better to have a local describe everything to you.
Tbilisi Free Walking Tours offers three types of free city tours.
Main Free Walking Tour
Hidden Tbilisi
Backstreets of Tbilisi
Most people will take the first one but the more curious readers will find the other two pique their interest.
Tbilisi is safe, so you don't have to worry about heading into the hidden streets and dark alleyways. The only danger is getting offered too much chacha. And once you've done all the main sightseeing spots, check out the path less travelled.
Experience Hip Tbilisi Hotels
Rooms hotel and the Stamba hotel are two destinations in their own right. Located close to each other, these hotels raise the level of hip-ness in a city fast-becoming the new hip European destination. (Berlin is so 2009)
Some other cool hotels worth visiting for the atmosphere and maybe a coffee or glass of wine are:
Kisi Hotel
Shota Rustaveli Boutique Hotel
The Grove Design Hotel
no12 boutique hotel
Marvel at the architecture
Tbilisi is growing at a fast pace. Massive structures like the Biltmore Hotel and the Axis Twin Towers show off the city's aspirations.
But the old building facades around many parts of the city have tons of character. You'll see Persian balconies that look ready to collapse as well as iconic Soviet architecture like the bonkers Ministry of Transportation building (now used by a Georgian bank)
Here are some of the most interesting, bizarre, and beautiful examples of architectural design in Tbilisi
Ministry of Transportation (Bank of Georgia HQ)
Tbilisi State Opera House
Rustaveli Theatre
The cable car station
Rike concert hall
The Peace Bridge
Orbeliani Bath House
Tbilisi City Assembly
Axis Towers
Tbilisi Public Service Hall
Stamba Hotel
The Wedding Palace or Palace of Rituals
Get Out Of Town
Tbilisi wont leave you wanting for things to do, but if you're going to spend any longer than 4 or 5 days, it's worth getting out of the city limits and exploring some more of Georgia's incredible places and culture. Take a day trip from Tbilis! The country is small and nowhere is too far.
Tbilisi is a great base for exploring Georgia's ski fields, many of which compete favourably with more expensive areas in Europe.
One of the best day trips from Tbilisi is a visit to Kazbegi, in the north of the country. While it's possible to visit Kazebegi in a day, the real joy is spending a night there. Kazbegi (Stepantsminda) should be top of your "Things To Do In Georgia" list. The frontier town in the north of the country is the gateway to the North Caucasus mountains and sits at the food of the mighty Mount Kazbek. After that you're in Russia.
Hiking up to the Gergeti Glacier is a popular day walk but make sure you give yourself a couple of days for this trip from Tbilisi, especially if you book a tour bus or guide. You might be able to drive to the town, do the walk, and drive back in a day, but only if you are an overachieving caffeine addict. Hang out at Rooms Hotel Kazbegi and enjoy the excellent food, coffee, and the views.
Take a day trip to Mtskheta, the original capital of Georgia and one of the oldest cities in the country. Mtskheta's setting at the confluence of the Mtkvari and Aragvi rivers is best viewed from the Jvari monastery.
The driving might give you some grey hairs but the roads are in good shape. The country is doing all it can to promote tourism and making it easy to get around is one of the best ways to keep tourists (and locals) content.
Drink a Craft Beer & Enjoy The Bar Scene
Tbilisi is a hotspot for craft beer. I completely ignored it because, well, when you've got one of the world's greatest sources of wine right there, everything else takes second place. But they tell me the craft beer is good. Considering locals take the beer seriously, it's worth a look.
The aptly named Crafted Bar on Agmashenebeli Ave, is a cosy spot feeling unfiltered, strong-flavoured draught beer. As is the case in many bars in the city, the beer sold here is not available anywhere else. It's a cosy place that gets really busy so you'd better be comfortable with getting up close to others.
Just ahead of Crafted on the Beer Rating scale is Black Dog Bar, another tiny spot that has a raving fan base. Find this place on Lado Asatani in old Tbilisi town and check out the tasty beer snacks while you sample probably the best craft beer in the city. Black Dog Bar is also a microbrewery and offers six types of house beer.
The Krig Brewing Co is tiny place (like most craft beer bars in the capital city) but packs a punch in the variety of beers on offer. The owners are beer fans and will gladly chat to you about the pros and cons of every brew in their shop and beyond. There are about 10 or 15 types of beer on offer to suit every taste. Head to Samgori street and follow the smell of fermented hops.
A trendy spot that's conveniently located in the middle of everything, is Bauhaus bar in Dedaena park. During the hot summer months, sip craft beers on the outdoor space beside the river as the sun goes down.
Lolita, the absolute hippest restaurant in Tbilisi, is winning the hearts of locals and visitors with its food and ambience. It's a really nice spot that you can find it directly across from Rooms Hotel.
Erekle II street is a pedestrian zone with cafes, restaurants and bars packed tightly together. You should be able to find something that takes your fancy here.
Explore Cool Cafes
While the coffee scene has nothing on Vienna, Budapest, or Italy, Georgians love coffee and the hipster cafe scene is growing. In recent years, the trend towards artisan cafes has hit the city. Of course, Starbucks makes an appearance but it certainly doesn't dominate the way it does many other cities.
The cafe in Stamba Hotel – Stamba hotel is an ex-Soviet publishing house and is a wonderful spot to hang out. Drop by for a coffee and you might have the entire cafe to yourself. And while this is one of the most expensive hotels in the city, the price of a cup of coffee is no higher than anywhere else.
Paul Cafe – One of the only coffee shop chains worth visiting. Icy cold inside with prices a little higher than the competitors, the French bakery-cafe's comfy seating and pleasant atmosphere make up for the fridge-like experience. They serve a nice brew but bring a coat! Find it just off Liberty Square in the heart of the old city. 3/5 Galaktion Tabidze Street. There's a slightly smaller, second location in Vake on 26a Irakli Abashidze Street.
The Marjanishvili 8 • Coffee & Dining cafe – A gorgeous place near the Marjanishvili bridge and Aghmashenebeli Ave. I love the colours here. The brew is nice too.
Linville – Linville cafe is one of the most photogenic businesses in a city that is already a magnet for photographers that love retro-cool and quirky, non-sanitized cafes. They also serve great desserts and have a great range of alcoholic drinks. Another cafe near Liberty Square. 11 Kote Afkhazi St.
144 Stairs Cafe – It takes a bit of work to get to this cafe, but the view at the top makes it worth it. Visitors climb 144 stair steps to reach the building, but it's not clear where the steps start. In any case, expect a bit of huffing and puffing, followed by "oohs" and "ahhs" as you admire the fine view of the city while sipping freshly brewed coffee.
PurPur – one of the quirkiest old-school places in town and well worth a look, if just for the interesting decor. "Temporarily closed" as of July 2021. Check online before visiting.
Have a Religious Experience
Even for the non-religious, the mix of beautiful buildings dedicated to faith in the old town of Tbilisi (and around) leaves a lasting impression. Georgia has been invaded by every country within throwing distance but it has managed to assimilate other religions and cultures. Each culture left it's mark. Georgian orthodox, Muslim, Jewish, Zoroastrian and Armenian Apostolic religions are all represented here. Wandering around the city, you might bump into the following:
Atashgah of Tbilisi
Anchiskhati Basilica
Holy Trinity Cathedral of Tbilisi
Kashveti Church
Norashen Church
Great Synagogue, Tbilisi
Qarapi Saint Gevorg church
Tbilisi central mosque
The Holy Trinity Cathedral, the main Georgian Orthodox church in Georgia's capital, is a beautiful building set in gorgeous grounds with a priceless view of the old town. Most postcards and Instagrams are shot from the other side of the river.
Visit the Opera
The Russians introduced a culture of opera-going during their reign of dominance over the country. But despite the removal of many things "Russian", opera remains an important cultural significance.
The Opera and Ballet Theatre of Tbilisi is a majestic building on Shota Rustaveli Avenue, just up from The National Gallery.
Constructed in 1896 (the previous building burned down), it's one of the oldest opera houses in Eastern Europe and is also one of the most interesting. Looking like it belongs in the south of Spain or Morocco, the theatre is one of the most striking on a street full of impressive buildings.
Enjoy The Street Art
There are plenty of murals and other street art by local artists in the city and while paintings on the side of public buildings are not star attractions, the works are incredibly good and are worth checking out.
Buy Stuff At the Dry Bridge Flea Market
The dry bridge market is one of the funkiest flea markets you'll find anywhere. Not as crazy as SouthEast Asian markets but the dry bridge market sells crossbows, knives, and well, lots of stuff nobody should ever need. Browsing the seemingly useless junk neatly (and not so neatly) arranged and presented for buyers is part of the fun. But it's not all weapons and crazy stuff. Artists tout their artwork here and there's plenty of good stuff.
Liberty square
Liberty Square is a huge open space at the end of Rustavelli Avenue with a massive roundabout of traffic circling the Freedom statue.
So, it's just a square? I hear you say. That's true. But it's impressive all the same.
Hang Out At A Hostel
While half of you are intrigued (or mildly interested), the other half are probably thinking, "Spend time at a hostel? You've got to be kidding me". But the cool vibe and spacey layout make it worth a try. And you don't have to sleep in a room with smelly backpackers.
Fabrika is named for the former Soviet sewing factory the hostel, bar and cafe now occupies. Think industrial-chic mixed with a young, international traveler scene. There's a very Instagrammable bar and cool couches and chairs to hang out in.
Show Your Love For Tbilisi
If you love Tbilisi, then you might want to get a photo at the I Love Tbilisi sign which continues the growing trend for Instagram click-bait signs in cities and towns. People around the world will say "Hey, I want a photo there" and then get an almost exact same photo when they visit. Remember kids, if it's not on Instagram, it didn't happen.
Amuse the Kids at Mtatsminda Park
Winning the award for the most spectacularly situated amusement park int he world, Mtatsminda Park, which sits on top of one of Tbilisi's tallest hills, is the ideal place to let the kids burn off excess energy from eating tons of Khachapuri. The park's attractions are more suited to slightly older children. Adults will love it.
For around USD$25 you can take up to 4 people on every ride and amusement in the park. A total bargain. Avoid on the weekends when it gets pretty crowded with local families. Reach the park by Funicular from Shota Chitadze Dead End Street.
Walk The Peace Bridge
The design of the Peace Bridge continues the trend towards curvy geometrical shapes.
Resembling a bow or a wave if you look at it from a 90-degree angle, the smooth lines of the Bridge of Peace seem at odds with, and at the same time, completely at home in this central Tbilisi neighbourhood. The bridge was originally opposed by many locals and politicians because of its location right in the heart of the old city.
Created by French and Italian designers and architects, this piece of modern art looks particularly good at night. Some people might scoff at the disco lights set to create wave effects at times, but many others agree that the bridge's lights add a welcome bit of colour to the city at night.
Geeks and trivia buffs might like to know that the flashing lights are not random. They communicate the periodic table of elements in Morse code. If you'd been paying attention to them, you might have noticed.
Hawkers tend to around here plying their wares on tourists but just pay no attention and they will leave you alone to enjoy the great views of the water of the Kura river and Narikala fortress.
And that leads us to Rike Park…
Explore Rike Park
The bridge leads you from the busier (and more touristic) west side to Rike Park, on Tbilisi's east side.
If you thought the Peace Bridge had an unusual shape, wait till you see the two big metal and glass tubes joined together at one end. This is Tbilisi's futuristic-looking concert hall, a building that contrasts with the surrounding garden park and cliffs with the Presidential Palace behind it.
Rike park is small and won't take you more than a few minutes to explore but it's a pleasant place to unwind, away from the traffic. The location feels quite central thanks to the hills on more than one side and the river on another.
Frequently Asked Questions
Is Tbilisi worth visiting?
Are you kidding? Tbilisi is one of the hippest, best-value, and interesting cities in the world. It's worth visiting now while it's still relatively undiscovered and cheap.
How many days do you need in Tbilisi?
This depends on your goals. You can see main sites in a day but if you want to truly experience the food and drink, visit Tbilisi's interesting neighbourhoods, enjoy some cultural events, and explore outside of the main touristic areas, 2 to 3 days allows for a better experience with a 3 to 5 being optimal.
What can you do in Tbilisi in one day?
Yes, you can do Tbilisi in a day. But it depends on your definition of "do". Can you tick off the top 5-10 sites that everyone visits? Yes. Can you truly experience the city in a day? No.
What is there to do in Tbilisi in 3 days?
In three days you can experience the top restaurants, visit the best wine cellars, enjoy some musical and cultural events, and even take a trip to the old capital of Georgia, Mtskheta.
What's the weather like in Tbilisi?
The weather in Tbilisi is influenced by Georgia's sub-tropical climate. Expect hot, dry summers (June to August) and fairly cold, damp winters (November to February).
What is there to do in Tbilisi in December?
In December and into March, Tbilisi is not a destination in itself. Rather it's a jump-off point for some of the World's cheapest ski areas.
Where can I go at night in Tbilisi?
There are endless bars, wine bars, restaurants, and places to hang out. The city has also become a hub of electronic music. Locals love to dance the night away in one of the many underground electronic music venues.
Is Tbilisi Safe?
Yes, Tbilisi is safe. Opportunistic thieves and criminals will look for tourists that let their guard down but in general, crime rates against tourists are very low. In 2019, protests outside of the parliament buildings led to some violence in the streets. However, it's not recommended for LGBT+ people to openly display affection in public.
Is Georgia cheap to visit?
Yes, Georgia is on a par with many countries in Southeast Asia or South America for value. Right now, heading into 2020, it's one of the best-value destinations in the world.
How long can I stay for?
Georgia has one of the most generous visa policies in the world. Citizens of most countries get 365 days on arrival. This makes Georgia very attractive to long-term travellers and digital nomads as the city has great amenities and offers a high standard of living to visitors.
How far is the Airport from the city?
Tbilisi Airport is about 20km from the city center. It takes about 30 minutes in a taxi. Use the Bolt app. Get €5 off with code KEITHLSJ when you sign up.
If you like what you're reading and would like to see more, fuel my writing with some caffeine! Cheers