Guillermo Brown, born William Brown, is probably the most well-known Irish person to have made a name for himself in Latin America. As the first admiral of the Argentine navy and a highly respected and victorious leader, Admiral William Brown influenced Argentina more than any other immigrant from Ireland.
William Brown's early years
Born in Foxford, Ireland in 1777, William Brown immigrated to the United States, along with his father, at the age of 10. Within a month of arriving in the United States, his father passed away, leaving him an orphan. In order to survive, he spent the next decade working on a river steamer before earning the coveted position of captain in the US merchant army.
Thanks to his high ranking position and ability to take control in any type of situation, such as taking the helm of the boat, managing rations, manning the pumps, learning how to use tourniquets, and facing typhoons, Brown caught the attention of the British Royal Navy, considered the greatest naval power in the world during this time period.
Thanks to his skills and expert sea legs, Brown was forced or press-ganged, into the British Navy, where he fought in a number of battles against the Spanish, and eventually rose to be a high ranking officer on a British merchant ship.
He served in the British Navy for twelve years, which included the Napoleonic Wars, a conflict between the French, led by Napoleon, and the other European nations.
Escaping capture
Despite his brilliance, Admiral Brown's ship was captured by the French, who jailed him in a Metz prison. To escape, he dressed as a French prison officer and simply walked out. However, he was soon recaptured and was jailed in the fortress of Verdun, which was considered to be inescapable due to its massive size.
While at Verdun, Brown befriended another prisoner, an English colonel named Clutchwell. Together, they were able to successfully escape. Although he struggled and was almost caught on several occasions, Brown made it into German territory where he was safe.
Marriage and a big move
From German territory, William Brown was able to reach England and resume his naval career. By 1809, he had married Elizabeth Chitty, a member of a family of Channel master mariners, pilots, and privateers, and decided to make a move to South America.
By 1812, he had purchased land in the area and built a home, referred to as "Casa Amarilla." (Although the original home is no longer there, a replica has been built that serves as a museum detailing Brown's life.)
At this time, the War of Independence had left the British Navy in shambles.
Taking control of the Argentine Navy
In 1814, Brown was given the opportunity to take control of the navy, which included organizing and rebuilding the fleet, as well as engaging in battle with the Spanish naval forces. With his expertise, he quickly rose to the challenge and obtained the rank of Lieutenant Commander in the British Navy.
His first victory was securing the island of Martín García, a strategic island in the Río de la Plata, used by the Spanish to control the harbour area.
This he did against the odds, sending the Spanish retreating to Montevideo, and increasing Brown's status as a highly respected military commander.
His fleet then managed to capture the neighbouring capital city of Montevideo, across the Río de la Plata from Buenos Aires. His leadership skills in these decisive battles helped Brown achieve the position of commander of the new Argentine Navy.
Admiral Brown the Hero
Brown was a hero in Argentina from that moment on. He outmaneuvered and defeated the attacking Brazilian empire's 31 warships in the waters just off Buenos Aires, with just a handful of his own hastily assembled ships and crew. A brilliant tactician and leader, Admiral Guillermo (as he was then called) Brown saved Argentina from an invading force bent on domination of their neighbour.
Although he was offered prestigious roles in politics and held the position of Director of the Bank of the Nation, Brown preferred the quiet life and in between bouts of saving the country from invading forces, Admiral Brown dedicated his time to farming.
He was a very popular figure in Argentina and died a hero in 1957, missed by his many friends who buried him in Recoleta cemetery in Buenos Aires.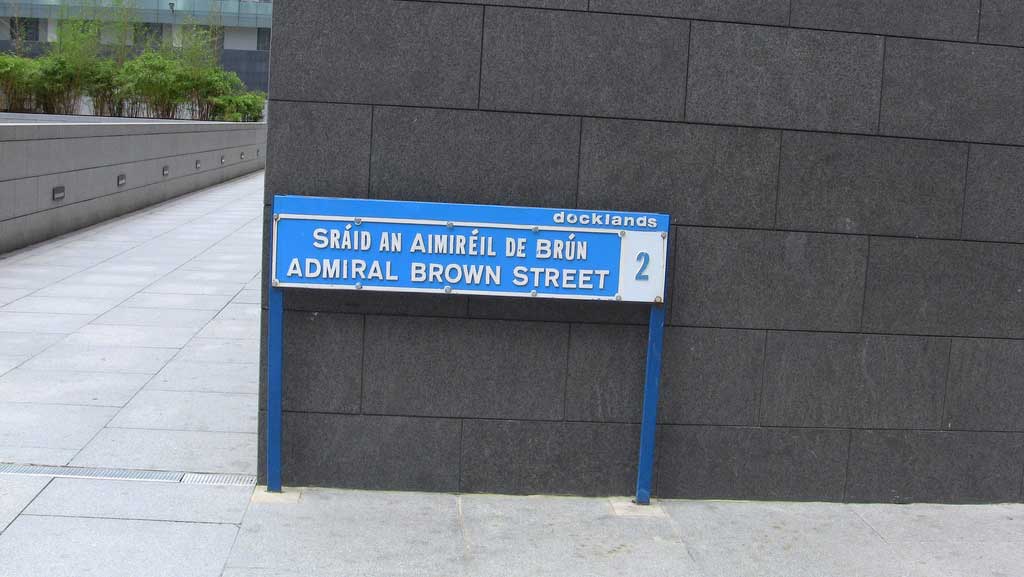 Argentina has hundreds of streets, town squares, avenues, neighbourhoods, and even towns named after the most famous Irishman in Argentina.
There are even four football clubs named in his honour.
Club Almirante Brown
Club Atlético Almirante Brown
Club Atlético Brown
Club Social y Atlético Guillermo Brown
In 2006 a statue of the great man was unveiled in Dublin's Docklands. It was relocated in 2012 and a plaque was added. A second statue was due to be installed in Brown's place of birth, Foxford, Co. Mayo but a payment issue resulted in one of two created in Argentina being left stranded in Buenos Aires. Eventually, the second statue was installed in Foxford.
The Wolfe Tones, the Irish rebel music band, wrote a song called 'Admiral William Brown', written in 1982 was actually a jibe against the British at the time of the Falklands (Islas Malvinas) war.
The Admiral Brown Centre in Providence Street, Foxford, is a small museum dedicated to the founder of the Argentine navy. A very friendly place and a must-see for anyone interested in the history of William Brown.
Considering the fact that Brown's name is associated with so many places and landmarks in Argentina it's a wonder that this museum and two statues are the only tributes to the man in Ireland.
Other important Irish-Argentines or people with connections to both countries include Che Guevara and Violet Jessop, Titanic survivor.
If you like what you're reading and would like to see more, fuel my writing with some caffeine! Cheers