Learning a language opens the doors to new experiences, new cultures, and a new way of thinking. Learning a second language will change your life. But not everyone has the resources to immerse themselves in another culture whenever they want. So what are the best tools, apps, and resources that will help you learn a language and take your travel experience to the next level? Let's take a deep dive into language tools. But first, why should we bother with learning a language?
How Language Learning can improve your life and your travels
The learning systems in school instil us with the belief that studying languages is an easy way to get a few more high grades. But learning a language has many benefits in real life (yep, who'd have believed it?). People travel more than ever now. And we can't always rely on English. In fact, we shouldn't rely on our native language.
Helps you deal with the everyday stuff and customs of another country without resorting to using our native language or checking your mobile phone for answers.
Builds rapport with natives and helps form relationships. Travel is about culture, not just your Instagram snaps, right?
Gives you a sense of achievement and accomplishment.
Opens doors that language barriers keep shut (work, love, friendship).
Can help you spot and prevent scams.
First of all, I don't want to exclude non-English speakers but if you're reading this, there's a 99% chance you speak English at a high level (native or 2nd language).
English speakers are, to some extent, at a disadvantage when it comes to learning a new language. How could this be a disadvantage? Well, you've got the most important language for travel right in your brain. But with learning foreign languages, command of English can be a stumbling block.
Let me explain. The entire world seems to want to learn English. Let's say you're conversing with somebody you don't know in their native language. If they spot you're a native speaker and they are learning the language, it can be a challenge to stop the conversation from reverting to English. I can't blame them. It's a natural thing to do.
Best Language Learning Apps
Apps for your phone, tablet, and desktop computer.
🇨🇴 Mondly
This free language learning software is a top pick for the best tool. Using a flashcard-style delivery of content, Mondly app lessons help you match words and sounds with pictures. This is visual learning at it's best and is very effective.
You get the chance to converse with the software by answering questions (via your microphone or keyword) and holding an entire conversation in your target language. A great way to practise your speaking skills. This is a great features of the tool.
There's a good range of languages to choose from including Hindi, Thai, Vietnamese, Hungarian, and Ukrainian. And these are just the languages available to English-language users. If you've ever tried the double-immersion method (I word I invented – don't look it up), then you'll know what it's like to learn a new language through one you've already mastered. For example, fluent or advanced Spanish speakers might try to learn French, German, or even Thai through Spanish.
The speech recognition feature will help you improve your pronunciation by recording you saying words and phrases and analyzing the results.
Mondly has a web app and a mobile app version. Both are easy and reasonably fun to use. There are some differences though. For example, Thai is not available in the app. The app is pretty basic with the free version but the monthly plans, with many more lessons, are not expensive.
🌎 DuoLingo
DuoLingo is one of the best-known apps for learning a new language and is very popular. Duolingo's unique teaching method is a great way to supplement your language studies or even learn a new language from scratch. It won't replace a course or a good language learning system, but it's a handy app to have your phone for downtime study. However, it has some flaws, so try it out before you commit to your foreign language studies.
Duolingo uses gamification (learning through tests and games) to help you progress. It's free so you won't have to worry about forking over money when you get to a particular stage of your learning. But there's a limit to what you can learn with Duolingo.
I recommend using a course or software that will give you a head start in your target language and use Duolingo to reinforce the knowledge you've gained. Think of it as a kind of teacher that prompts you to come up with answers. Test and evaluate, is my advice. All the same, DuoLingo is evolving fast and is still the pick of the apps.
DuoLingo offers courses on many languages, including: Latin American Spanish, French, German, Japanese, Italian, Korean, Mandarin Chinese, Russian, Arabic, Brazilian Portuguese, Hindi, Turkish Dutch, Latin, Swedish, Greek, Irish, Polish, Norwegian, Bokmål, Hebrew, Vietnamese, Hawaiian, High Valyrian, Danish, Romanian, Indonesian, Welsh, Czech, Scottish Gaelic, Swahili, Ukrainian, and Esperanto.
🎴 Memrise
I used Memrise language learning software for about 2 years to improve my vocabulary. The app uses flashcards for teaching through repetition. Words and phrases appear repeatedly in order to force your brain into remembering them. That's the theory at least. But Memrise has a few tricks that regular flashcard applications do not. Like Duolingo, quizzes test your ability to write words, recognise characters, and read phrases. If you fail particular phrases, you will see them again later on.
For each flashcard, you can listen to the pronunciation at different speeds and with different voices.
In the beginner Chinese course, the Chinese characters appear alongside the Pinyin pronunciation. Every translation is also available at the click of a button. Memrise offers courses in Spanish (Spain and Mexico), Chinese, Japanese, Turkish, Arabic and most European languages. The software works in your browser or as an app on your phone.
A new kid on the block and a very popular one also is Drops. Full name: Language Drops. Winner of the Google App of the Year Award, Drop is a beautiful-looking app that aims to make daily short language practice as easy as possible. it costs around $8 a month but you can grab a lifetime deal for $150 at the moment.
Best Language Software and Courses
Another approach to language acquisition suits people with time to invest before travel. Here are a handful of the many apps, language learning tools, courses, and methods for studying your idiom of choice.
I've used almost all these tools so here's the complete guide to the best software and courses.
🔥 Chris Broholm's website Actual Fluency is a mine of useful information and his courses on Bite Size Language are perfect for people struggling to understand spoken languages. There's a Bit Size Language course for students of Spanish, French, German, Italian, Russian, or Danish. And there's a 20% discount at the moment.
🈲 Pimsleur
I'm a fan of the Pimsleur method. It helped me learn Spanish fast when I wasn't living in a Spanish-speaking country. The Pimsleur concept is based on the repetition learning method, which to be frank, is an effective way to learn a new skill. You repeat what you hear in the audio lessons. The recordings are designed to make you repeat phrases and embed them in your brain.
While learning through repetition might not appear to be the smartest or most efficient way to improve, it works. Pimsleur has been around for many years and has had plenty of success in the language learning field so the company must be doing something right.
It works like this: the presenter (almost always a man with an American accent) briefly introduces a section and begins saying phrases. A short pause then follows and then a native speaker says the phrase in the target dialect. The phrase is then broken down into smaller chunks for repeating.
It sounds like a very rudimentary way of learning but it's effective. In fact, it's designed to mimic how we learn to speak.
I never found the lessons boring. On the contrary, they gave me a sense of achievement. And the dopamine hit from achieving a goal (even one you hadn't predetermined) is a powerful impulse to continue learning.
🇪🇸 Rosetta Stone
The Rosetta Stone language courses enjoy a reputation so strong that the vast majority of people searching for "Rosetta Stone" online are not looking for information on the third century Egyptian stone carved with three ancient scripts. They are looking for language lessons.
Rosetta Stone, these days means language software (cloud-based). PC Mag gives the Rosetta Stone a rating of "excellent" and calls it the "best full-featured language learning software". It's not the cheapest option available but it's fairly complete and it's a great way to start your journey with languages.

Courses include Persian (Farsi), Pashto, Swahili, Urdu, Dari, Filipino, and Hebrew, as well as more common languages, are available.

The learning programs include visual-based testing and private language coaches. There's a free demo which you can access on the website for anyone that wants to test it out first.
🈯️ Coursera
One of the oldest running online course providers, Coursera used to be a free website. In the last year or so, this has changed. There's still a free trial available and financial aid is available to qualifying students.
The structure of courses on the website and the payment methods change frequently (an annoying aspect of the site) but you can still get a lot of value for free. And the course material is high quality. Coursera encourages students to follow a certification path so they can prove their competency in the courses studied. If you don't need the certifications you can still follow the syllabus and learn for free in many cases. At the time of writing, the Chinese for Beginners course is $49, which seems like good value, considering the difficulty of producing good Chinese language learning courses.
Tip: use a plugin like Honey for Chrome which finds discounts on Coursera (and hundreds of other sites) – read more about Chrome Extensions for Travel here.
Language Learning Tutor Platforms
Italki is a great service for practising the language you're learning with native teachers. It's an online learning platform that connects students with learners. You can browse teachers and see the hourly rates. iTalki lets you access thousands of teachers all over the world and it's as close to in-person learning as you can get. The great part is that teachers in developing countries charge less in many Western countries for language lessons.
HelloTalk is like iTalki but it runs as an app on your phone. Find a language partner and start chatting. It's that simple. The app also comes with tools that help the learning process like translation, pronunciation aids, and corrections.
Preply is a new entrant in the list of online language tutor platforms. It's a great place to learn from hundreds of different native speakers in your target language. There's a money-back guarantee and the first lesson is often free.
Other Language Learning Tools
I asked the netizens of Reddit for their choices for the best language apps. Here's their picks
👉 Anki is an app that came up over and over. It's a flashcards app that works across most browsers and devices. Not just for learning languages, Anki is useful for memorising anything but the language learning community has adopted it as the go-to flashcards app.
👉 For the difficult Asian languages try Lingodeer, a beautiful looking app and free for the moment.
👉 SmartCards+ is another top-rated flashcards app with a great user interface.
👉 For anyone learning to speak German, try Chatterbug.
👉 MateTranslate is a new Chrome plugin that lets you save vocabulary from Netflix as translations for your language learning apps. It's free to use.
🌐 ReadLang Chrome Extension
This extension is a superb addition to your browser for people that read foreign language sites. Here's how it works. Let's say your reading Argentina's La Nación newspaper and you're having difficulty understanding the text in a paragraph. Click the Readlang Web Reader extension button and then click on words on the page to get an automatic translation. Google Translate does this same function but it translates the entire page of content (which isn't always convenient). It's also a bit cumbersome to copy and paste single words into another browser window for translation.
Readlang Web Reader works with lots of languages including Mongolian, Korean, Finnish, Chinese, and even Maori.

It allows for customisation of how the extension highlights text and translates. The words you highlight and translate go to a database on Readlang. You can then review the words as flashcards. It works like Memrise but only uses words you translated. So it's an even more personalised level of learning. It also works on tablets and phones.
Readlang of my favourite tools for language study.
Youtube
Google's online video platform is the second most powerful search engine in the world and the number of video hours uploaded every minute is staggering. So it's no surprise that videos to help you learn a new language are easy to find. Make sure to check out the endless amount of learning resources available to everyone for free. But do keep in mind that for every good video there are ten bad ones.
Teachers often post free videos and even entire courses to either get you subscribed or signed up to their email list or to get revenue from the ads that play over the clips. There are also lots of language learners that document their journeys and offer advice and tips for like-minded individuals. Sometimes the best teachers are the ones that are just a small step ahead of you. They know your pain points and can help better than a teacher who has forgotten what it was like to be a learner.
YouTube is definitely a powerful language learning resource.
Language Exchange
Another favourite is the language exchange method. In its simplest form, participants take turns to practise the language they are learning to speak with native speakers. At some point, the focus language changes and the other person practises. And the beauty is that there are many ways to start a language exchange:
Attend a meetup
Use Zoom or Skype to have conversations with native speakers online
Use iTalki's learning platform to speak with teachers or native speakers.
Listen While You Sleep
A hack for the Tim Ferriss-type personalities. The idea is based on studies around listening to foreign languages as you sleep. Sounds like a good plan. In theory, it could work. But in practice, it's impractical.
Not to mention the sleep interruption from voices in your head. The only time I would consider this is when I'm flying. I can't really sleep on a plane and the sleep I get is of poor quality so I might as well use the time to do something productive. Listen to audiotapes of the language of the country you're heading too. With luck, you'll learn a few new words and they will be fresh in your mind. At worst, you'll get bored and fall asleep. Either way, you're ahead. Try Pimsleur's Audio language learning program.
Listen To Music
Music, as a mnemonic, is a superb way of creating emotions around a language. Liking the music you're listening to helps a lot. If you hate Salsa, then it's not a good idea to listen to this music as practice. You'll just associate the whole learning experience with negative emotions. Listening to pop or rock music in the language you're learning is a good way of introducing yourself to popular phrases and colloquiums.
Learning Languages Through Another Language
This is a radical way of learning but depends on you already knowing a second language. Let's say you speak French to a high level of proficiency. Trying to learn another language like Thai by using French learning tools is a great way to learn. Here's why:
It slows you down a little so you won't skim or brush over explanations. Sometimes we can read in our native language without absorbing the information. Reading in another language can force the brain to make new connections and force new words into the "database" of the mind.
It creates different neural pathways to the language. As with mnemonics, learning through another language can help us remember vocabulary and grammar better.
Read Comics And Children's Books
This works well if you're a fan of comics and you learn better through visual methods. Comics are great because every scene is matched with an image. There's a lot of dialogue there too so you've got several reasons to choose comics.
The obvious choice here would be Manga. But you could also read Tintin in its original French. Best of all, it's a fun way to access your chosen language.
Tech Language Takeover
Change your phone and computer interfaces to the new language you want to learn. This makes things a little awkward, but in my experience, the more difficult and uncomfortable a situation, the better your brain will remember the words.
Ever had an argument with your significant other in another language? You won't forget the words they used. You also won't forget the words you scrambled to find in a hurry. Emotions help with learning. Fact. Going full native is one of the best methods for learning new languages.
Lose Your Own Language
Another radical approach is to only speak the language you're learning for a certain period. We could call this total immersion but the idea is to not speak your own language with anyone, even people that speak your language. If they can't communicate in your target language, use an interpreter. Yep, it's extreme. But it works and it some learners have tried it with success.
When I moved to Argentina, I found an apartment in Buenos Aires with several rooms. The rooms I rented out to other travellers came with a condition: You could only converse with me in Spanish. No English or any other language I might understand. It worked a charm. My English, Irish, American, Argentine, and French flatmates, all spoke Spanish 99% of the time. The rules change in real emergencies, of course. I'm sure it seemed a little strange to my new flatmates but in the end, everyone loved it.
Which Countries To Visit For Total Immersion?
Want to know which countries have the highest and lowest English-language proficiencies? The English First website has a proficiency index. Here's the rating for China.
The best country in the world for language proficiency is the Netherlands. If you've ever travelled or lived in the country, you'll know it's difficult to practise Dutch. I spent 4 months there many years ago and almost every time I tried to speak Dutch, the reply was in English. They're not trying to be difficult, they can switch languages quickly and without problems. Even people that one might consider less well educated, such as bakers, repairmen and cleaners, have a command of the language that puts some natives to shame. Dutch is considered an easy language to learn for Anglophones (the languages are closely related) but practising in everyday life comes with challenges.
Laos gets the lowest score of the 80 countries in the ranking list. Asia, as a region, however, has the 2nd highest level of adult proficiency.
Which Language To Learn?
I speak fluent Spanish and I've studied French, Chinese, Thai, Portuguese, and Japanese to varying levels of success. Spanish is an easier language to learn but the adage "easy to learn, difficult to master" still stands. Even if you've got 6-12 months of solid study, land yourself in a bar in Buenos Aires at 2 am and see how your listening comprehension studies have helped.
But compared to Chinese, Vietnamese, Urdu, and even some European languages like Polish, Spanish is not a difficult language to learn (for English language speakers). We can add Portuguese, Dutch, French, Italian, and even Romanian to this list of easier to learn dialects.
The best language to learn comes down to your personal preferences. If you're going to live or travel in China, it doesn't matter how easy it is to learn Dutch or French or any other language.
But thinking long term, there are other reasons for learning a particular language. The number of native speakers and the geographical area covered by native speakers is a valid reason. Spanish is a great choice because it's spoken in several continents and is used in business and travel. Chinese might seem like the obvious first choice here, but a language like Spanish is spoken widely in Europe and the Americas, and also in some African countries.
If you want all of your bases covered for travel, these six languages will help you in every situation:
English – For obvious reasons.
Spanish – Because it's spoken as a first language in 31 countries. There are 450 million native speakers of Spanish in the world.
Arabic – Spoken in 60 countries around the world.
Chinese (Mandarin) – because of the sheer volume of speakers.
French – Still spoken in more countries around the world than Spanish.
Russian – Because the citizens of a good deal of ex-Soviet Bloc countries and Central European countries will understand the language.
The Hockey-Stick and Plateau Curve Of Language Learning
Is it possible to quickly get a language skill?
Yes it is. If you look at the number of words we use every day, it's quite a limited pool. Many people spend their lives conversing with only a few hundred regularly used words. That's why language learners can make a lot of progress at the start of their language learning journey.
Most people spend their lives conversing with only a few hundred regularly used words
I always find that gains in learning taper off once you've learned the words, phrases, and grammar to converse and get by on an intermediate level. It's often the reason people claim to be fluent in a few weeks. Unless you're particularly talented, that's not going to happen.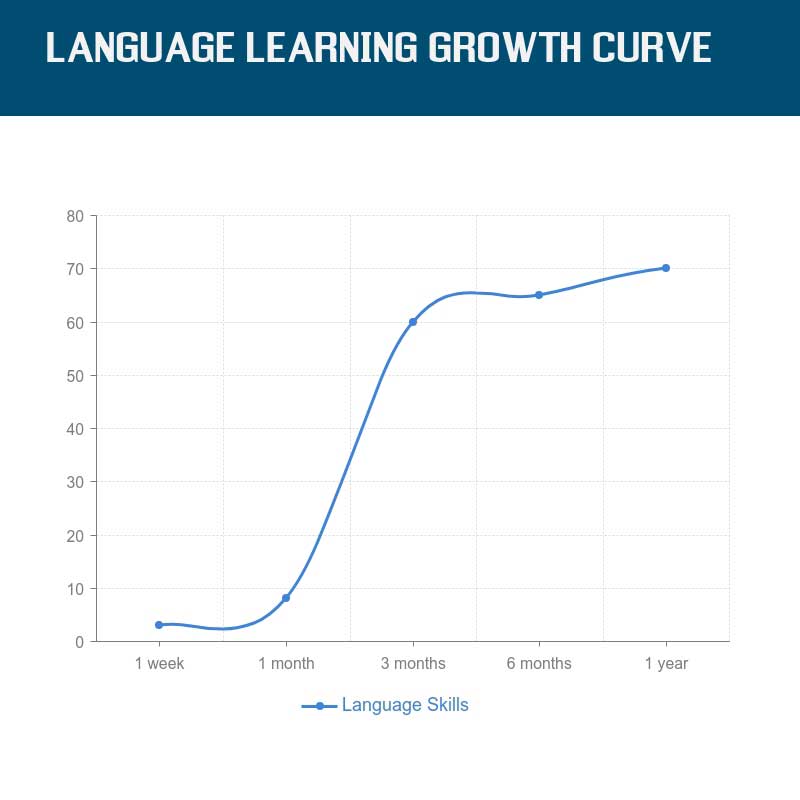 Wikipedia defines fluency as "the ability to produce language on demand and be understood." We can take from this that even if you have bad pronunciation, a bad grasp of grammar and limited vocabulary, you're fluent if you can form some kind of coherent sentences on demand.
I'd disagree with Wikipedia on this one. But I believe that speaking without embarrassment, even if you make lots of mistakes, is very important for improving.
One approach to learning a new language is the total immersion method. You drop yourself in a country and try to speak as much as you can right away. This is much easier to put into practice in a country where your language isn't widely understood. This is also the toughest method. There's no lifeline. If you get frustrated easily or you can't handle a little embarrassment, this might not be the method for you. I'd recommend everyone to try it at least once though. You might need pre-preparation (phrase learning, language courses) but I've met people that learned on the fly.
Good luck with your studies and travels. Let me know if any of these methods worked or didn't work for you. If you enjoyed this post, please share with your friends.
Photo of Taipei Night Market by Keith Lang. Rights Reserved © NomadFlag.com