Most of us book flights, research trips, and pay for hotels using Chrome on desktop or mobile devices. Chrome is the most popular web browser on the planet. Chances are that over 50% of you reading this are using Google's browser.
A key factor in Chrome's popularity is the optional extensions (a type of add-on or plugin) that give you features not included in the base application. Many extensions are serious productivity tools, some are for pure entertainment, and some can save you lots of money.
Let's take a look at some Chrome extensions that can help you become a travel hacker. Most of these extensions also work with Microsoft Edge, Brave, and Opera browsers.
Ratepunk
Ratepunk's core functions are truly impressive and very simple to use: price comparison, cashback rewards, rebooking alerts, and rating aggregation.
Unlike similar tools, RatePunk highlights alternative Airbnb providers—saving you the additional fees they would incur by booking directly through Airbnb.
Book hotels and get rewarded in Ratepunk coins, which translate to up to 7% cashback. After each booking, you receive RatePunk coins. This adds a reward dynamic to the travel booking experience that users of Hotels and Booking will understand.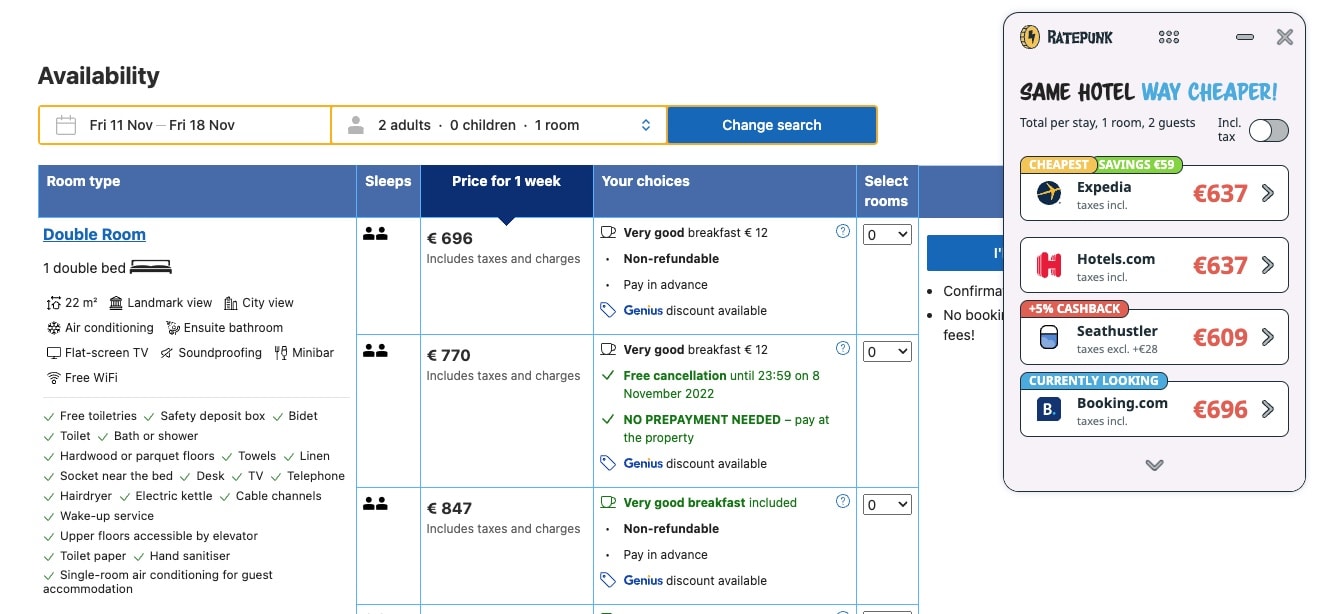 The added benefit here is the price monitoring feature, which lets you track dynamic price changes, an absolute boon for budget-oriented travel planning.
The rebooking feature alerts you in the event of a price drop for your previously booked hotel, giving you an opportunity to rebook at a lower rate.
And to make the hotel booking process easier, the tool shows aggregated hotel ratings (from all of the platforms). You geta more accurate representation of a hotel's quality without the need for additional research.
Whenever you browse hotels on your favorite booking site, the RatePunk extension scans the top booking sites and pops up to show you a price comparison for the same room. This way, you can be sure you're always getting the cheapest option available.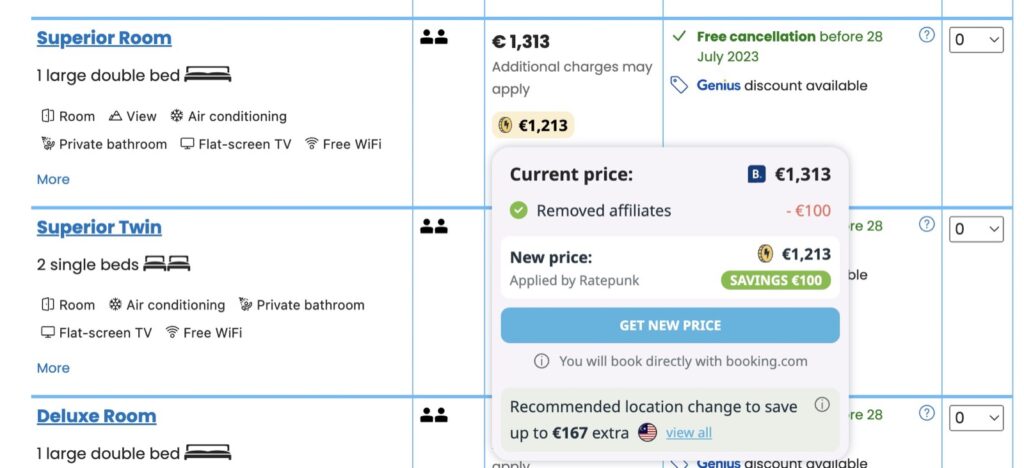 Deals can help you save a great deal of money when you keep these factors in mind:
You can find huge savings on expensive hotels but not as many deals on cheaper hotels
It's worth the yearly subscription if you book hotels on a regular basis throughout the year
NordVPN
NordVPN's chrome plugin works like regular VPN software but only covers your activity in Chrome. And I have some reservations about its effectiveness compared to full VPN packages.
For quick location changes, however, it's a great extension and it does offer a high level of protection from hackers and snoopers.
Without some kind of privacy, I wouldn't recommend doing any sensitive work (credit card payments, email logins, etc) while on the road. In order to use the Chrome extension, you need a NordVPN subscription (and you also get the full software). I think it's a must-have for travelers.
NordVPN also happens to be my preferred VPN software for travel.
Peanut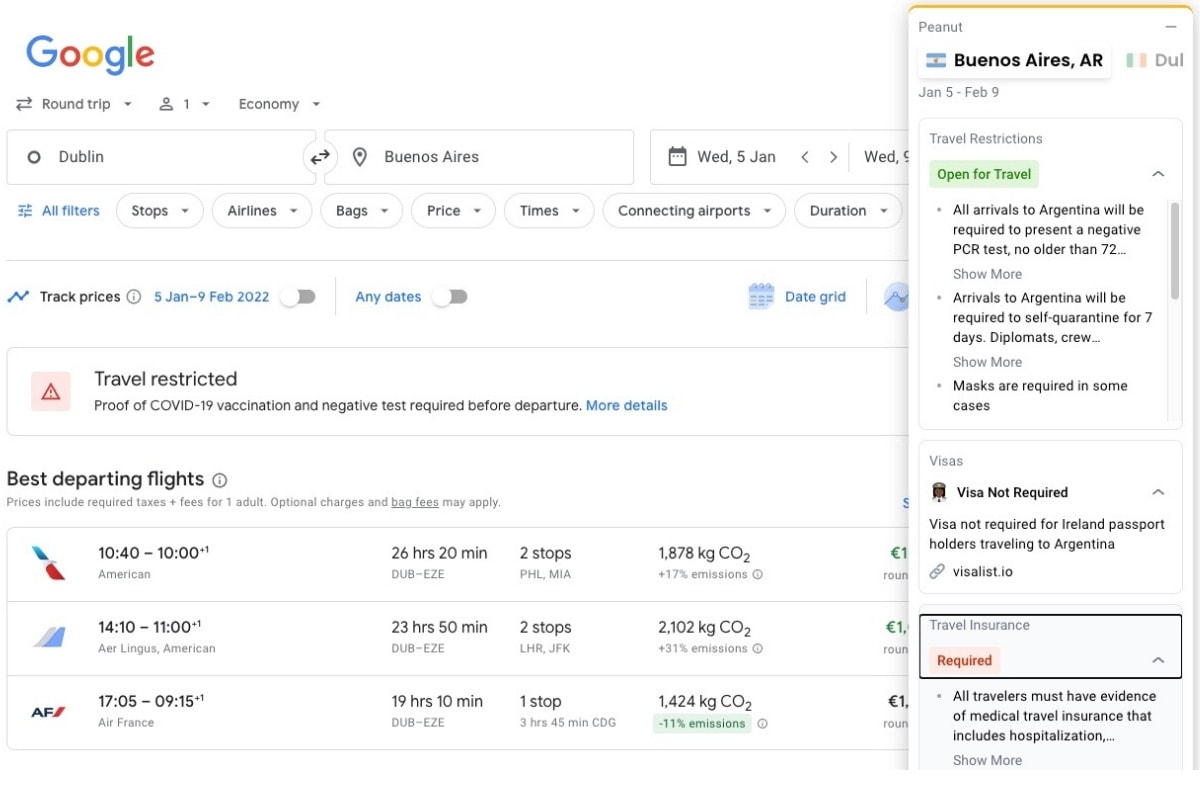 With travel restrictions, mandatory travel insurance, and changes in visa policies, travel into 2022 will be more difficult to plan. The pandemic has forced everyone considering travel to examine the details of entry requirements for their desired destinations. Switching back and forth between travel booking websites and official country websites can be exhausting and well, just plain annoying.
Peanut is a browser extension that gives you access to all the information you need in your browser. On Google Flights, Booking, and Expedia, you'll find a handy box that shows you exactly what you need to know in terms of visas, insurance, and current border restrictions.
The Peanut Chrome extension (also works on Brave and Microsoft Edge) is free and works flawlessly. Use this extension as your first travel hack this year.
Honey
Honey automatically finds discounts on any website that offers coupons and discount codes for products and services. For example, let's say you've found a hotel you like on Booking.com (or any other booking website or service).
When you arrive on the payment page, Honey will check to see if it has discounts for the site based on your selection. It's a great money saver that really needs no work on your part. I've saved quite a bit of money with the extension.
Alternatives to Honey for finding discounts on travel booking and travel gear are Lustre and Cently (see below)
Cently
Cently works like this: have you ever booked a hotel or flight and then wondered if there was a discount coupon code or lower price available somewhere else? Or maybe you're shopping for vacation packages and want to search around for discounts mentioned on blogs but you don't have the time.
Cently is a browser extension that finds you discounts by searching and applying coupons to your flight and hotel booking engine. If you have the extension activated, Cently will automatically prompt you about your coupon code when booking. It's a great travel hacking tool that can save you a lot of money and it works on many sites, not just in the travel space.
Gopher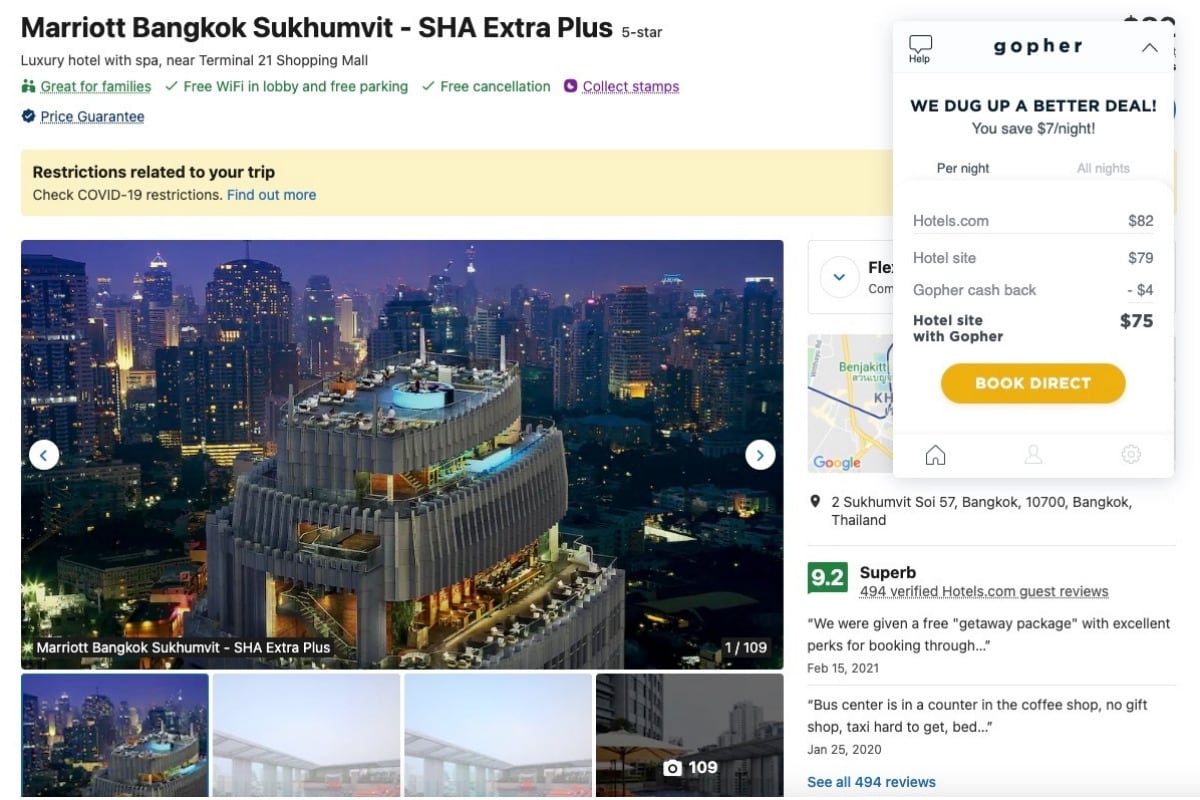 Gopher is a tool that helps you save money and get cashback from hotel bookings.
Travelers can easily find out if a hotel offers 'direct rates' by installing this browser extension. Install Gopher on your browser and use it with your favorite hotel booking website to book your next hotel. Gopher will display a friendly little graphic if a hotel discount is available.
It will take a few seconds to see results, but from experience, I can tell you that it's worth it. When you can save tens or hundreds of dollars in 10 to 20 seconds, what're a few seconds?
Although the results are not always impressive, check the extension whenever you decide on a hotel to see if you can find it cheaper than displayed on the booking website.
HiChee
Simplify your vacation rental search by using a friendly browser extension travel guide rather than a booking agency. HiChee works like a price-check companion.
With the extension installed, you'll see a small icon in the bottom right corner. View one of the big hotel and apartment rental platforms like Airbnb, Booking.com, and Vrbo and compare prices for a property across platforms by clicking the HiChee icon.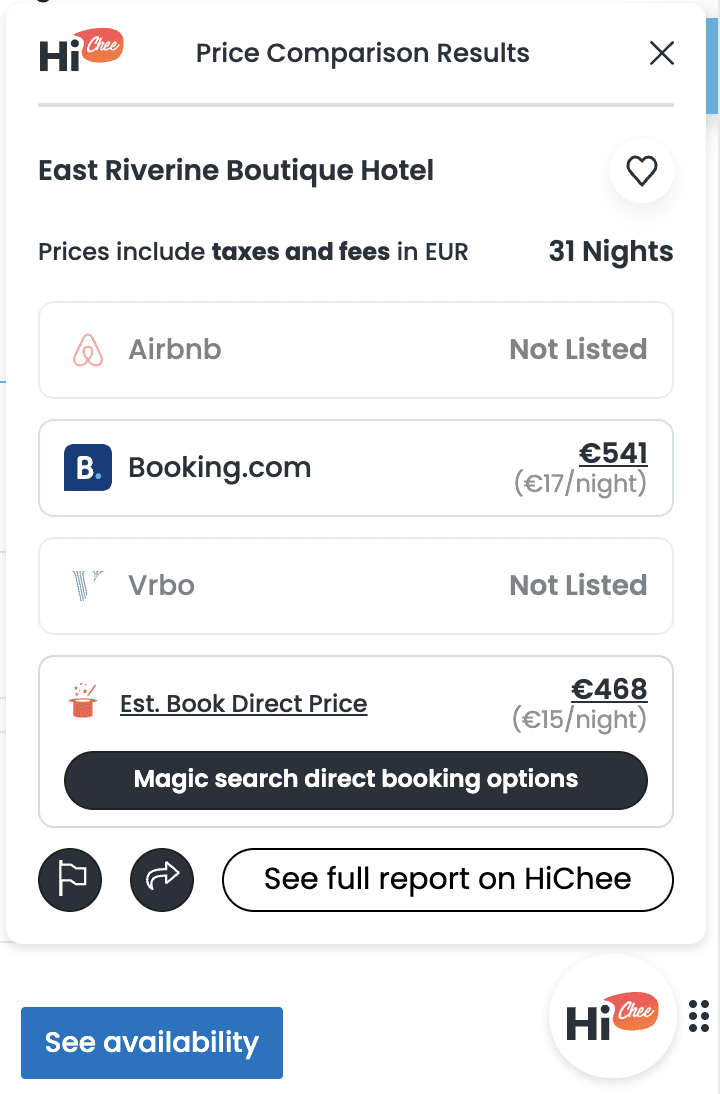 The primary benefit of HiChee is its ability to consolidate information from multiple platforms into one, user-friendly interface—eliminating the need to manually compare prices across different sites.
HiChee presents a clear answer to under-the-radar costs by including service fees and taxes in their "True Nightly Rate."
HiChee is not a booking platform so don't expect customer support for bookings made via the extension. Ultimately, it simplifies the search process, offers transparency in pricing, and ultimately, saves you time and money.
Readlang
A great little extension that I've been using for years. It deserves to be more popular than it is. Readlang lets you translate sections of websites on the fly. So if you've landed on a page with some foreign language text you can click to translate words directly in the browser.
Especially good for people learning languages. Words that you translate are added to a flashcard system for later language practice.
Pruvo
Pruvo is a service that removes the buyer remorse or FOMO that you sometimes get when you book a hotel. Did I book too early? Will there be a better deal with a discount later? Should I wait and keep checking prices?
Well, I'm happy that I don't have to do that anymore. Add Pruvo to Chrome and you'll be asked to provide an email address in a browser window that pops up. That's all the configuration you need to do to get going with this money-saving tool.
When you book a hotel, you can do one of two things:
Send the confirmation email to a Pruvo email address
Click the Chrome extension and automatically send the details to Pruvo.
The second option is the clear winner here.
Pruvo reckons that 40% of hotel prices drop after reservations are made. So you don't want to miss out on any potential savings. Pruvo finds a lower-priced deal so you can cancel the original and take the new price on a different site. And it's free. Enough said.
Flight Fare Compare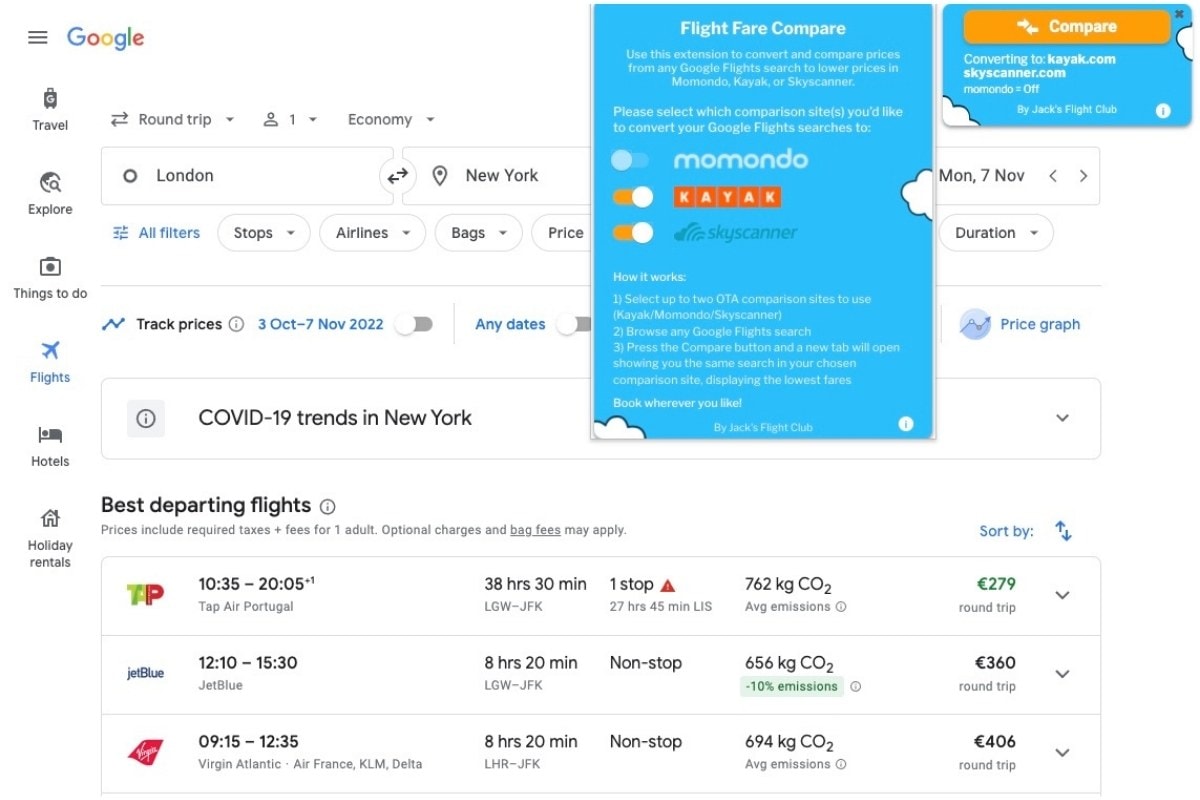 Flight Fare Compare is a tool for comparing Google Flights to several other large flight search engines. When you've found a fare you like in Google Flights, click the Chrome extension button to compare the fare with prices from Skyscanner, Momondo, and Kayak.
When I'm doing flight research, I often use all 4 of these websites so this tool is a timesaver as I don't need to open new windows and perform the search across all of them.
Pocket
Pocket isn't just for travel but it can be a very powerful resource collection tool for your travel plans.
Found some interesting articles about a city you plan to visit? Don't have time (or don't want) to read them right now? Add them to Pocket to read later on your computer, tablet, or phone. I use Pocket for saving visa information pages, subway maps, and important information about destinations.
Session Buddy
If you're like me and you check multiple websites and portals with different currency and country settings in order to find deals, you'll enjoy this next extension. Session Buddy lets you open new sessions (for different users/personas/logins) in Chrome tabs without affecting the current tabs. If you've already logged into a Hotels.com session with your main Gmail account, you can easily open a new session to Hotels.co.uk and log in via a different email address.
My experience has been that prices for hotels on Expedia, Booking, and Hotels.com can vary quite a bit depending on the currency and country settings. Give Session Buddy a try for some serious Hotel Travel hacking and travel planning.
Notion Web Clipper
Notion is veyr popular note-taking and organization tool with powerful tools for collecting and organizing information. I use it as a sort of brain dump, others use it to manage their lives, travelers use it for travel hacking and planning. My travel plans go into a Notion doc alongside clips from the internet. Along with the notes, I add photos, web clippings, and anything else that might be relevant.
Use Notion's web clipper to save items of interest in your browser to notes in your app. Organize them later around your travel plans.
Frequently Asked Questions
Can browser extensions save you money on travel gear?
Yes, browser extensions like Honey and Lustre are great for finding discounts and coupons for travel gear.
Can travel-related browser extensions be dangerous or bad for privacy?
With all extensions or plugins for web browsers, it's worth considering what you're getting for free. Most developers of free extensions make money by using your data, which you agree to when you install the extension. And poorly maintained products can be a security risk. Read the developer websites of every tool before you dive in.
Are browser extensions for travel hacking legal?
Extensions that are approved for use by the main browsers are generally compliant with laws around flight booking and travel.
If you like what you're reading and would like to see more, fuel my writing with some caffeine! Cheers