Pamukkale is the location of Turkey's beautiful & health-giving limestone hot springs, one of the country's top tourist attractions. Pamukkale's travertine terraces are one of the most visited sites in Turkey. A trip to Pamukkale will leave a lasting impression on you.
What are Pamukkale's Hot Springs?
Pamukkale is a city is located in southwestern Turkey, known for its hot springs and travertines (terraces of carbonate materials that are typically a remnant of flowing water). In the total area, there are 17 thermal springs which range in temperatures from 35 degrees Celcius (95 degrees Fahrenheit) all the way up to 100 degrees Celcius (212 degrees Fahrenheit), so some of the pools will not be suitable for swimming. Don't even get close to the hottest springs! Additionally, there is a museum in the city (that was originally a Roman bath) containing artefacts from all over the country (5 Lira entrance fee). Well worth a look.
The city is located in the River Menderes valley and it has a temperate climate for the majority of the year. This conveniently makes it an ideal destination for those wanting to escape the cold.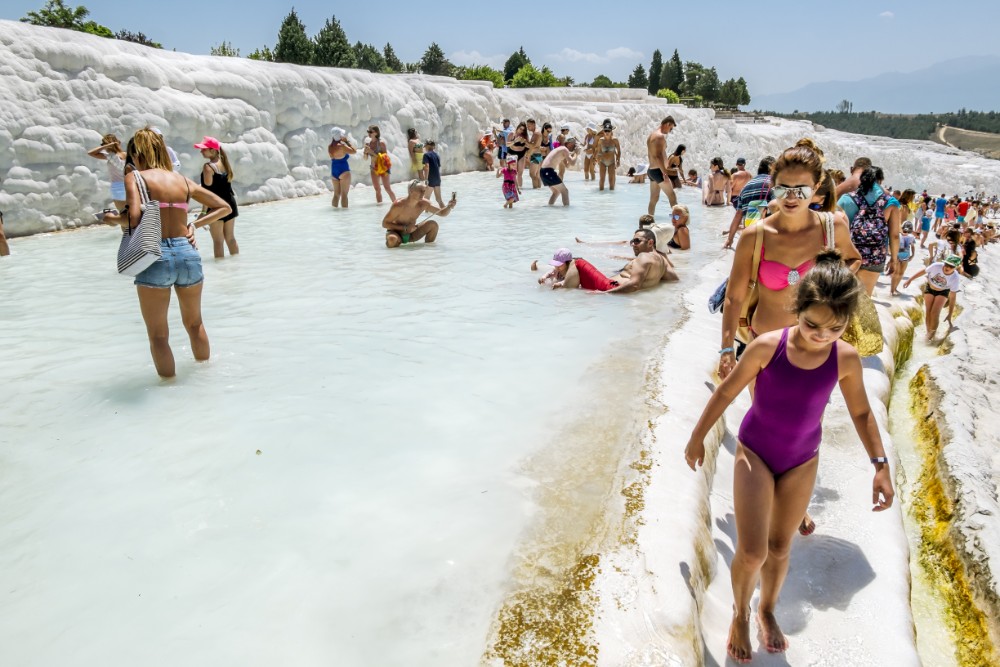 The main revenue generator for the town of Pamukkale is tourism. Tourism has, and probably always will be, the top industry. People have been coming to bathe in Pamukkale's thermal pools every year for the last thousand years. Hotels were built on the remnants of Hierapolis (located adjacent to the city of Pamukkale) and unfortunately caused a lot of damage.
Additionally, they build a road that connected the valley with the terrace so that motorbikes could go up and down the slopes. However, the area was eventually declared a World Heritage Site and they demolished the hotels and the road so that the area could be protected.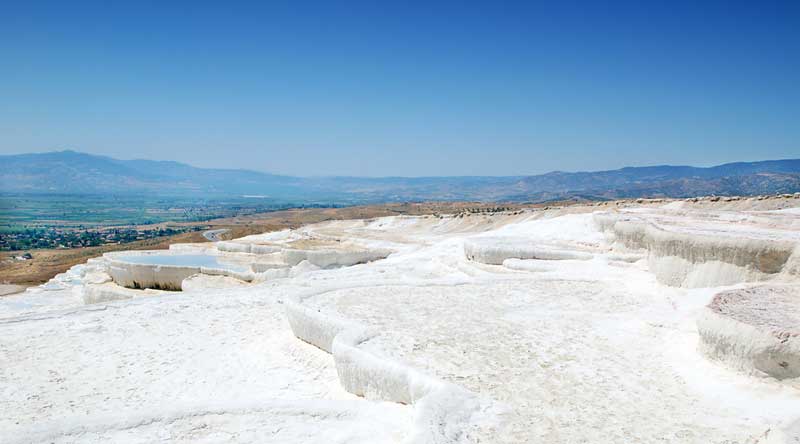 Try a dip in the sacred pool, where you can swim amongst Roman columns, pillars, and remains of buildings and sculptures. This is one of the most popular places to bathe so don't expect the 'healing' waters to be a tranquil space unless you visit out of season. The water contains high levels of minerals such as calcium and was used as a place of rest and recovery in ancient times. Expect to pay around 35TL to enter the pools.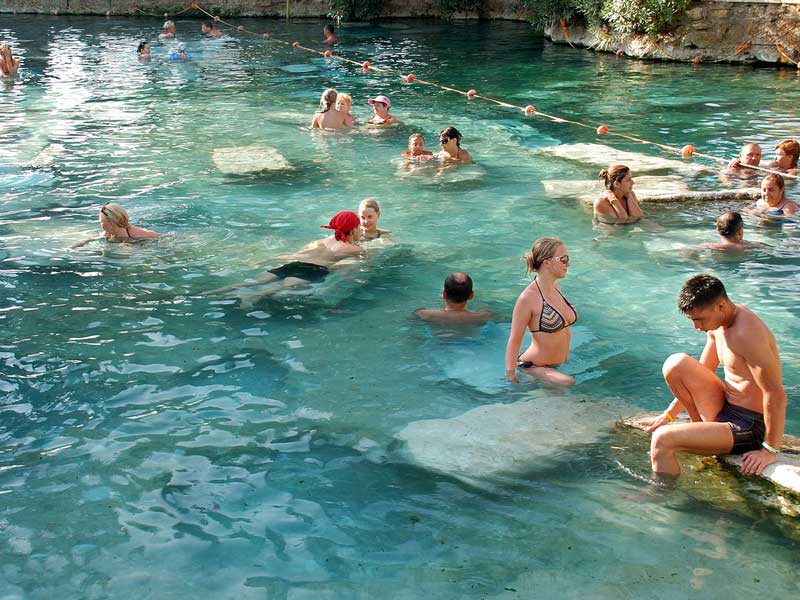 Historical Sites
Most people will come for the travertine pools and the hot springs. Many will also visit the museum. But the area offers plenty of other interesting sites. For anyone interested in the history of Turkey, and the Roman/Greek/Byzantine societies that lived in this part of the world, there are hundreds of interesting things to see. The Temple of Apollo, nymphaeum, theatre of Hierapolis, Martyrium of St. Philip, and west and east necropolises are worth the trip for history buffs and culture vultures.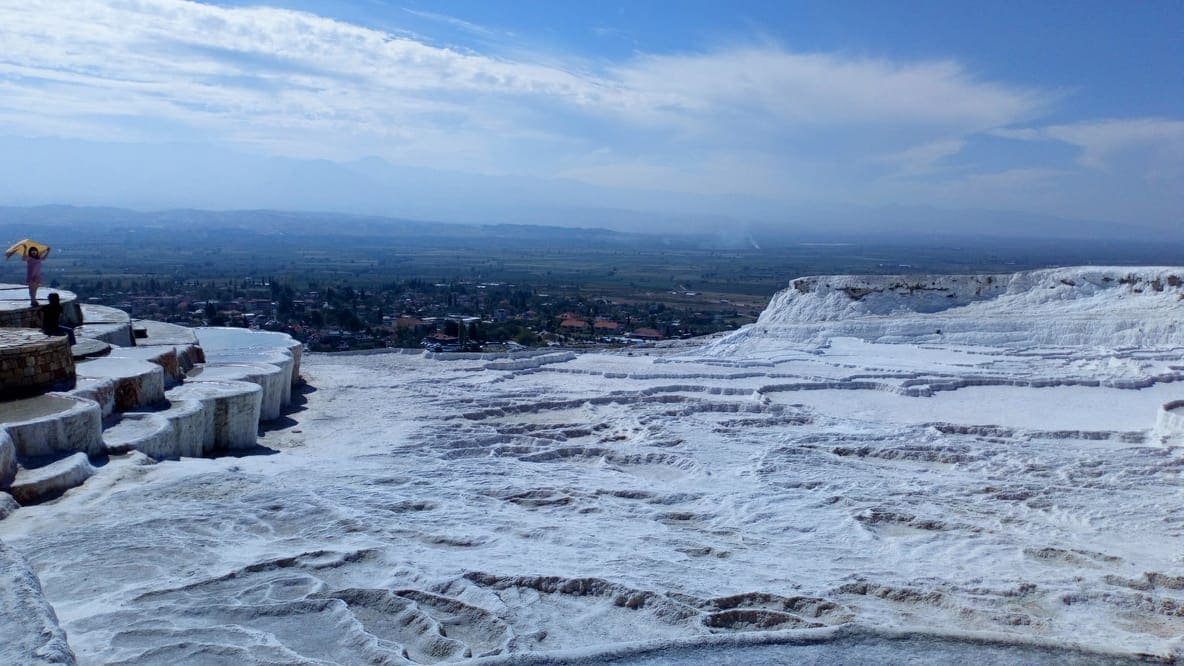 Eating & Drinking
There are enough restaurants in the area to satisfy the pickiest of tourists. Traditional Turkish food, and even Japanese food. Prices might be higher than you'd be used to in Kusadasi, Izmir, or Bodrum but most people will only eat one meal here during their day trip.
Getting to Pamukkale
The Pamukkale Turizm company offer a nice bus route that runs all the way to and from Kusadasi. The bus leaves several times throughout the day so that you can easily find a time that works for you. This mode of transportation is the cheapest and easiest way to get to Pamukkale from Kusadasi. On the plus side as well, the trip between the two destinations is relatively short, so you can leave when you want and still have plenty of time to explore because you won't spend a lot of time on the road. Additionally, the bus included wireless internet and TV so that you will always have something to entertain you throughout your bus ride.
The bus ride from Istanbul to Pumakkale takes around 12 hours so while it might be a less expensive option it's not ideal for people with little time to spare. Flights to the nearby airport in Denizli (DNZ) takes just over an hour and it's another hours drive to the Pamukkale thermal pools.
Regular buses from Izmir to Pamukkale's town entrance take about 4 hours. It's quicker (by an hour) with your own transport.
By Taxi
Hiring a private taxi is another option worth exploring. This will also be one of the more expensive choices but gives you a great deal of flexibility. Kusadasi to Pamukkale takes about 2.5 hours. Shared among 4 people this might be a valid option.
Car Hire
Hiring a car will give you the most flexibility and the greatest options. Want to beat the crowds? Set off early and return late. Want to stay longer than the scheduled amount of time? No problem. Fancy taking a more scenic route back to Kusadasi or heading back via Ephesus? Hiring transport will allow you the freedom to make up your own itinerary.
LocalRent is a specialist car rental agency in Turkey with competitive pricing and pickup locations in Izmir, Kusadasi, and Pamukkale
Try Europcar in Kusadasi for good, reliable service. Hiring a basic 4 seater will set you back around €35/$40. Even after adding the cost of fuel, it can be a very economical way of traveling around. You must be at least 26 years old to hire a car.
Tours of Pamukkale
There are a couple different tours that you can take that will get you from Kusadasi to Pamukkale or vice versa. You can choose your tour based on how much time you are looking to spend on the tour. There are ones that offer daily trips while others offer trips that range anywhere from 2-4 days and take people to other places along the way to increase their viewing experience.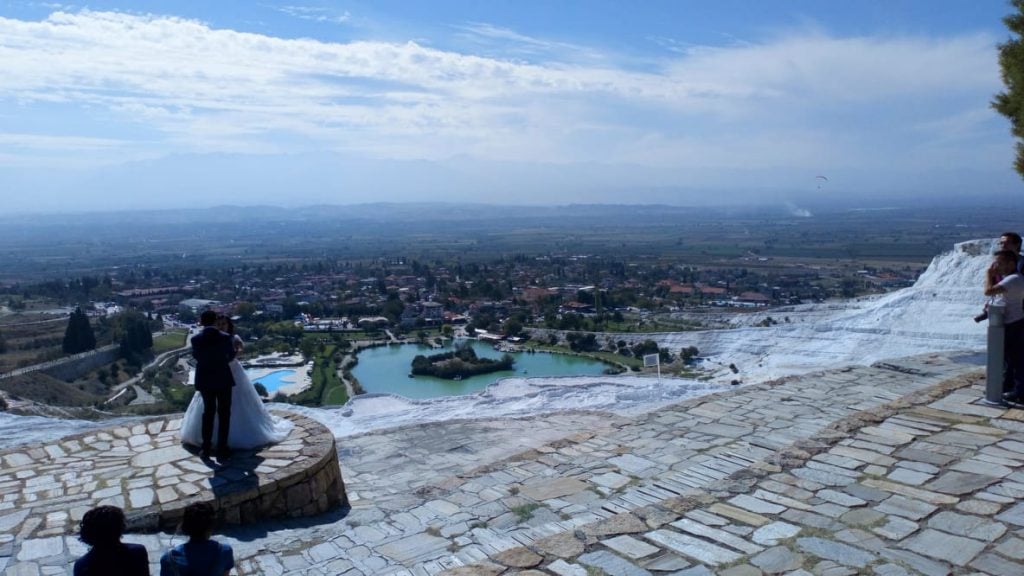 The full Pamukkale tour from Kusadasi is perfect for anyone looking for a trip to explore the two cities and return back on the same day. The tour will leave early in the morning from your hotel and will bring you back later at night. There is also a two-day tour that leaves from Kusadasi and visits Pamukkale along with a couple other places. If you want to see more than one place and you have a couple days to spare, this is the tour for you.
The team at No Frills Ephesus Tours offer a two-day experience visiting the ancient cities of Ephesus & Pamukkale. The tour leaves from Selcuk, but check with the organizers, as they also do tours departing Kusadasi.
The aptly-named Pamukkale Tours company will pick you up from your hotel in Kusadasi in the morning, drive you to Pamukkale/Denizli, and guide you around the site. Tours start at €39.
Tour4Turkey has the highest rated tour of Pamukkale on Tripadvisor. The trip departing from Kusadasi isn't heavily advertised and a little hard to find but their Pamukkale Day Trip From Kusadasi runs at €70 per person. The cost includes a buffet lunch and entrance fees to visiting sites.
Pamukkale's Weather & Climate
If you go in July or August, bring sunscreen, a hat, and light clothing that covers the skin. It's hot at this time of year, with average temperatures just below 40C (104F). The sun reflects off the white calcium deposits and the water of the travertine pools making the sun's ray even more intense.
Temperatures from November to March are much more reasonable, hovering below 20C. It's a better time to visit if you don't like the heat. Expect sun at any time.
Travel Tips
Tips for getting the maximum out of your Pamukkale trip
Bring a towel
Pack a lunch if it's not included in the price of the tour
Sunscreen, hat, long-sleeved shirts are essential as you will probably arrive when the sun is at its strongest.
Ignore the hagglers at the entrance to any site. They won't be able to offer you better value for anything.
Watch your belongings. Pickpockets understand that 99% of the people in the area are tourists who are distracted by the amazing views.
Try to visit as early as possible because the place gets crowded quickly. The town gets two million visitors annually and is Turkey's most popular attraction.
Don't forget your camera!
Frequently Asked Questions
Where is Pumakkale?
Pamukkale is located in the South West of Turkey, directly east of Kusadasi, southeast of Izmir, northwest of Antalya and south of Istanbul.
What is the nearest town to Pumakkale?
The nearest town is Denizli, a city of half a million in the Aegean region of Turkey. This is an industrial town and of little interest to tourists and casual visitors.
Can you swim in Pamukkale?
Yes, you can swim in Pamukkale's thermal pools. The site was originally used as a Roman spa resort.
How long does it take to get from Istanbul to Pamukkale?
12 by bus and 4 hours by bus and flight combination.
How far is Pamukkale from Cappadocia?
Cappadocia is 330km from Pamukkale. The journey by bus takes about 12 hours due to Turkey's mountainous topography. It's quicker to fly to Istanbul and then to Denizli.
When is the best time to visit Pamukkale?
The best time to visit is Spring and Autumn (Fall) when the temperatures are not too hot or too cold. There are also fewer tourists at these times. Not that the travertine pools are not open in winter.
Why is Pamukkale white?
The white colour comes from the calcium deposits in the limestone that give the smooth surface to the terraced rock formations.
Is Pamukkale natural?
Yes, the area has been popular for thousands of years thanks to the warm temperatures of the natural mineral waters.
Is Pamukkale considered a wonder of the world?
Pamukkale is not part of the new 7 modern wonders of the world, like Petra in Jordan for example, but many people believe that it sits just outside this exclusive group, in position 8.
How much is the entrance fee to Pamukkale?
As of mid-2019, it costs 50 Turkish Lira TRY to visit.
Is Pamukkale a UNESCO World Heritage site?
Hierapolis-Pamukkale is considered a site of outstanding universal value by the UNESCO foundation.
What does Pamukkale mean?
The Turkish word Pamukkale means Cotton Castle.
If you like what you're reading and would like to see more, fuel my writing with some caffeine! Cheers