Airbnb is one of the most popular vacation rental and long-term rental booking websites. According to SimilarWeb, Airbnb's website is second only to Booking.com in the Accommodation and Hotels category. The company has completely transformed the short-term rental marketplace, as well as deeply affecting the long-term rental property market. Whether you feel that Airbnb is a savior or a demon, you have more accommodation alternatives to choose from than ever before.
Airbnb's vacation rental marketplace might be eating the travel world, but it is definitely not the only option available. Don't get me wrong, I like staying in Airbnb properties. But also I like to broaden my horizons and experience new things. Airbnb used to be the alternative, now it's mainstream.
In discussions on Twitter, in forums, and among friends, I've always defended Airbnb. Although the service gets a lot of criticism, it has served many travelers well. Airbnb also has some aspects that no other service has been able to copy or improve on. After 8 years of using the service, it's clear that it isn't the same as it used to be. The last experience I had in early 2022 was horrible. It seems to me that Airbnb doesn't care anymore. Did they ever? Too big to fail?
Airbnb's management decided to drop refunds for cancellations related to Covid in 2022, which will impact a lot of people.
And then there's the phenomenon known as Airbnb fees, which are bordering on ridiculous.
There is also the issue of investors buying up entire apartment blocks, evicting the tenants, and renting the properties out as short-term Airbnb assets. Many of the world's most interesting cities have become shells of their former selves. Dublin, where I grew up, is nothing but coffee shops and Airbnbs. Although, I must admit I enjoy the coffee shops. To learn how Airbnb and horrible companies like Blackstone are sucking the lifeblood from cities and turning ordinary citizens into modern-day serfs, listen to the podcast Pushback Talks and watch the documentary Push.
During the pandemic, I stayed in a luxury suite in a 5-star hotel for a month for €1400 but I can't claim any major travel hacking status. It just took a bit of research to see that businesses were crying out for customers after a year of lockdown. The regular price for the room was €600-800 a night, depending on the season.
The place was full of digital nomads. Many of which would probably be happy to never leave the hotel.
🤩 Did you know that Booking.com now offers a monthly stay search? I've been using Booking for most of my stays these days, partially because of several bad Airbnb experiences, and partially because I can book through British Airways or Turkish Airlines and get air miles/points at the same time. I've been happy with the results so far.
🤦 What has happened to Airbnb?
To be honest, I've almost stopped using Airbnb rentals. The prices are high, the quality is dropping, and the rentals are slowly being eaten up by corporate funds and real estate investment trusts.
I complained on the internet and someone asked me (not in a nice way) what I think Airbnb should do about this. But the truth is, I don't think the company should do anything. Judging by the 6 Billion dollars of revenue in 2021, it seems to me that Airbnb is doing just fine. But I'm just looking at alternatives more often.
Hotels are missing a huge opportunity here. If they could offer long-term accommodation with kitchens, I'd never use Airbnb again. I'd pay more for this service too.
Finding alternatives to Airbnb and vacation homes (short-term and long-term rentals) is easy if you know where to look. Don't settle for the ordinary. Here are some of the best Airbnb alternatives you should not overlook.
Hotel
This might sound like a boring option, but hotels can offer a much better experience than Airbnbs. And I think we're going to see a resurgence in the popularity of hotels once people realize how damaging to local communities and economies Airbnb can be. But apart from this factor and the price factor (hotels are often cheaper than Airbnb), there are many other benefits to staying in a hotel.
If a room is not available when you arrive at a hotel, you can usually leave your luggage at reception or in some transition area locker. This is generally not possible with Airbnb. If you arrive at, say, 10am and the room becomes available at 3pm, you'll have to babysit your bags for five hours.
You can request a taxi from the hotel if you need one to get to the airport or for an excursion. There are sometimes Airbnb hosts who can help you, but since the platform has been taken over by corporate real estate funds, you're often dealing with people who are uninterested in speaking to you – there is little personal touch and everything is automated for efficiency, meaning you're on your own. I personally try to deal with taxi drivers as little as possible.
Some hotels even have free shuttles. Airbnb's never have this.
The hotel's price is the hotel's price. The phenomenon that I'd like to name "Air Fees & Fees" means that you think you're getting a bargain until you include the maintenance fee, cleaning fee, admin fee, and miscellaneous can't-figure-out-what-to-call-it random fees. The price adds up.
And then you're expected to clean the place before you leave.
Next time, try a hotel.
The following is a boring tip that isn't a hack, so nobody wants to hear it: join the hotel loyalty programs. The point bonuses may not be worth investing in unless you're a business traveler or a frequent hotel guest, but loyalty programs offer other benefits and can offer better deals than booking and meta-search websites.
My favorite hotel chain is Hilton (not the flashiest brand, but above a crappy Airbnb or second rate hotel) and I've had some great stays there. Join Hilton Honors if you want to earn points, check for deals, and generally get a better exprience. It's free, so why not? If you need to book a hotel, check out the Honors platform to see if you can get a better deal
Long-term travelers might have turned their backs on the little box of horrors that is the traditional hotel room, but in recent years, longer hotel stays have become more popular.
On Booking.com, guests can now book stays of more than 30 nights on the same reservation. The Coronavirus pandemic has certainly spurred on the move to remote work and people are now looking through booking portals for more than just short-term rentals.
Despite not using Booking much for most of my travels, the company's entry into the world of long-term stays in hotels and vacations rentals has caught my attention. I'm not actively looking through hotel stay deals and home rentals on the platform for every trip.
The weirdly-named VRBO doesn't do anything radically different from Airbnb, but it does offer a different inventory and the potential for better prices – thanks to its low-key profile. The Colorado company started long before Airbnb was even a concept back in 1995, which makes it one of the internet's old-timers.
Anyplace launched in 2017 and is the first long-term stay rental platform for remote workers, digital nomads, and creatives. The platform offer accommodations for 1 month or more in unique houses, condos, private villas, boutique hotels, coworking spaces, beach bungalows, and other cool properties.
Anyplace is designed for remote workers, a fast-growing work demographic, so you can expect fast wifi, an area to work, and an atmosphere that's conducive to getting stuff done.
"Caring" for a property while the owner is away is a fantastic way to experience a property that you might otherwise feel is out of your reach. Homeowners rent their properties to other users of the platform – complete with wide-screen tv, walk-in wardrobes, jacuzzis, massage parlors, steam rooms, and home cinemas. It sounds like it shouldn't work but work it does —99.99% of people are honest and genuine (anyone that travels will know this) and there are systems in place to deter the crazy ones.
The important thing is to treat the house like it's your own, thus helping the site to continue providing house-sitting opportunities. It's a fantastic resource and I really wish it a lot of success. The sharing economy lives on.
Two other alternatives to check out are TrustedHouseSitters and HouseSit Match, both of which are aimed at pet lovers. You must be able to take care of pets. It goes without saying that if you don't love animals this isn't an option for you. But like Airbnb, it's a great way to experience house and apartment living, as opposed to hotel accommodation.
TrustedHousesitters (yes, that's all one word) is the largest network of house sitters and pet carers in the world. Pet-sitting opportunities are available in 50 countries around the world through TrustedHousesitters. You can look through the available listings at your leisure, apply for those that catch your eye, and set up interviews with the homeowners themselves to discuss. And the bonus is that you get an Airbnb alternative (or better) that's 100% free. Stay in a nice place, with the company of pets, without spending a penny.
Get a furnished apartment in over 3000 cities worldwide. Nestpick is popular in Europe, especially with students and people who need long-term apartments in major cities. Prices can be a lot lower than Airbnb. Filter based on building amenities and other features that suit your exact needs and preferences.
Aimed at students and expats who demand lower prices for quality apartments, Nestpick is a good option for people who take the time to search the platform for hidden gems.
Go Full Monk with A Monastery Stay! Sleeping in a monastery might not be top of your bucket list but it's a viable solution. And you might find it's a highlight of your trip. Monasteries were once a common accommodation option. Long-distance travelers would often look for monasteries that would take them in for the night.
Monasteries can be found in most European countries and payment is based on donation or fixed price. Beds can be private or dormitory-based so there are options for every budget. For booking in Italy, in particular, check out MonasteryStays.
Cruises
Have you ever considered combining your accommodation with your mode of transportation? Many people perceive cruises as a way for old people to travel. However, cruises, one of the travel industry's biggest revenue generators, are for everyone. It's only a matter of choosing the right one.
Another myth is that cruises are expensive. Check out the CruiseSheet website for discount prices on repositioning cruises, last-minute cruise deals, and other ridiculously low-priced adventures.
Cruisepanda is a brand-new competitor to Cruisesheet and I love the slick, modern interface. Follow the CruisePanda account on Twitter for daily updates.
For over two decades, Cruisedirect has provided customers with cruise deals, so there are a seemingly endless number of options available.
Combine your accommodation with travel from one place to another. Do it in style!
House Exchange
If you own property and don't mind lending it out while you're away then you could swap your place for someone else's at your destination. There are monetary transactions (as long as you own property) and you can effectively sleep for free all over the world.
Nightswapping is a home exchange service that lets you contact homeowners in your target destination and also provides insurance to both parties. For each night you allow someone to book your property you get one 'free' night which you can use on your travels. The site has an Airbnb feel to it and they appear to be focussing heavily on Facebook ads and other advertising streams to gain traction.
Couchsurfing
Couchsurfing is one of the oldest sites on this list (founded in 2003) and has helped millions of friendly travelers find somewhere to sleep for the night (or longer). 'Friendly' is the keyword here as introverts and weirdos will not endear themselves to the host. The site uses a rating system to vet guests and hosts. Difficult couch surfers will soon find their ratings/feedback statistics somewhat below par. Of course, if you like having weirdos sleep on our couch then you know how to find them, and everyone is happy.
In theory, Couchsurfing is designed for travelers with a smaller budget and for hosts to meet new people from around the world.
Travelers ask to book with a host that is offering a couch or spare room for a period of time. The host reads the traveler's profile and decides whether or not to allow this possibly smelly, potentially psychotic person to stay at their place.
It's all good fun and can be a great way to make friends and for everyone to benefit from the sharing economy. It works most of the time. Sometimes it doesn't. Occasionally, Couchsurfing.com receives backlash on internet forums for being almost 'Tinder for travelers'. Many users of the site have used the service to organize dates á la Tinder, prompting a call for a reanalysis of the company's focus.
Couchsurfing began as a non-profit organization in 2003, changed to a profit-driven business and raised funds in 2011, but has remained unprofitable. It is still a great option for finding accommodation and meeting people so I recommend checking it out.
Kibuttz Living
Staying on a Kibbutz isn't for everyone. But if you are able-bodied and can commit to a few months, living on a kibbutz in Israel could be a life-changing travel experience. Many people think of a kibbutz as something resembling a peasant farm with people slaving in the hot sun to receive their nighttime meal of cold soup. I've seen Kibbutzim with swimming pools and restaurants and all the other mod cons you might expect from a resort. But the focus is on work in exchange for lodging and study options.
It can be a great way to meet a really diverse group of people and immerse yourself in another culture.
Carry On Camping – For Outdoor Enthusiasts
Don't forget camping as a low-cost alternative for the more adventurous. Nature-lovers will relish the opportunity to be close to the ground (literally) and there's nothing like stepping out of your tent to the sound of birds and the rustle of leaves. Depending on the campground you choose you may step out of your tent to the sound of screaming kids and blasting music but there are a huge number of campgrounds all over the US and Europe in particular so lack of choice is not an issue.
Some good search engines for campgrounds are ReserveAmerica (US), GoCamp (US), EuroCampings (Europe)
Happy Glamping – For Flashpackers & Instagram Fiends
Glamping? It's a mixture of Glam and Camping. Obvious, right? When stylish hipsters, the outdoors, and travel come together the result is glamping. When more extreme hipsters get involved the result is Treehouse Glamping. Yes, you can relax in style on a campsite but you can also live stylishly suspended in the trees. Just like you did as a kid, but with a comfy bed.
Expect to see more 'conkers' to rent in the near future. Conker Living is a new living space concept that has grabbed people's attention. Think of it as a sort of space-age glamping Airbnb alternative. Designed as a sort of a garden building, conker living pods are perfect for the digital nomad, adventurous, low-maintenance traveling types
If you want to live like a wealthy hobbit then head to New Zealand and check out Underhill. The outdoor bath is a nice touch. Not having to pitch a tent is even better.
Get 'rustic' by staying in a Yurt in Utah. A yurt is a large tent traditionally used by Mongolian nomads. Up to 9 people can stay in these glamour tents in Escalante.
Treehouse Glamping in the UK isn't cheap but it's definitely alternative. Brocklock Treehouse Eco Retreat in Durham is very popular and it's easy to see why. The facade gives the impression of some kind of wooden water tank. Inside you've got all the mod cons from subtle lighting to a comfortable bed and bath.
Check out Glamping Hub for a large collection of Glamping grounds.
Minivan, Bus & Car Sleeping – For The Free Spirits
I once lived in the back of a Toyota Corolla for 4 months, while traveling around New Zealand's North and South Islands. New Zealand and Australia, in particular, are excellent countries for this type of travel as they are under-populated countries with amazing places to visit. Traffic is not a big problem, roads are good and camping in parks and campgrounds is well catered for.
Backpackerboard offers good advice on buying a car or van to travel around. You could also rent a Motorhome instead of buying a car and selling it again. Check out the EuropeByCamper blog for some great articles on Motorhome travel across Europe.
Living out of a car or a van while traveling a foreign country is a very liberating experience and can work out a lot cheaper in the end. It's a good long-term strategy for saving money while you travel in your own country or around the world. Special places to stay don't have to be fixed locations.
Take The Train
If you are looking to save money on accommodation at any opportunity then choosing night flights and overnight buses are viable options if you travel a lot. You might not get the best sleep, particularly on a flight, but long-distance buses in many parts of the world can be quite luxurious and with lie-flat beds costing a fraction of a seat on a plane there's a good chance you will emerge refreshed after a long night of travel.
Trains are also a great option and Europe has a really well-developed (if slightly expensive) rail network. Check out the excellent Seat 61 site for a comprehensive guide to European Rail travel.
The best site for booking trains in France, Italy, Netherlands, Luxemburg, Austria, Germany, Belgium, Switzerland, Denmark, Sweden, Norway, and Hungary is Save A Train.
Need info on trains, planes, and automobiles? Rome2Rio is one of the best transport finding sites on the internet and it's an excellent way to find out your long-distance bus options. It will also provide prices for flights so you can compare the relative costs and then decide on options. The beautiful interface is also very user-friendly.
Barrel living – For Wine Lovers
Do you enjoy wine? Do you love to travel? Would you like to wake up in a hotel shaped like a wine barrel, on a vineyard, by a river, in rural Portugal?
Well, you can. Quinta Da Pacheca is a working winery in the region of Douro that offers a full wine experience. There's a restaurant, wine tasting room, hotel, and of course, the wine barrels, tastefully decorated for sleeping and relaxing.
The Problem with Airbnb
The problem with Airbnb, the San Francisco business started in 2008, is that costs have risen quickly to outpace hotel prices. These days so many travelers depend so much on Airbnb for vacation rentals that they've forgotten what a hotel costs (hint: often less than an Airbnb these days). They keep paying higher prices for someone's spare room – or at least that's how it used to be. Airbnb has moved on from the sharing economy model.
Airbnb rental prices are no longer a selling point. Add in the cleaning fee, service fee, booking fee, and other miscellaneous (hidden) costs and your bargain Airbnb price can easily be more than a good hotel, especially for short-term rentals. Even the novelty of renting an apartment has worn off. In fact, Millenials prefer hotels to Airbnb.
News of customers' bad experiences on Airbnb seems to surface every now and again. Viral blog posts about hosts spying on customers, problems with refunds, and apartments that are misrepresented or don't even exist only harm the tech company's profile even further. This leaves the door open for Airbnb competitors, some of whom are well worth taking a look at for your next trip.
But there are alternatives to Airbnb and hotels that you might not know about. If you're looking for an exciting place to sleep at night or a cool spot to hang out during the day, try some of these unusual vacation homes.
To Airbnb or not Airbnb, that is the question
As a regular user of the Airbnb service, I benefit from the seamless process of booking an apartment in another country. This process is open to abuse
Media outlets love to play the giant slayer, and as soon as they've finished championing a new startup, they begin the process of bringing it down by highlighting the bad stuff. The platform is no stranger to scams, but I'm not sure if it's any better elsewhere.
Residents of cities like Prague are rebelling against overtourism and the lack of housing for locals. Airbnb is a target is most of these cases.
Is Airbnb the culprit? There are other services that use the "sharing economy" but Airbnb is the biggest target for the ire of locals.
Airbnb's problem is that it bills itself as a way of connecting strangers to locals. In practice, this rarely happens. Visitors rent apartments, sometimes managed by people that oversee hundreds of apartments. There are special keycard locks on the doors, so the property owner or manager doesn't need to meet you when you arrive. By using Airbnb, you could complete a stay in a city without speaking to another person.
Now that Airbnb has dropped its affiliate program (almost silently, ruffling the feathers of bloggers the world over), you will probably see the service being recommended less on travel blogs. That's just the way it is—don't believe everything you read on the internet, especially on travel blogs.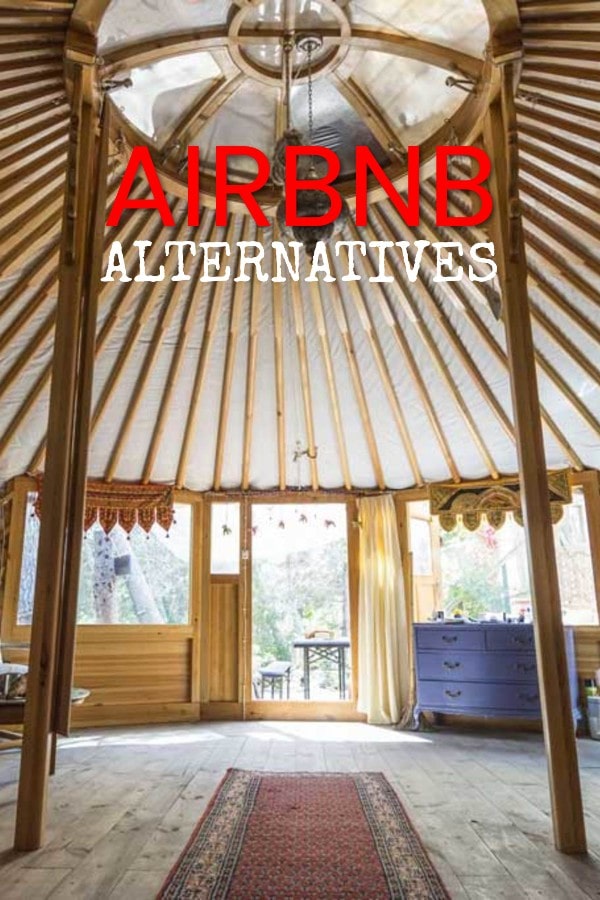 I don't display annoying ads on this site. But the content takes many hours to produce. If you like what you're reading and would like to see more, fuel my writing with some caffeine! Cheers