I wrote this account of my time in Guatemala a few months after spending 4 months traveling around Central America in 2001. Back then, I used a film camera and took photos sparingly. For this reason, I have few images of the country.
This post serves as a reminder of what travel was like before the age of Instagram, smartphone cameras, and widespread internet use. Was it harder to travel back then? Certainly. Was it better? That's debatable. But it's my belief that travel is about savoring the moment, not so that others can live vicariously through our social media feeds.
"Central America", they repeated when I mentioned my destination, nodding in approval of my choice. No doubt they presumed I would visit Kansas City or Oklahoma. I was traveling to a part of the world few of my acquaintances could relate to or knew anything about.
One Central American country, Guatemala, had fascinated me for some time, but I knew not a single person with first-hand knowledge of the region. It was to be a four-month trip with only a rough outline of a travel plan. I would visit Mayan ruins, admire beautiful landscapes, learn Spanish, swim in both the Pacific and Atlantic oceans, and ideally leave with memories rather than malaria.
I set off in early September 2001 for a backpacking trip in the narrow isthmus joining the continents of North America and South America, with an open mind and a mosquito net.
Central America's original inhabitants were the Maya, a sophisticated race who built vast cities in the rainforests, becoming one of the greatest empires on earth until it collapsed around a thousand years ago. Guatemala's highlands and jungle lowlands form the center of the Mayan universe, which stretches from Mexico to El Salvador.
Out of the seven countries in this fascinating part of the world, Guatemala is perhaps the most interesting.
Travel in this part of the world, and you'll become well acquainted with the ubiquitous bus. These brightly painted ex-US school buses are the preferred mode of transport. Everyone uses them, locals, backpackers, soldiers, chickens.
As I crossed the border between El Salvador and Guatemala, I managed to lose my bus. Or maybe I should say, it lost me. I was still changing currencies at the border when the bus driver decided things weren't moving fast enough for him and continued on his journey. While my bus was disappearing down the road, I dealt with Latin America's friendliest border officials – who profess great kinship with the Irish. I walked out of the border post to an empty road, which wiped the smile off my face. Punctuality is not deeply ingrained in Guatemalan culture, so it comes as a bigger shock when drivers unexpectedly try to follow schedules.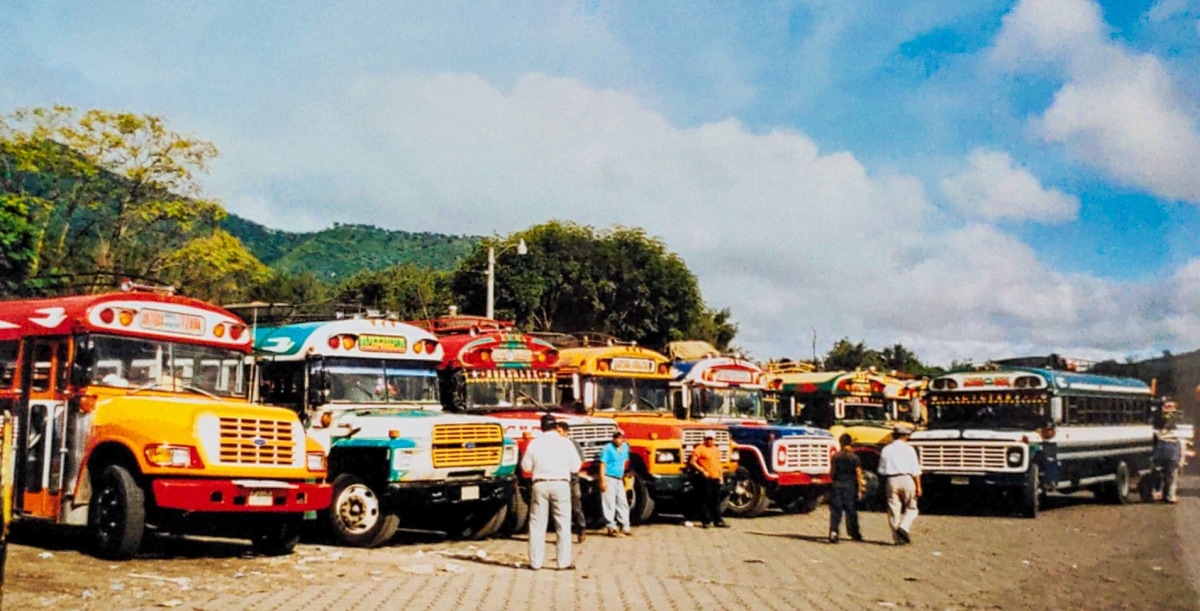 Monterrico
I caught up with the bus later and continued on to Monterrico on Guatemala's west coast. While Monterrico is touted as a holiday resort, Torremolinos it is not. And that's a good thing.
A true beach experience is rare in this high mountain land. The town is accessible by boat and bus, so it isn't overrun with tourists, high prices, and gaudy bars like other major resort towns. Other than swimming, lying on the beach, and eating, there isn't much to do. If you break out in a sweat at the thought of including three activities in one day, you can skip the swimming and order the seafood instead. It's always huge, deliciously laced with garlic, and very cheap.
In the early morning of my second day in Monterrico, I joined a small group for a tour of the mangrove swamps that lie between the spit of land on which Monterrico is situated, and the mainland. With a 4 am departure time, we were already on the road well before sunrise.
As we floated on the calm waters, the boat owner moved the craft 'gondola' style with a long pole, providing us with the added benefit of wildlife-watching without the noise of the engine. It was dark and so peaceful that I contemplated catching up on sleep. Although the swamp was still very much silent, I was mesmerized by the rising sun over the swamp, the night punctuated only by the occasional bird call.
I patted myself on the back for the decision to forego sleep and leave early, but I soon realized I had forgotten to bring my camera. The colors in the swamp and on the distant mountains became more vivid as the sun rose. I enjoyed the views without distraction from having to operate a camera.
Antigua
Antigua is a charming city with the best-preserved Spanish colonial architecture in Central America. The town is about an hour away from Guatemala City and a few hours from Monterrico by bus. Despite not quite gushing with colonial opulence, the pastel-colored houses interspersed with churches and monuments make for a memorable sight.
Located among three growling volcanoes, the city's setting is sure to delight any photographer. This low-rise city with its cobbled streets and preserved buildings beckon you to explore. You'll undoubtedly wander into photoshoots of Japanese tourists wherever you go.
Antigua is one of the few places in Central America that receive tourists from all over the world. Wealthy Asian tourists in droves are surely a sign that a place has developed into a global tourist destination.
There's a greater variety of nationalities using Antigua as a base to learn Spanish. Having seen the sights, I decided it was time to improve my Español. I spent a few hours every day with my private tutor to practice my language skills. Language tuition is a step towards better understanding a culture. And taking classes helps the local community.
A visit to the volcanoes is a must in Antigua, so I paid my few dollars' fee to be driven to the base of Volcan Pacaya and guided to the summit. It's not a difficult climb, but for safety reasons, a slow pace is maintained for most of the walk.
There are many enterprising bandits (from Guatemala's many wars) who rob tourists of their belongings, dignity, and sometimes even their lives in Guatemala. While the situation has improved since the introduction of the tourist police, trekking alone in the countryside is still considered high-risk.
In addition to being armed, our guides remained in radio contact with scouts further along the route. However, safety precautions went out the window once we reached the summit and were encouraged to peer right into the spluttering caldera. Security measures were again disregarded as we returned to the bus by bounding down the scree slopes of the volcano, at full tilt, in almost complete darkness.
Back in the relative safety of Antigua city, it was time to visit the Mayan art markets. I walked through the markets and noticed there were no advertisements on building exteriors, just vibrant textiles, and paintings. In fact, advertising on the street is banned. Businesses are not allowed to alter the appearance of the original buildings and can only place a small plaque or sign outside. I find it refreshing that worldwide franchises like Burger King are prohibited from mounting gaudy neon signs outside their stores.
Many western-style foods and commodities are available in the town if you know where to look. You won't find the golden arches, so skip the Big Mac and try Gallo Pinto instead. Around town, there is no shortage of tourist junk, but real Mayan arts are abundant and not expensive.
In time, the European feel of the town, with all of its cappuccinos and tourists, may begin to feel a little too familiar. It was time to explore further. However, my next destination, Panajachel on the coast of Lake Atitlán, wasn't as rustic or untouched as I had hoped for. Pana, as it's known, displays the usual tourist-town characteristics: arts and crafts, continental breakfasts, hummus and lentil burgers, and incense and bead shops. One eatery even had a sign boasting 'Premium Junk Food'. Nice.
Lago Atitlán
The main draw of this place is Lake Atitlán. Described as 'so beautiful that it hurts', the setting of the lake in the Guatemalan highlands encourages visitors to stay longer than planned. There's one main town here, Pana, but a very rewarding trip is to walk around the lake visiting small Mayan villages (and the odd eco-friendly yoga camp)
Accommodation in San Pedro De Laguna, at a budget price of $1, is probably the cheapest in Central America. Thus, you'll find plenty of foreigners here, idling away their lives on less than $2 a day. The villagers around Lake Atitlan spend their time harvesting corn, onions, beans, and drying coffee like they used to centuries ago. The traditional Mayan clothing and gracious smiles of the local women captivated me. I probably contemplated moving here to enjoy a simpler life.
As it was November 1, All Saints' day in Guatemala, it was also the day of the year to eat Fiambre, a traditional dish of lots of vegetables and meat cooked with mustard and chili. The best way to experience real village life is by eating with the locals. Sadly, I chose tourist fare and was left hungry. To appease my growling stomach, I headed to the stores selling Maya gold, also known as chocolate. The fermented, roasted, and ground beans of the Theobroma cacao were considered food of the gods by the Mayans and Aztecs.
My contribution to cultural exploration was sampling some of the all-Mayan (the chocolatier assured me) chocolate treats. Chocolate pieces spiked with coffee tasted like heaven, and I was tempted to buy them all but settled on some chunks of rich dark chocolate and a long, lingering browse around the store.
It cools dramatically by the lake at night due to its elevation (1500m above sea level) and you may need a sweater even during the day. However, by midday with a clear sky, the sun can make things hot and even the locals can't resist a bit of sunbathing. This is an unusual sight in Central America where people generally avoid the harsh sun and seek cooler air. On my way to the hotel rooftop area, I noticed the hotel owner lazing in a sun lounger. My amusement was evident, and she grew coy and said she sat in the sun to stay warm, as opposed to getting a tan. Tanning was for people like me, she assured me. My Irish skin is about as pale as you can get.
Next stop was San Pedro La Laguna, a town on the southwest shore of Lake Atitlán. I poked around the town before bed and spent a single night enjoying the fresh mountain air.
Looking across the lake from San Pedro, a beautiful mountain called 'the face of the Indian' is visible on the other side. Stare at the mountain face for long enough and it begins to mouth words and wink at you. In retrospect, I can put this phenomenon down to indulging in too much beer cheap local beer.
Livingston
My journey to Livingston on the east coast of the country included a stop in Puerto Barrios, a six and a half hour journey from Antigua. Porto Barrios is so uninteresting that it's easy to see why my guidebook claims that 'nobody stays there'. I took one look around and quickly caught a boat to the laid-back, Caribbean-influenced town of Livingston.
In this town are black Guatemalans known as Garifuna, whose history and culture are similar to those of the people of Belize, to the north (they arrived from Africa as slaves). Rastafarians abound and Bob Marley's image is everywhere. El Bob's back catalog is the music of choice for dining room entertainment at every Livingston restaurant. By back catalog, I mean a CD of Marley's greatest hits, a copy of which everyone in town seems to own. Just in case the endless repetition wasn't enough during the day, the music is pumped up to dangerous levels at night.
My journey north involved a boat ride along the Rio Dulce river with its impressively steep valley sides. A couple of short bus rides followed, and then came the most terrifying trip so far. On a long-distance bus journey, the driver passed the time by playing a game of chicken with cars and immovable objects. I was scared out of my panatalones.
Guatemalan bus drivers revel in pushing their vehicles to the limit. But the old buses lack the handling capabilities of Formula One cars. I'm not revealing anything new by saying that old buses driven at high speeds by bored, psychopathic drivers often lead to disaster. On any journey here, it won't take long to spot bus wrecks at the bottom of valleys or scattered along roadsides. Our driver did actually apply the brakes once during my trip, but only to gawk at a bus that had just recently plummeted into a ditch.
Our driver laughed maniacally and took off at an even greater speed. Perhaps he knows something about the law of averages.
Tikal
It was a relief to arrive at my next destination, the famed city of Tikal. This enormous Mayan city lies in the lowland jungles of northern Guatemala, in a region known as the Peten. I stayed a lot longer than I had planned. For a description of the archeological ruins, I will resort to the cliché 'awe-inspiring'. Tikal is considered the grandest of all the Mayan cities.
To explore the entire site, you will need to walk for a while as the city's temples are spread out throughout the forest. If visitors feel the urge, they can climb most of the temples and it's well worth the effort. Whether it's the exertion of climbing steps or the view from the top, one way or the other, you'll be speechless.
The ruins of Tikal are well-trodden and accessible so there's no reason to avoid venturing down random rails. Imagining myself as an explorer discovering the site buried in the jungle, I tried to imagine what it was like. Of course, these days one shares the place with happy snappers who are only there for the photo bragging rights [Edit for 2021: these days it's the Instagram crew who breeze through without actually looking at the beautiful sights with their own eyes]. I noticed that one American group was using walkie-talkies to communicate with a scout who walked ahead and checked whether the effort was worth it. Where's the spirit of adventure in that? Unfortunately, for the rest of us, the experience is spoiled, just a little, when the magnificent calls of Howler monkeys are drowned out by crackling voices saying 'Red leader to scout patrol one – do you copy?'
From the top of one of Temple IV, I looked over the low green blanket of trees interspersed with spires of rock, as if I were watching a dream. I hadn't been here before but it felt familiar. Scenes from the movie 'Return of the Jedi' were filmed in Tikal so this may explain some of the familiarity. As I sat there, I breathed it all in, studied every shape and contour, absorbed the shades of green and the colors of the stones, and tried to forget about the Ewoks.
El Remate
I slept on the bus all the way to El Remate, a peaceful village of villas, guesthouses, and comedores around Lake Peten-Itza. I stayed at a family guesthouse for next to nothing, are delicious food in the family's basic restaurant, and watched the sun sink into the lake.
In the morning, I visited a biotope, a protected area of rainforest. I was welcomed by the park wardens and two uniformed police officers. The primary concern of these units is the welfare of tourists. Apparently, I was the only person to arrive that day (that week, for all I knew), so I was assigned two armed guards to protect me while I explored the reserve. In another attempt to curb attacks on tourists, the Guatemalan government has increased security in nature reserves and tourist trails. In the past, rainforest tourists had more to fear from bandits than wild animals or the natural elements.
I wore shorts, a t-shirt, walking boots, and a hat. Two guards, one male and one female, wore black police uniforms and heavy shoes. Even standing still, they looked uncomfortable, and when they walked, it was evident their tight collars and inadequate footwear were causing them serious discomfort. Few things are stranger than trekking through pristine rainforest, on the lookout for secretive wild animals, with two sweaty armed guards noisily thrashing along behind you. I was informed that the trail we were taking was a three-hour round-trip, but we walked it in half that time. The fauna had plenty of warning that visitors were on the way thanks to the guards, so I saw very little activity and rarely stopped.
At one point, I was looking out through a gap in the trees at the forest canopy when movement in the grass near my feet announced the presence of a large docile snake. I called my two companions and the male guard arrived to get a glimpse of the snake before it made its escape. The female guard arrived panting and sweating and having listened to our description, declared it a dangerous reptile, which just made the whole experience a better story.
When we completed the walk, my temporary bodyguards thanked me for forcing them to keep to such a quick pace. Instead of grumbling, the happy group of wardens waved goodbye and smiled at me. It seemed like they were glad I stopped by. I presume it gave them something to talk about while they awaited the next week's guest.
From El Ramate, it was a bus ride across the border to Belize, my next destination. However, I decided to stay in Guatemala for a few more days so I could swim in the lake. I left Guatemala with a great deal of affection and sadness as my final goodbye. Even though I enjoyed visiting every country in Central America, Guatemala left me most impressed. I remember the warmth of the people, the plain but somehow delicious food, the tasty beer, the wild mountains and sticky coast, and the deep sense of history. My time in Guatemala gave me new experiences, but most importantly, it gave me new perspectives.
If you like what you're reading and would like to see more, fuel my writing with some caffeine! Cheers