Looking for a portable laptop stand? Want to know which of the affordable European Nexstand or the American Roost stand is best? Here's a full comparison. Field-tested by a digital nomad.
No matter the amount of improvements laptops witness every day, they still carry the same ergonomic issues throughout different models. According to the NHS, back pain due to wrong sitting posture has been the main reason for the deteriorated workplace productivity and millions of days off.
Fortunately, the market understands how important it is to have your laptop screen at your eye level. In 2013, the American company, Roost, launched its highly portable and adjustable laptop stand, followed, a few years later, by the Chinese Nexstand, which introduced its budget-friendly option.
Both models have been well-received by the laptop nomads, especially for remote workers and those who are always on the go. But which is better?
Well, we've had our experience with both models, and apart from the price, there's a lot to say. Continue reading for a detailed comparison between Nexstand and Roost laptop stand.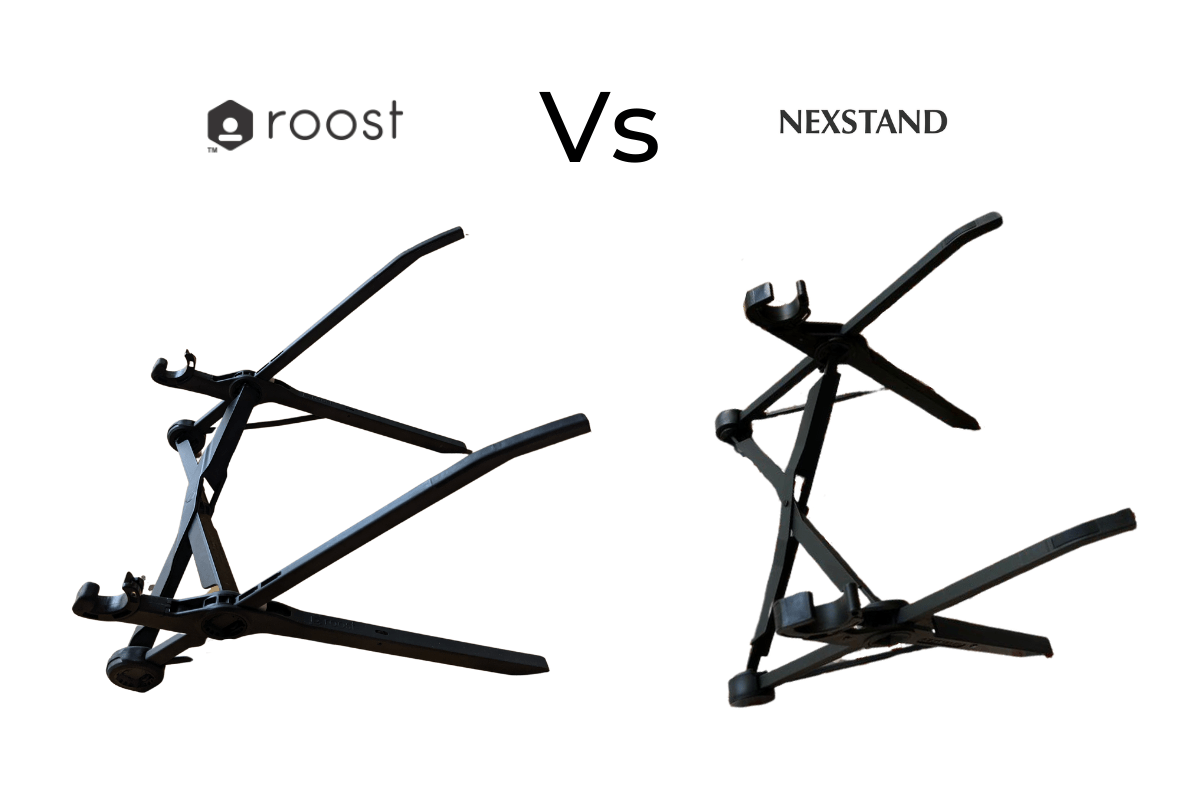 Nexstand vs. Roost: The Rundown
Both models improve ergonomics and help reduce fatigue and repetitive strain from poor posture during working sessions. These two brands of laptop stand are similar in design and essentially perform the task of raising your laptop to eye level with equal competence. However, while the Roost is pricier, it has the upper hand in lightness, sturdiness, and compactness. But that doesn't mean it's the best choice.
On the other hand, the Nexstand is an appealing option for digital nomads on a budget, and this product offers more adjustable heights to suit different physical bodies and work situations.
Winner: Nexstand – despite the less sturdy and marginally heavier design, this model offers more height options and is cheaper than the better-known Roost. The latter was first to market and has built a recognizable brand. It's also made in the USA, which has some appeal. But without electronics or in
| Model | Nexstand K2 | Roost |
| --- | --- | --- |
| Dimensions (folded) | 35.4 x 4 x 4cm / 14 x 1.5 x 1.5 inches | 33 x 3 x 3.3cm / 13 x 1.3 x 1.7 inches |
| Dimensions (expanded) | 30 x 27.8 x 16cm / 11.8 x 10.9 x 6.2 inches | 25.3 x 22.5 x 25.2cm / 9.95 x 8.87 x 9.91 inches |
| Weight | 234 grams / 8.25 ounces | 170 grams / 6.3 ounces |
| Weight Capacity | 20 pounds | 50 pounds |
| Materials | Reinforced Nylon | Polycarbonate |
| Height Adjustment options | 8 | 3 |
| Height | 5.5 inches to 12.6 inches of lift | from 6 to 12 inches of lift |
| Manufacturing Country | China | USA |
Roost Photos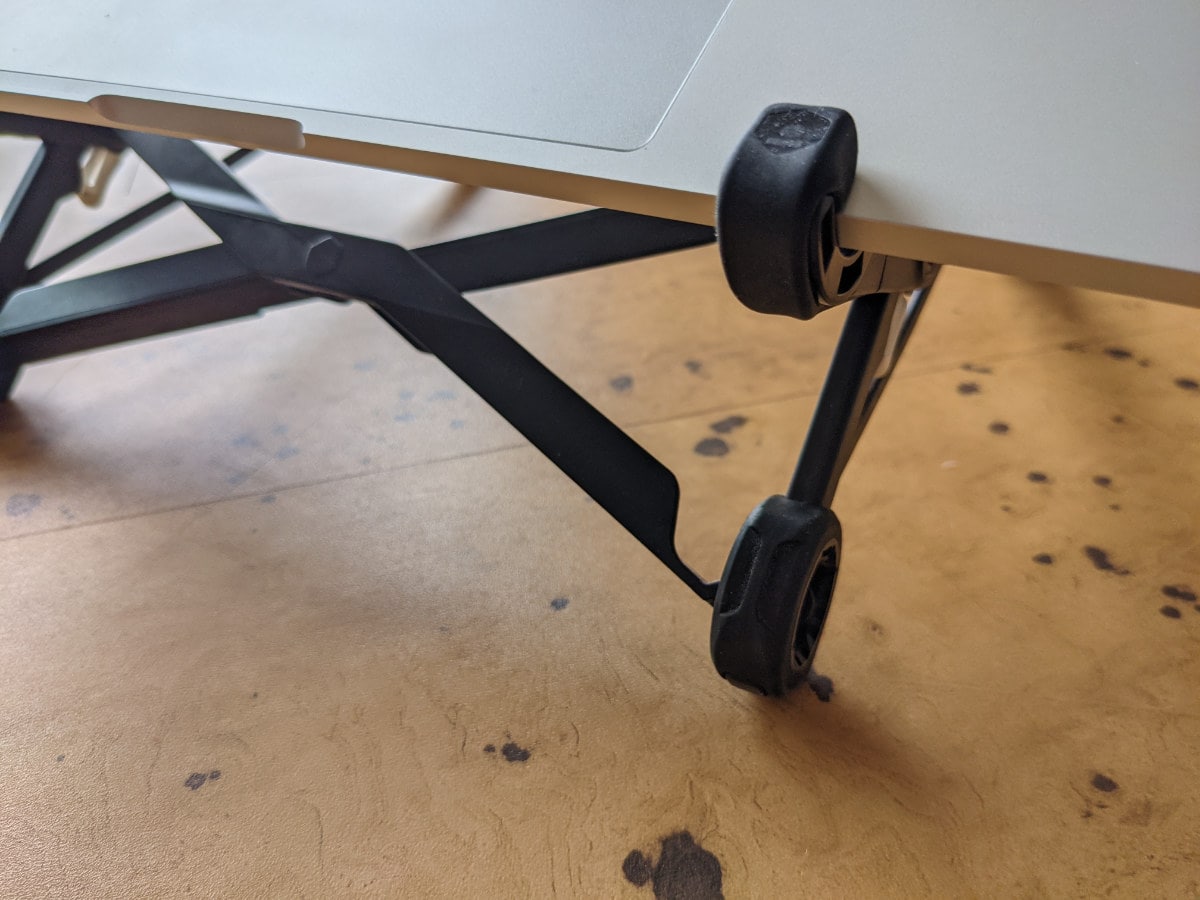 Nexstand k2 Photos
Size
The Roost is marginally more compact than the Nexstand (1 inch shorter and thinner). But, since we're talking about a stand that you can pack in your backpack and travel or take a walk to your favorite coffee shop, the more compact, the better. And in that aspect, the Roost deserved to win this round (if only by a small margin). If you desperately need that extra inch or two of space in your luggage or ergonomic backpack, choose the Roost stand.
Remember that by using a laptop stand, you're going to need a keyboard and a mouse, which you'll need extra space for in your bag.
However, the extra inch means that Nexstand can support thicker laptops, so the choice really depends on the size of your computer. The Roost can only accommodate thinner laptops of up to 0.75 inches wide, while the Nexstand can take both thick and thin ones thanks to the included removable clips that you can use to hold your notebook in place.
Winner: Roost
Portability & Design
The Roost stand is marginally better looking – you might like Nexstand's chunkier look and feel – but there's more to the design than just the aesthetics. Let's see what both models have in store for us.
The Roost weighs 5.8 ounces, while the Nexstand weighs 8.8 ounces. Not only is the Roost lighter than its counterpart here, but it's also one of the lightest stands on the market, which adds to its value as a foldable laptop stand designed to be used on the road. But apart from the slight weight advantage in the Roost, there's little difference between both products.
Winner: Draw
Protection & Safety
Both laptop stands sport front clamps to hold your notebook in place while tilting it. While those of the Nexstand are capable of holding thicker laptops, they seem to be flimsier, made from some sort of plastic. The Roost, on the other hand, boasts grips made of higher quality materials that can hold up to the abuse.
Also, since these grips are going to clip on your laptop, you want to make sure they're slick enough not to leave scratch marks on the smooth surface.
Roost seems to have kept that in mind and coated the grips with rubber paddings, while those of the Nexstand are uncoated, so there's a chance they might graze your precious equipment if you're not extra careful.
The same goes for the backrest and front legs. The back stand of the Roost boasts a rubber pad that protects your laptop from scratches and supports its weight at the same time.
Also, the front legs are equipped with rubber pads to enhance the stand's stability and prevent any slips that can lead you to say your farewells to your laptop.
As a budget option, the Nexstand seems to have saved money on these measures and never added any padding to the legs or the backrest.
Winner: Roost
Materials and Durability
In addition to the extra padding at the vulnerable points and the parts that can hurt your laptop, the overall construction of the Roost is sturdier than the Nexstand and will hold up to the elements.
Made of polycarbonate, the stand can withstand plenty of force (not that it should ever need to experience super heavy loads). This extra strength explains the higher weight capacity as compared to the Nexstand. It's also lighter and the polycarbonate material looks sleeker than plastic and other materials.
Nexstand, on the other hand, is crafted with reinforced nylon, which is less durable than polycarbonate. Don't get us wrong! It is, in fact, sturdy and will live to witness your digital nomad lifestyle for many years, but if you're looking for a lifelong option, the Roost is your guy here.
But that's not the only area where the Roost excels. Although the fact that it weighs less might be a reason you think it's flimsier, this champ can accommodate laptops of up to 50 pounds. It's a strong piece of kit, despite being lighter than the Nexstand
When compared to the Nexstand, which has a weight capacity of 20 pounds only, the Roost definitely wins the versatility flag.
Winner: Roost
Height Adjustments & Customization
The main reason for purchasing an adjustable laptop stand is to improve your posture. So it won't make any sense to buy one that doesn't match your height when you're sitting because you'll still be hunching over your laptop and hurting your neck and back.
As for the heights offered by both models, the Roost can stand straight from 6 to 12 inches, while the Nexstand boasts a lift of 5.5 to 12.6 inches. The difference isn't that significant considering the fact that even the tallest user won't adjust the stand for more than 12 inches unless they're sitting on a very short table.
Yet, the difference appears in the number of adjustability settings each model offers. Unlike the Roost, which only has 3 adjustability settings, the Nexstand provides 8 settings, making it a better fit for users of different heights and those who change place of work frequently.
Although the stability element is better in the three settings of the Roost, we can't help but admire the versatility of options that Nexstand boasts. And don't forget that the Nexstand can accommodate laptops of different thicknesses.
Winner: Nexstand
Pricing and Extras
The Nexstand isn't just a few bucks cheaper than its counterpart. In fact, it comes at less than half the price of the Roost, which is great news for users looking for a more affordable imitation of the Roost that doesn't compromise much.
It's worth mentioning that both models come with a protective carrying pouch, so no one has the upper hand here. However, as expected, that of the Roost is more durable and wear-resistant.
Still, the bag that comes with the Nexstand is durable enough and serves the purpose, which is to protect the stand from scratches and dust.
Winner: Nexstand
Nexstand K2 – Pros & Cons
Pros
Cons
✅ Wallet-friendly 8 adjustable height settings, catering to different users of various heights
✅ Can take thicker laptops but also has clips to hold thinner ones. Desktop stand supports all mainstream laptops 10 inches or larger and with a front edge less than 2.2cm.
✅ Stands are built to last a lifetime. Provides excellent full after support right down to shipping spare parts for free.
✅ Free global tracked shipping
✅ A percentage of profits are donated to the Turing Trust.

❌ Stability needs improvement – laptop may slip out of the grips
❌ Less weight capacity, so it won't be suitable for laptops on the heavier side
❌ Less compact and may add extra weight to your bag
Roost – Pros & Cons
Pros
Cons
✅ Sleek, stable, and lightweight design
✅Sturdy construction that can last a lifetime
✅ Rubber coating and paddings protect your laptop from scratches and hits
✅ Compact foldable design
❌ Expensive Only 3 height settings
❌ Only suitable for thinner laptops
Nexstand vs. Roost: The Verdict
To sum up, both models have a lot more in common than differences. It all falls back to the amount of money you're willing to shell out on a laptop stand and how careful you are when you use it.
Of course, the Roost is sturdier, but that doesn't mean if you purchase the Nexstand, you're going to replace it anytime soon. I use a Roost but my backup is a Nexstand. And if I had to replace both, I'd buy the Nexstand. It's cheaper and as I don't load it with tons of weight, it can support my 15" MacBook with ease.
For digital nomads who don't care about the expenses and want a well-designed stand with a proven track record, the Roost is the one to go for. If you want to save a few dollars on the price of the stand and you want more height options then choose the Nexstand.