Dubai is a city, state, and emirate in the United Arab Emirates, a country in the Persian Gulf. The new modern city of Dubai sits on a jut of land in the Arabian Peninsula at a latitude of 25.2048° N and longitude of 55.2708° E.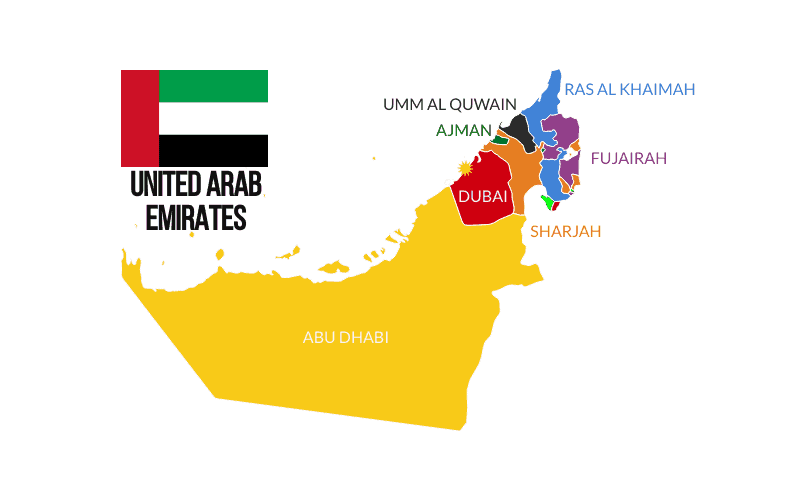 Is Dubai a Country or a City?
Dubai, the place that most people associate with skyscrapers, beaches, and the artificial palm shaped islands of the Palm Jumeirah, is a city state in the United Arab Emirates.
The 7 emirates states that make up the UAE are Abu Dhabi, Ajman, Dubai, Fujairah, Ras Al Khaimah, Sharjah, and Umm Al Quwain. Each state has its own currency and leader but the states act as a single country in the world.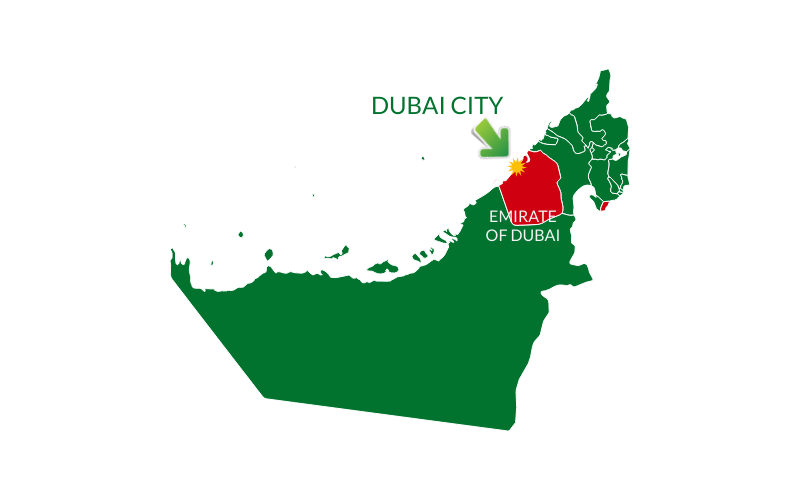 Parts of the city of Dubai are on land reclaimed from the sea. Several hundred kilometres of land has been reclaimed from the sea. The city state is mainly desert and low-lying coastal regions. Dubai has no natural bodies of water.
It's widely believed that Dubai is an oil-rich country. The biggest drivers of the economy are trade, real estate, and financial services. Tourism is another huge source of revenue for Dubai.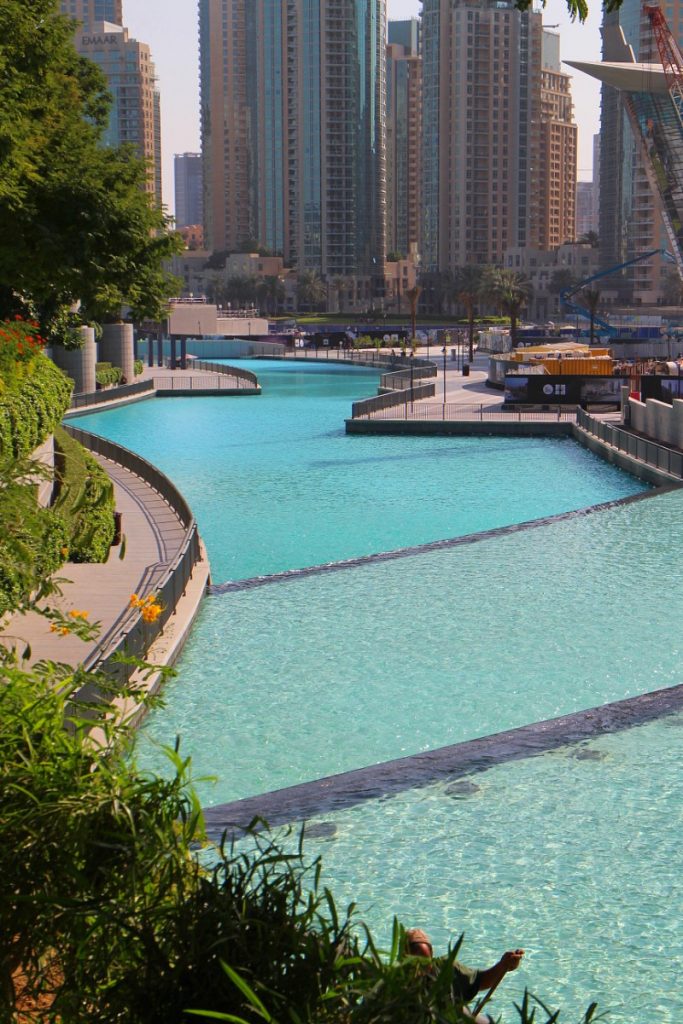 Where is Dubai Located on the World Map?
Dubai sits at a similar latitude to Riyadh in Saudi Arabia, Doha in Qatar, Key West in the United Stats of America, Taichung in Taiwan, and Nassau in the Bahamas.
Starting from Europe look towards the south east. Continue past Turkey, Syria, Jordan and Iraq. Dubai lies South of Iran, across the Persian gulf. The emirate of Dubai is bordered by Abu Dhabi, and Sharjah.
The UAE borders Saudi Arabia to the west and Oman to the east.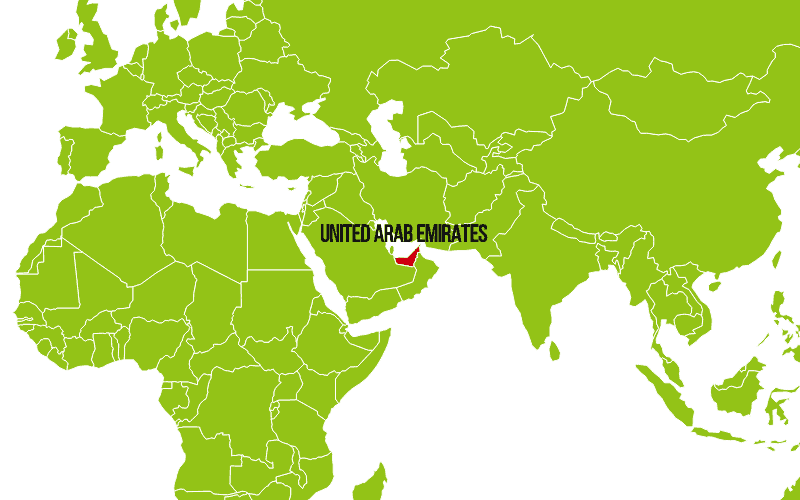 Which countries is Dubai close to?
Dubai is close to the countries mentioned above, and also Saudi Arabia, Qatar, and Bahrain.
How long does it take to get to Dubai?
The city enjoys a strategic location for connecting different countries around the world.
By Air
From London , direct, flight time to Dubai International Airport is around 6 hours 30 minutes. (A distance of 3400 miles / 5471.77 km)
From New York, flight time is around 12 hours, direct with Emirates Airline. (A distance of 6840 miles / 11007.91 km)
From Bangkok, flight time is 6 hours 40 minutes. (A distance of 3037 miles / 4887.58 km)
From Auckland, flight time is around 17 hours direct with Emirates Airline or 19 hours with a stopover (A distance of 8829 miles / 14208.9 km)
By Land
It is possible to drive from Dubai to Europe but conflicts in Syria and Iraq makes it difficult to drive "direct". Driving through Saudi Arabia, followed by Egypt, with a ferry across to Greece is the most logical route.
Dubai is the 4th most visited city in the world.
Is Dubai the Capital?
Dubai is the 2nd most important emirate, the capital being Abu Dhabi, the largest of the seven emirates. Many people associate the UAE with Dubai because of its international reputation as a tourist and commercial centre in the region. Dubai is the 4th most visited city in the world.
Dubai is the location for the world's tallest skyscraper, the Burj Khalifa (828 m), but don't expect that record to last for long. The Dubai Creek Tower is an observation tower in construction that will, of course, be taller than the Burj. In fact, it will be at least 200m taller if it can beat Saudi Arabia's Jeddah Tower. The Arabian states are playing a game of who has the biggest … tower.
It looks like Dubai will win the contest once the Dubai Creek is completed some time in 2020.
What is the Currency in Dubai?
The currency in Dubai is the same as in the other emirate states, the Dirham. Currently there are about 4 UAE Dirhams to the Euro and 3.6 to the US Dollar.
What's the weather like?
Hot, dry, and well, more of that heat.
Thanks to Dubai's location in the dry Arabian Peninsula and it's latitude of 27N, the city has a hot desert climate for most of the year. The summer months of July and August can be blisteringly hot with average temperatures of over 40 C.
The coldest month is January, but even this can see temperatures in the twenties (Celsius).
Who Lives in Dubai?
One interesting statistic is the percentage of foreigners in Dubai. Government records show that there are 10 times as many non-Emiratis in the city as Emiratis. English is the most common spoken language while Arabic is the official language of the UAE.
According to official government statistics, males outnumber females by a factor of more than 2 to 1. This is because of the need for men in construction work and other physical labour. Dubai, being a conservative Muslim country in the Middle East, obeys cultural rules for women in society. The authorities were recently ridiculed for giving men, and only men, awards for gender equality in early 2019.
However, UAE has a better record in gender equality than the other gulf states.
Non-Emiratis outnumber locals by a factor of 10 to 1
Is Dubai worth visiting?
Yes and no. Thanks to its location in the Middle East and status as an international flight hub (thanks to the excellent Emirates airline), Dubai is a stop on many flight routes between Europe and Southeast Asia. Flights between Europe and Australia and New Zealand also use Dubai as a hub for Europe, Africa, and parts of Asia.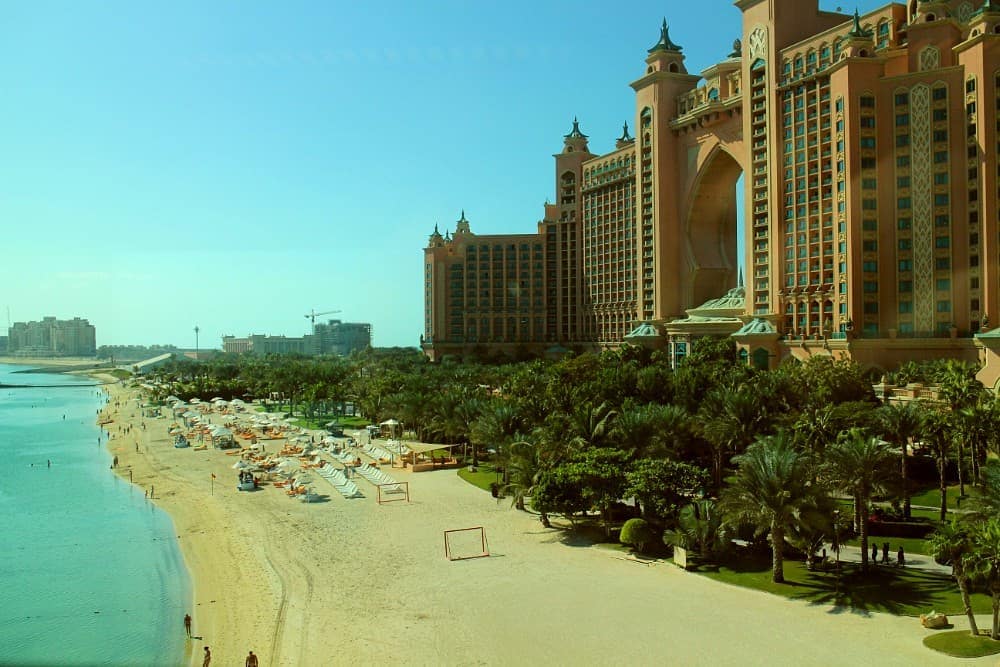 Dubai can be expensive. According to Numbeo, the cost of living in Dubai is about the same as in Austin, Texas. However, as a tourist or traveller, prices are always higher.
Temperatures in Summer can make going outside intolerable. It is not a city for people that like to walk. The metro is efficient but only serves a small part of the city. Taxis cost a bit less than most major western cities.
Apart from the manmade attractions, there are a couple of natural attractions. Beautiful sand dunes and coastline abound but for many visitors, the lack of natural landscapes and cultural activities make Dubai feel soulless.
The Al Wathba Wetland Reserve in Abu Dhabi, Al Hamar dune, and the Mangrove National Park in Abu Dhabi are worth visiting. Dubai itself, lacks natural touristic sites.
---
Dubai Essential Information For Travelers
What's the best way of getting around Dubai?
Public transport isn't convenient once you step off the tram. There are plenty of bus routes, but visitors might want to opt for using taxis or renting a car, an option that gives you lots of flexibility.
Do you need to tip in Dubai?
10-15% tip is expected in restaurants and for hotel staff.
How do you get a metro card?
Buy online at www.nol.ae, or visit ticket offices at metro and bus stations, or vending machines.
Should I visit in August?
Only if you like it blistering hot or you spend all of your time in the air-conditioned hotel rooms and malls.
[no_toc]
If you like what you're reading and would like to see more, fuel my writing with some caffeine! Cheers