There's no doubt that the popularity of podcasts has exploded in recent years. As it turns out, podcasts about travel work really well on this relatively new medium. Learn about destinations and hear stories about exotic travel from professional and amateur travellers. Hear how people manage to take trips all over the world on a regular basis. Get advice on taking great photographs. Discover the tricks that real people use to find cheap flights, destinations and accommodation. While blogging is still a great way to communicate ideas, tell stories, and teach people, there's something personal about listening to someone's voice.
Here's my list of the best travel podcasts you should subscribe to today. Get inspired by these fun and fascinating shows and episodes for travel addicts.
The Travel Diaries
The Travel Diaries podcast has become one of my favourite travel-related shows thanks to host Holly Rubenstein's engaging questions and the incredibly diverse range of guests. Everyone from the founder of Abercrombie & Kent, to actor Hugh Bonnevill‪e‬, to Sustainable Travel Expert, Juliet Kinsman discuss lives of travel and offer great tips for listeners.
The Big Travel Podcast
Host Lisa Francesca Nand talks to some of my heroes (and yours too) in all walks of life in The Big Travel Podcast. The common thread is a love of travel. Lisa is an excellent interviewer and always seems to have a slew of great questions to ask. All delivered with bubbly enthusiasm.
Lisa talks to Kash Bhattacharya, also known as The Budget Traveller about his love of hostels. Comedian and all-round excellent person, Bill Bailey describes his love of travel and adventures around the world. Cosmopolitan Travel Editor Amanda Statham makes us jealous with tales of Costa Rican safaris and New York Rooftop hotel bars.
The Radio Vagabond
Palle Bo is a Danish broadcaster, digital nomad podcaster, and entrepreneur who sold everything he had to begin a new life as a location independent business world traveller. He's a public speaker, author, and owner of a production and consultant business.
You can expect the highest of quality recording and production on the podcast episodes. Being a professional podcast producer means that Bo has the tools and skills available to him to produce expertly edited and engaging episodes.
Listen to:
#138 – Is Sri Lanka safe to visit?
133 – Harry Mitsidis has been everywhere
Zero To Travel
Zero To Travel is a long-running (in podcast terms) show that serves digital nomads, long-term travellers, and adventure seekers. The topics covered are broad but always of interest to travellers. Host Jason Moore talks to people around the world who have made travel their life or business.
I don't display annoying ads on this site. But the content takes many hours to produce. If you like what you're reading and would like to see more, fuel my writing with some caffeine! Cheers
Get tips on travelling with kids, budget travel, touring in camper vans, holistic nomading, finding cheap flights, family travel, finding the cheapest places, and language learning.
Recommended episodes:
Episode 40: How To Use Airbnb To Make Money and See The World with "The Traveling Dutchman" Jasper Ribbers
Episode 158: Travel Photography 101 with Travis Longmore
Women Who Travel
Not just for the ladies
This Condé Nast Traveler production presents Interviews with inspiring women ranging from cruise ship captains, travelling chefs, and writers. The Women Who Travel podcast with host Meredith Carey touches on a wide range of fascinating topics. This is a show for women or, well, anyone interested in the world and its inhabitants. It's less focused on advice than travel philosophy, mindset, life goals, the travel experience, and attitude.
Guys, it's okay to listen. In fact, I recommend you do so.
Recommended episodes:
The Not-So-Glamourous Side of Solo Travel
The Women Owning Adventure Travel Right Now
Rick Steves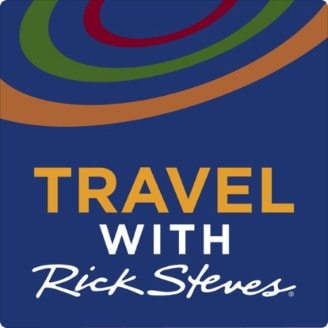 It's hard to talk about travel for long, especially European trips without mentioning Rick Steves, a travel writer whose travel stories have inspired people since 1976. Steves has produced many respected guide books and tv shows, as well as writing columns, blogs, and delivering a weekly radio show. He's been on the road since before half the readers of this post were born.
Travel with Rick Steves is a podcast and radio show that explores a wide range of topics: hiking in Europe, cultural day trips, road trips, cycling the silk road, eating in Sicily, and surfing in Polynesia. Rick Steves' trip reports span decades but he also interviews some of the world's top travel writers and adventurers such as Pico Iyer, Michael Scott Moore, Robert Reid, and the founder of Atlas Obscura.
One of the best podcasts for practical advice on travel, as well as travel tales, and inspiration from a well-travelled writer and broadcaster. The back catalogue is huge but with a quick search, you are bound to find inspiration in every episode. The latest shows are also a great source of travel news. Explore the world with one of the original travel bloggers and podcasters.
Listen to:
Program 576: Budget Travelers; Beginner's Guide to Japan; Ireland Today
Amateur Traveler
For those who want the best things to see and do in a destination.
My go-to show for learning about cities (and countries) is The Amateur Traveler.
When I visited Budapest the first time, I listened to an episode which took the form of an interview with Jennifer Dombrowski from Luxe Adventure Traveller. This really helped me get a feel for the city.
Host Chris Christensen started the travel podcast back in 2005. That officially makes it one of the longest-running podcasts in any genre. The aim of the podcast is to provide high-quality travel information for the average American who enjoys 1-2 weeks of vacation every year. Episodes focus on finding the information that you can use to maximise your time. The interviews are often the most interesting shows. People talk about their travel experiences and travel adventures, but also share plenty of tips and tricks and practical information.
It's a pretty relaxed-paced podcast with no specific time format so I usually listen at 1.5x speed 😉
Tip: Chris also runs the "Week in Travel" show which isn't weekly, but talks about the travel industry.
Recommended episodes:
AT#607 – Budapest, Hungary
AT#581 – Kyiv, Ukraine
Abroaders
For travel hackers and frequent flyers.
If you're interested in accumulating Airmiles and airline points, listen to the Abroaders Podcast, a regular audio show of the Abroaders community. Abroaders is a membership business that shows you how to travel hack and use Air Miles properly.
I'm one of the few bloggers in the travel-related niche that doesn't talk much about Air Miles. It's a topic that hundreds of other bloggers have covered. And I'm not a US citizen so my options for travelling with points are limited (and my ability to talk about this topic are even more limited).
If getting free travel from air miles and points is your thing, this is a good place to get the latest news.
Recommended episodes:
AP 226 – How to Book A Free Flight Before You Earn Enough Points
AP 216 – Hacking Expat Life with Mikkel Thorup
JUMP with Traveling Jackie
Formerly known as The Budget Minded Traveler podcast, this show by host Jackie Nourse recently hit over a million downloads. She's obviously doing something right.
Jackie talks about everything from budget travel to photography to sponsorships and life. But it's all good. Anyone who travels will feel inspired.
One episode gets technical on the camera kit and camera packing tips of professional adventure photographers. In another episode, Jackie interviews fellow Irishman and polyglot Benny Lewis about the best ways to learn languages for travel. Keen walkers should check out the episode on long-distance hikes, a topic I'm passionate about.
Listen to:
JUMP 106: How to Plan a Trip to Patagonia
JUMP 118: Hut to Hut Long-Distance Hikes Around the World
Indie Travel Podcast
One of the longest-running podcasts in any genre, the Indie Travel Podcast is a mine of information for the independent traveller. With almost 400 episodes, there's tons of advice for travelers looking for trip advice, the best cities in Asia, the best hostels in Europe, travel in Austria, best backpacks, visas, road trips, and travel insurance.
Load up your podcast player and travel the world with seasoned pros.
Best podcast episodes:
Top 10 cheap things to do in Auckland
How to find lesser-known attractions when travelling
The Escape Hour
Joy 94.9 Radio's Escape Hour focuses on food and travel around the world. The Melbourne-based community radio station is an independent voice for the LGBTIQ community and enjoys over half a million listeners in Melbourne alone. It's easy to see why. The Escape Hour is expertly presented and produced and include expert guests on topics as wide-ranging as Filipino food, Melbourne's hidden secrets, Traveling With Your Cats, and Wine, Travels Throughout Asia, Food and Travel In Georgia. One of the best podcasts for foodie travellers and anyone interested in deeper travel experiences and culture.
Episodes to listen to:
Melbourne Food Experiences
Central & South America Travel
Podcasting is mainstream, folks. Google is now indexing Podcasts in the search results. Here's why podcasts are great for consuming travel-related content: Get trip reports, insider guides, and inspiration for long-haul flights, bus journeys, and airports. For those with little time to read or those that prefer the spoken word to the written word, podcasts are great for communicating ideas and as a medium for entertainment.
Honourable mentions:
Armchair Explorer – host Aaron Millar interviews some of the most adventurous people in travel on this bi-weekly show. Listen to the adventures of people who have trekked the Balkans, climbed all 7 highest peaks, and walked the Amazon river.
Extra Pack Of Peanuts – a long-running show by Travis and Heather with a range of formats (interviews, travelogues, best of, and food)
Enjoyed this list? Why not post to Pinterest or share on Twitter or Facebook?