A digital nomad is someone who desires the freedom to live and work around the world and uses technology to make this desire a reality.
Want to live and work around the world? It's the dream for many people – a nomadic lifestyle of travelling to cheap hotspots and earning money online. But can everyone do it? The work & travel subculture that has exploded in the last 10 years has many faces. Technology changes rapidly but Internet cultures, subcultures, and communities evolve and morph at a blistering pace.
According to a study by the Harvard Business Review, in addition to reporting remarkably high rates of job satisfaction and income satisfaction, digital nomads also possess more advanced technical skills and are more dedicated to ongoing training.
The same study found that freelancers, independent contractors, and the self-employed dominated the ranks of digital nomads in the past. But it was people with traditional jobs who were driving the nomad surge in 2020 and 2021.
Is the digital nomad definition outdated? The term first appeared in 1997 but the culture has been around for a lot longer. How many digital nomads are there and how do they make money? Is "nomading" sustainable?
I've been location independent for 8 years and I've spent the last 20 years living in countries like Argentina, New Zealand, and Thailand for years at a time. Here's my definition of a Digital Nomad.
We're going back to the hunter-gatherer way of doing things, but with technology. The best quality of life will actually be available to the digital nomad, who has a minimum number of possessions, and has the ability to move at any point."

@balajis on the Tim Ferriss show #506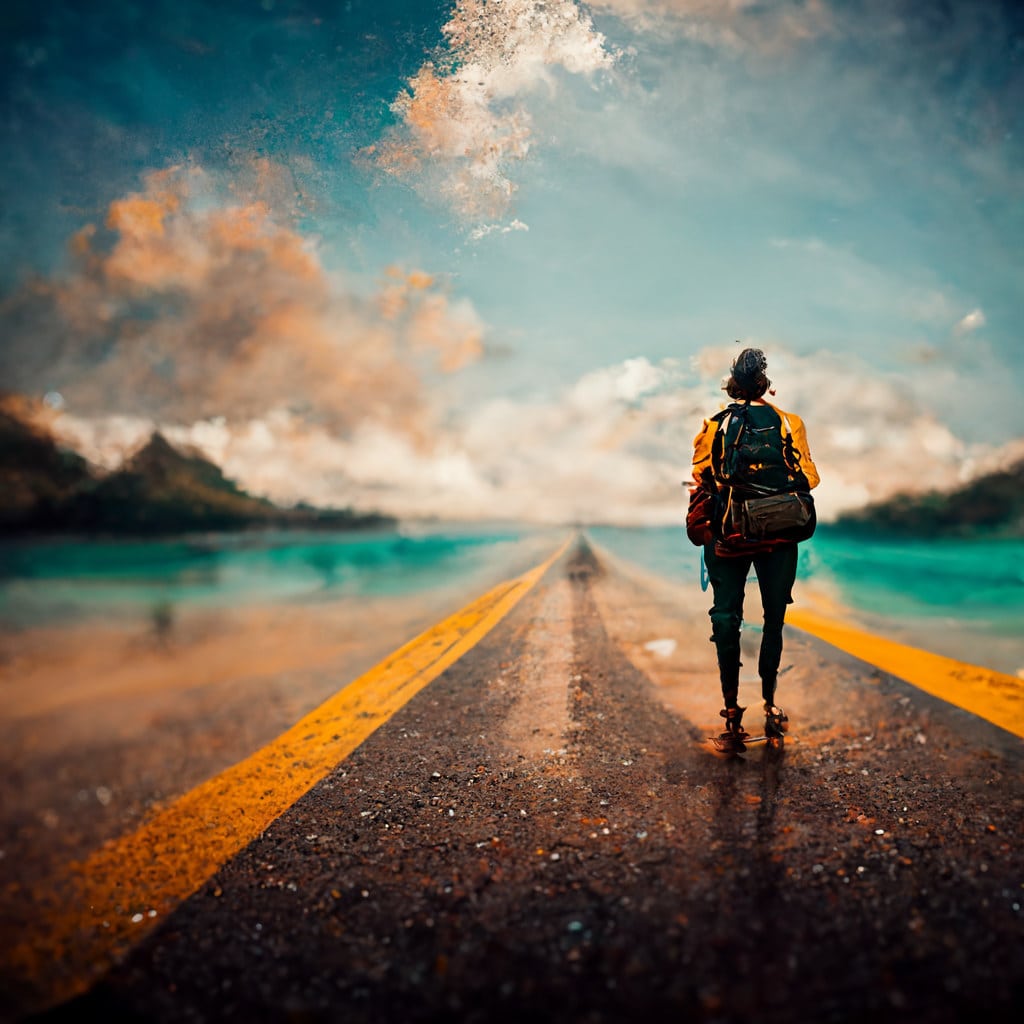 Who Are The Digital Nomads?
Digital nomads are people who travel on a continuous basis, hopping from country to country while building or maintaining online businesses. Someone who lives in a different country to their own and works online can include themselves in this group.
Two digital nomad lifestyle essentials:
You have a business that primarily uses technology (communications and the Internet) to sell, market, or deliver products or services.
You travel or live abroad and work at the same time.
Fun Fact: According to Wikipedia, Tsugio Makimoto and David Manners wrote a book in 1997 called Digital Nomad. This is likely to be when the phrase was coined.
The stereotypical digital nomad persona is the guy (or gal) casually checking his email in a cafe in Bangkok or kicking back in a hammock on a beach in the Philippines (probably while checking his dropshipping affiliate sales). This is a reality for some people. For most, the truth is different. And even if it were possible, the Piña Colada-sipping beach bum is not what most people aspire to be.
How Many Digital Nomads are There?
Hard to say. It would depend on how you define the genre and would take some serious research to get accurate numbers. Not everyone talks about their online businesses and not everyone wants to use the term digital nomad.
I'm quoting from the New York Times (which quotes Gallup) when I say that almost half of the workforce (43%) in the US worked remotely for some time in 2016. This number is sure to be higher in 2022. That's a step towards remote working but it's far from digital nomad territory.
Digital Nomad Lifestyle Motivations
If it's not obvious by now, I'll give you the main reasons
Travel – This is often one of the main motivations. Nomad-style living while travelling the world is appealing to many people.
Location arbitrage – For most people, charging in one currency and spending in a weaker currency gives them more spending power and a higher standard of living than they would back home. The cost of living in Thailand, Indonesia, Georgia, Ukraine, Bulgaria, Colombia, and many other countries around the world is far lower than in most Western European cities and in the United States.
Networking – If you live overseas there's a natural tendency to want to meet other expats for support. This is a great way of building your network. Long-term solo (as so many are) travelers tend to force themselves to meet new people (locals and foreigners) and this is a great way of meeting like-minded people and presenting yourself for opportunities.
Inspiration – Living and working in another country is great for helping you to find new opportunities, learn other ways of approaching problems, and riding trends before they cross borders. Even seeing how other people do business can spark ideas.
Want to live and work on the beach? Yes, you can do that. Want to make money in the US but live in Bali? Get yourself to Bali. Fancy a career that lets you travel all over the world and use location arbitrage to live cheaply in foreign countries? In 2021, this is totally possible. There's one caveat. You'll need skills or an idea that makes money, or you'll need to be a remote worker for a company. Unlike a regular job, you'll work harder, at least at first, and you don't get paid if the business doesn't make money.
A digital nomad is someone who desires the freedom to work and live anywhere and uses technology to make this desire a reality.
The Best Cities For Nomading
Everyone has their preferences for the best nomad cities but this is a good place to start. Some of the most popular destinations for remote work are Barcelona, Bangkok, Medellin, Ubud, Ho Chi Minh City, Chiang Mai, Budapest, Lisbon, Kyiv, and Taipei. These are some of the best places in the world to live if saving money and having a good lifestyle are important.
Tbilisi, Georgia – A hot digital nomad city that has world-class culture, wine, food, accommodation at rock bottom prices. Tbilisi is close to mountains, vineyards, beaches, and other fascinating cities in at the crossroads of Asia and Europe. My pick for the next best nomad hotspot.
Bangkok, Thailand – A hotspot city for expats with good public transport, plenty of coworking spaces including WeWork, amazing food, friendly people, and a big expat community. Cheap to live, especially if you earn Western wages or have an income in a strong currency. Long-term visas can be hard to obtain.
Chiang Mai, Thailand – More laid back than Bangkok. One of the top destinations for nomads and one of the original centers of digital nomadism. Great food, coffee, and a very low cost of living.
Taipei, Taiwan – Not really on the radar yet but an up and coming place for nomads and expats. Superb public transport. Taipei is also coffee heaven – great for people that spend much of the day in coffee shops. Taipei has some of the best food in Asia. It's a bit more expensive than Thailand, for comparison, but worth it. And 3-month visas are easy to get.
Medellin, Colombia – The rising superstar of South America. Beautiful weather, fantastic Latino culture in a city emerging from a violent past. The food is not to everyone's taste. Some people may find that the onslaught of reggaeton music everywhere to be annoying after a while. The capital, Bogotá vies with Medellin as the best city for digital nomads in Colombia.
Ubud, Indonesia – There's a well-established nomad base in Bali. Could be considered ground zero for the community. Hubud is here as well as several other excellent coworking spaces. Incredible food. Friendly locals. Easy, cheap living.
Plovdiv, Bulgaria – An up and coming location in Eastern Europe that has everyone buzzing because of the low cost of living and fast internet. Also check Bansko, a fast-growing hub for digital nomadism.
Manila, Philippines – Before you say "traffic!", I know how bad it is in the most densely populated city in the world. But if you can get around the fact that it's pretty hard to get around, Manila is a digital nomad destination with friendly people and access to 7000 beautiful tropical islands.
Budapest, Hungary – One of the most beautiful cities in the world also happens to be inexpensive and welcoming. Fast internet, great European cuisine, ease of access to the rest of Europe.
Ho Chi Minh City / Saigon, Vietnam – A hotspot of South East Asia. HCMC is less-refined than Bangkok and feels even more chaotic. Fewer expats than in Thailand and a very different cuisine and culture. Better than Hanoi, in my opinion. 3-month visas can be easily arranged in advance.
Digital Nomad Visas
In recent years, several countries introduced what are essentially digital nomads visas, even if they don't call them that. Portugal's Golden Visa and Non-Habitual Residence visa programs are great options for digital nomads.
Georgia's one-year visa is also attractive to people who who want to spend time in the country. It's strictly speaking a tourist visa and if you spend more than 6 months there, you'll end up in the Georgian tax system. The Georgian government introduced the Remotely From Georgia visa (in 2020 during the global pandemic) to help entrepreneurs and digital nomads enter the country to work on their businesses. Georgia is a great option for people that want a home base in between Europe and Asia.
Indonesia is considering a 5-year digital nomad visa to try and entice foreigners to work in the country without a work permit.
Check this full list of Digital Nomad Resources for everything you might need.
Digital Nomad Blogs
The originals are people like Tim Ferris, Chris Guillebeau, Matthew Kepnes, Jodi Ettenberg, and Dan Andrews. Many nomads start blogs to document their journeys. Travel blogs (like this one) are popular.
Nomadic Notes by James Clark is one of the most comprehensive blogs on the topics of long-term travel and nomadic travel. James has been traveling the world since 2003 while running a location-independent travel business. On his blog, James shares a wealth of knowledge built on decades of travel and running businesses.
Tim Ferriss, the man who wrote the bible for digital nomadism the world over, The Four Hour Workweek, no longer lives the lifestyle he espoused in the book. He's more of a millionaire godfather to techies and lifestyle design entrepreneurs who likes to travel from time to time. But it can't be denied that his book helped spark ideas for thousands of businesses, create independent boss-free lifestyles for countless people, and kicked off the whole location independent lifestyle business trend.
Chris Guillebeau visited every country in the world and documented his journey on his excellent travel blog. His book The $100 Startup is a great read if you're looking for ideas for a side hustle business.
Matthew Karsten, A.K.A. the Expert Vagabond, is a superb blogger and photographer. And an all-around nice guy. Check out my Older Digital Nomad interview with Matt.
Dan Andrews runs the Tropical MBA podcast, one of my favorite travel podcasts. In fact, it's one of the best-produced shows on any topic and worth a listen for anyone interested in business. The focus is on living an independent, travel-filled life by creating your own online business. Dan spent years building his business from up-and-coming nomad destination, The Philippines.
The Reddit Digital Nomad page (subReddit) is a lively discussion board for wannabe and current nomads.
Digital Nomad News is a daily online newspaper and email newsletter that curates articles serving the digital nomad community.
Going remote
Becoming a digital nomad is simple. But it's not easy.
Here's the simple bit:
1. Have an income
2. Travel and maintain that income
In 2021, companies and employers around the world had to quickly get used to the fact that their employees suddenly became remote workers. One thing is certain: highly skilled people in niche markets can convince employers to get over their qualms with remote work.
Let's take an example. Salaries for people living in San Francisco are generally higher than salaries for people living in Buenos Aires. But if people work remotely in Buenos Aires they will have a better quality of life. Even if they took a 50% pay cut, they would most likely have a higher standard of living and save more money every month.
Companies like Automattic and Basecamp are almost completely remote-based businesses. Their employees work wherever they choose to work. It certainly beats commuting to an office and sitting at a desk all day.
But what if you don't already have a job or a business you can run online?
In that case, it might be time to "skill up" and start networking. Two of the best things you can do are learn new skills and meet interesting people that understand the concept of digital nomadism.
I've always been a bit skeptical of "digital nomad courses", because well, as I mentioned before, there are only two things you really need to do to get started:
find a job or business you can do remotely
Start traveling
The rest is just logistics.
Saying that, I've written a post that helps people understand the question "What is a digital nomad?". So do we need a long post that explains the concept and do you need to take courses to learn how to travel and work remotely?
The answer is nuanced.
Just like riding a bike, I can tell you that it's as simple as pushing the bike along by pressing on one pedal and then the other. Simple, really. But until you've tried to ride a bike for a while, fallen off, and learned from your mistakes, you really don't know how to do it.
Nomads Skillshare is a course platform and community for anyone who believes in the concept of lifelong learning – whether you're a digital nomad, working remotely, or simply looking to expand your skill set.
Not only do you get access to courses but you also get access to the community. Community is often cited by students on courses in any discipline to be the main reason they stick to the program and grow professionally.
One course is called "How to get your dream job online". It's not just a course on how to build an online presence but also how to network and connect with people who can help you get your dream job.
Another reason for signing up with Nomads Skillshare is the fact that they offer scholarship programs to local communities. I spoke with one of the receivers of a scholarship in Bali, Indonesia. The student had nothing but praise for the program and is now working with the team to promote the courses to a wider audience.
Here's why a course/community like this might suit you, especially if you're considering becoming a digital nomad or you don't have a remote job yet:
Beginner-friendly courses for wannabe nomads and people looking for a career change
Access to a vibrant and helpful community of business owners and mentors
The knowledge that you'd be helping local communities grow by empowering smart young entrepreneurs to work online just like you. 1 course purchase = 1 scholarship
On the negative side, one thing you should be aware of is that the course material is accessible for one year. While that's plenty of time to get through everything, I feel this should be lifetime access.
There are only 4 courses. While there are several (3 at present) in the works, it's not clear if you'll be able to take these before your yearly membership runs out. This is something to negotiate with the team before buying.
In any case, I think it's worth an investment. The team gave me a special code that you can use to get 10% off: use KEITH10 at checkout.
Career Choices
Here are some of the most popular and lucrative remote work careers for the globe-trotting entrepreneur:
Remote developer – Many companies see the value in hiring staff who work remotely.
Affiliate Marketer – A great way to get going without a product or service. It takes a lot of work upfront but once affiliate marketing starts to work, it's a great business model for the independent entrepreneur. You can get a list of over 10,000 affiliate programs here.
Consultant – teach people what you know via courses, and live calls. And in this space, digital nomad consultancy services are in demand.
Drop-Shipper – Dropshipping is huge. This is one of those industries that most people don't talk about, especially the ones that are killing it with their businesses (for fear of copycats). If you can find a profitable niche, dropshipping businesses can be easily automated, freeing up your time for other projects or for more travel.
Freelance writer – freelance writing jobs are great because they are asynchronous. You decide the hours you work and you arrange the delivery date with the client. Jobs like this that don't require a lot of face-to-face work are great options for working remotely.
Blogging (niche websites) – It takes a lot of work at first, but the rewards make it worth it. One of the advantages of investing your time and money into a blogging business is that blogs can be great sources of passive income. That should "passive income" (in quotes) because nothing is every fully passive. However, a monetized blog that gets traffic is a digital asset that perfectly compliments the nomadic life.
Social Media Manager – Almost every business wants to be on social media. Almost everyone lacks the time and energy to invest in building and maintaining social accounts.
Freelance graphic designer – You might not have design skills but to be honest, with the incredibly powerful modern apps and tools available to us heading into 2021, anyone can start a freelance graphic design side hustle or main gig.
Creating location independence from a passive income stream is the holy grail of digital nomadism. You can monetize almost any idea, niche, or concept you can think of. It just takes some work finding the angle. But you can always copy proven strategies.
Tools and Services
The most important technological advance for this lifestyle was, of course, the Internet. Without the Internet, it's still possible to work but it means relying on phones, faxes, and 'outdated' technologies.
Check out this list of essential digital nomad tools for remote work for some ideas.
Getting Paid
It's getting easier every year to get paid online but people still waste a lot of money on services that offer poor rates, have bad customer service, and insist on inconvenient procedures.
Wise (formerly Transferwise) is the most convenient and best value money transfer service. The multi-currency card is a must-have for people that need the convenience of bank accounts in multiple countries. For cross-currency transfers, it's fast and reliable and the rates beat most competitors. You can make and receive payments on your smartphone.
PayPal is the old favourite and works almost anywhere. You can invoice customers and clients directly through PayPal. But the ubiquity of PayPal and the slow pace of financial innovations in payment systems (thanks to red tape and fraud prevention) means that Paypal is still one of the most common ways of sending and receiving funds on the internet.
I avoid wire transfers as much as possible. It's not the most reliable method and definitely one of the least convenient.
Nomad Community & Events
The nomad cruise is a remote work, networking, and travel experience that brings entrepreneurs together for a week or two every year. The cruise sees 200 or more entrepreneurs connecting through talks, masterminds, yoga classes, workshops, and parties on a Mediterranean cruise.
DNX is a popular conference that takes place in Lisbon, Portugal every year around September. The event is akin to a conference that offers workshops, talks, and networking opportunities to entrepreneurs.
The Dynamite Circle, the brainchild of Dan Andrews from the Tropical MBA, is a community for successful entrepreneurs, many of whom live the digital nomad life. Definitely not for wannabes. Every year, the TMBA guys throw a big conference for successful online business owners (many of whom are location independent) in Bangkok called DC BKK.
The Global Digital Nomad Facebook group has over 30,000 members and is very active.
Digital Nomad Girls is a community for female online entrepreneurs. The site has some free information, but the focus is on signing up members for their "inner circle".
Check out this post on successful older digital nomads who have designed their lives around working while traveling.
Health Insurance & Tax
Until 'working online' and traveling become mainstream, nomads need to make sure that their tax obligations are taken care of. A lawyer who understands the remote working scene will be better placed to advise you. There are some advantages and disadvantages tax-wise to working outside of the country where you pay contributions.
This discussion on Reddit will help you find and choose a tax lawyer.
Travel insurance is absolutely essential. Do not leave home without it. Your business and your future plans depend on you not going bankrupt thanks to huge medical bills. Don't say I didn't warn you 😌
Try Safety Wing, HeyMondo, or Genki for dedicated travel insurance coverage.
For short-term travel, look at N26 Online Bank. With a debit card from N26, you get free banking and travel insurance, car hire insurance, and many other perks. Keep in mind that N26 only covers you for 90 days outside of your country of residence. To avail of the coverage all year, you'd need to return 'home' to reset the timer.
Glossary
Bromad – Male, grew up consuming Instagram, Tai Lopez, Tinder, and UFC. Loves "crushing it", doing CrossFit, and talking on Reddit about how everyone else is a wannabe entrepreneur. Owns a dropshipping store and sells a dropshipping course. Loves Cryptocurrencies. Loves talking about Crypto even more. Bro Culture for the modern-day, location-independent dude.
Trust Fund Nomads – Younger digital nomads without regular work, business plan, or travel experience. Traveling the world on daddy's money while spending more time posting on Instagram, chatting on Skype, and generally avoiding the travel experience as much as possible.
Slowmad – someone who prefers to spend longer in one place. Reasons for doing so include obtaining a deeper understanding of a location and its culture, saving money on accommodation through longer-term rentals, and reducing the possibilities of interruptions to work.
Frequently asked questions
What does it mean to be a digital nomad?
A digital nomad is someone who has the freedom to live in other countries supported by a job or business that they can manage online.
How do you become a nomad?
The steps to becoming a digital nomad are easy to understand but hard to implement:
Find or cultivate a job or business that you can perform regardless of your location in the world
Build your income stream until you can support yourself financially in the countries you wish to work and live in.
What is the history of digital nomadism?
James Clark from Nomadic Notes has been a full-time nomad since the early 2000s. In his latest blog post, titled Digital Nomad History, James charts the history of the digital nomad movement.
If you like what you're reading and would like to see more, fuel my writing with some caffeine! Cheers